The Republic of False Truths: A novel (Paperback)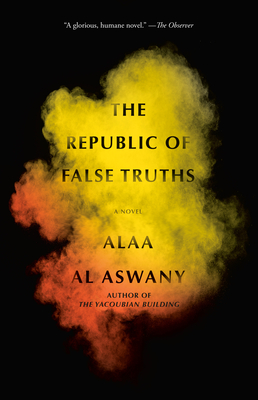 Description
---
A "glorious, humane novel" (The Observer) about the Egyptian revolution, taking us inside the battle raging between those in power and those prepared to lay down their lives in the defense of freedom—this globally-acclaimed narrative from one of the foremost writers in the Arab world is still banned across much of the region.

Cairo, 2011. After decades under a repressive regime, tensions are rising in the city streets. No one is out of reach of the revolution. There is General Alwany, a high-ranking member of the government's security agency, a pious man who loves his family yet won't hesitate to torture enemies of the state; Asma, a young teacher who chafes against the brazen corruption at her school; Ashraf, an out-of-work actor who is having an affair with his maid and who gets pulled into Tahrir Square through a chance encounter; Nourhan, a television personality who loyally defends those in power; and many more.

As these lives collide, a new generation finds a voice, love blossoms across class divides, and the revolution gains strength. Even the general finds himself at a crossroads as his own daughter joins the protests. Yet the old regime will not give up without a fight.

With an unforgettably vivid cast of characters and a heart-pounding narrative banned across much of the region, Alaa Al Aswany gives us a deeply human portrait of the Egyptian Revolution, and an impassioned retelling of his country's turbulent recent history.
About the Author
---
ALAA AL ASWANY is the author of numerous works of fiction and nonfiction, including the novels The Yacoubian Building, the best-selling novel in the Arab world for more than five years, with more than a million copies sold around the world; Chicago, named by Newsday as the best translated novel of 2006; and, most recently, The Automobile Club of Egypt. His work has been translated into more than thirty languages and published in more than one hundred countries. He has received several international awards, including the Grinzane Cavour Prize, and in 2016 he was appointed a Chevalier of the Ordre des Arts et des Lettres of France. Originally trained as a dentist, he retains his own dental practice in Cairo. Translated by S. R. Fellowes.
Praise For…
---
"The novel is filled with drama both historical and intimate . . . Full of surprises . . . Funny and even sweet in parts, but increasingly violent."—Los Angeles Times

"The novel seethes . . . Mr. Al Aswany conveys the mixed lessons of the revolution."—Wall Street Journal

"The Republic of False Truths is a lively record. Aswany pulls no punches"—Foreign Policy

"Brave, sobering, provocative, and thoroughly absorbing . . . A gripping chorus of voices . . . In today's splintered and partisan political and media landscape, this is a stark lesson for democracies everywhere: Whomever controls the narrative, controls the outcomes." —Booklist (starred)
 
"It goes places that no nonfiction account could . . . Sweeping, nuanced."—Seattle Times

"Ambitious and hard-hitting." —Kirkus Reviews

U.K.

"Masterly...Alaa Al Aswany's novel puts him in the company of writers such as Joseph Conrad or Mario Vargas Llosa as an outstanding fictional confronter or authoritarianism." —Sunday Times

"A glorious, humane novel." —The Observer

"Blistering, bold...A multi-voiced work of elation and dispair." —Financial Times

"A gorgeous novel...Moving...Al Aswany is a beautiful writer." —The Independent
 
"Effervescent...An evocative and informed account of an important moment in Egyptian society...Exhilarating in its storytelling and devastating in its societal critique." —Irish Times


France

"Extraordinary storyteller Alaa Al Aswany pulls off the great novel of the Egyptian revolution."—Télérama

"A breathtaking and suspenseful novel, built like a saga and inhabited by splendid characters...It will move readers across the whole world." —Le Point

"Al Aswany is a writer of great talent, a rare man whose courage is not merely literary." —Le Figaro Littéraire

Denmark

"Totally phenomenal." —Weekendavisen

"An exceptionally important account of the Arab Spring." —Information

"A monumental piece of fiction." —Literatursiden

Germany
 
"In literary terms, Al Aswany is at the summit." —Frankfurter Allgemeine Zeitung

"Perhaps the greatest strength of this novel is that, despite its ruthless analysis of Egypt's failed revolution, it never ignores the human aspect." —DLF Büchermarkt

"In the tradition of epic realism, elevated to mastery by Naguib Mahfouz, Al Aswany presents the Egyptian revolution as a monumental drama of a failure...[The novel features] a cleverly balanced choreography of characters, an exciting plot, and long stretches of reading pleasure. It's a film in words." —Badische Zeitung

Free Media Mail shipping on U.S. orders over $50
Christmas ordering guidelines
"Ships from warehouse" items to be shipped: Order by Monday, 12/5
"Ships from warehouse" items to be picked-up in store: Order by Monday, 12/12
On hand items: We'll pull items in order of orders received, so keep them coming!