We are offering FREE media mail shipping on books. We are open from 10am-7pm Monday through Saturday and 10am-6pm Sunday. Phones may not be answered due to a high volume of calls.
The Foothills Cuisine of Blackberry Farm: Recipes and Wisdom from Our Artisans, Chefs, and Smoky Mountain Ancestors : A Cookbook (Hardcover)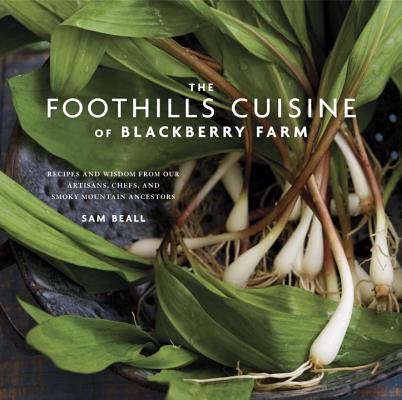 $60.00
Available from warehouse in 1-5 business days
Description
---
Step into the world of top luxury resort Blackberry Farm, where lovers of farm-to-table cuisine and the lost arts of Southern cooking will find bliss in the gorgeous photographs, enticing recipes, and artisanal food-making tutorials of this transporting book.

Blackberry Farm has long been lauded as one of the country's most excellent resorts and sought out for its perfect mix of rusticity and refinement. The Blackberry Farm Cookbook was a love letter to the experience and cuisine of Blackberry Farm. Now, owner Sam Beall takes food lovers a step further, drawing them deeply into the secrets that make Blackberry Farm cuisine so magical.

It all starts with their roots in the rich traditions of "foothills cuisine." Every day, Blackberry Farm's chefs, gardeners, cheese-makers, and preservationists use wisdom passed down through generations of mountain residents. Following the natural rhythms of eight seasons or "times" allows cooks to coax the most heady dishes out of what's fresh and best, such as Lay by Time's menu of Mountain Multigrain Bread, Fried Catfish and Cucumber Slaw, Green Tomato Pie, and Banana Peanut Butter Pudding. Interspersed throughout the book are artisanal craft lessons, such as cheese-making, canning and preserving, and curing meats.

A sumptuous package full of stunning photography, The Foothills Cuisine of Blackberry Farm will be both a transportive tome and a trove of fantastic seasonal recipes that any food lover will be eager to try at home.
About the Author
---
Blackberry Farm continues to be named among the top small hotels in the world in publications ranging from Condé Nast Traveler to Travel + Leisure, which named it the number one resort in North America in 2011. Blackberry Farm proprietor SAM BEALL grew up on the property. He worked at the French Laundry, the Ritz-Carlton, Cowgirl Creamery, wineries, farms, and markets before settling in the foothills of Tennessee, where he cooks, raises a family, and oversees the food, wine, and other lifestyle programs of Blackberry Farm.
Praise For…
---
"I loved my visit to Blackberry Farm for the way it took me back to the earth-to-table rustic cooking I grew up with in the French countryside. Sam Beall's book shares the riches each crucial season can provide, from jam to ham, as well as the traditions of soul-satisfying Appalachian cooking."
–Daniel Boulud
 
"The sights, the sounds, the smells, the terroir… like the ingredients in a fine bourbon, those which comprise Blackberry Farm are, in essence, all about the earth. Sam Beall and I agree that the old way is often the best way. The luxurious journey through the pages of this book remind us that the purest, simplest ingredients thoughtfully and lovingly put together can result in nectar on your palate. Ask it of nature and ye shall receive!"
– Julian Van Winkle, Old Rip Van Winkle Distillery
 
"In a perfect world, every American would have a chance to experience Blackberry Farm and taste the changing seasons. This book is the next best thing; a visit to a vanishing America that is being lovingly preserved in the Great Smoky Mountains. "
–Ruth Reichl
 
"I can't imagine a more perfect celebration of mountain cuisine. This elegant cookbook stirs memories of my grandmothers cooking food they had grown and preserved on wood burning cook stoves. It provides a glimpse of the incredible effort that makes Blackberry Farm truly special. It is the perfect marriage of authentic southern food indigenous to our mountains with the refined Foothills Cuisine that has elevated Blackberry Farm to the ultimate dining experience in America."
–Allan Benton, Benton's Smoky Mountain Country Hams

"Sounds rustic, but Blackberry Farm is a luxury resort in Tennessee known for farm-to-table food. Marbled Potato Salad With Arugula Pesto is a work of art."
-Washington Post's Top Cookbooks of 2012
 
"Nothing has us more ready for a rustic fall feast than the new cookbook The Foothills Cuisine of Blackberry Farm. Inside you'll find seasonal dishes (such as Fried Catfish and Cucumber Slaw), gorgeous photography, and even lessons on how to make artisanal cured meats and cheese, all from experts at the Tennessee foodie destination."
-Southern Living

"A trip to Blackberry Farm has always been on our wish list....The resort's new cookbook, The Foothills Cuisine of Blackberry Farm, celebrates life on the rolling property in East Tennessee....Lush photographs....The recipes follow a strict farm-to-table philosophy, with a dose of Southern charm (moonshine cherries, anyone?)....If we can't get to Blackberry Farm soon, at least we can have a bite of it."
-Tasting Table