We are offering FREE media mail shipping on books. We are open from 10am-7pm Monday through Saturday and 10am-6pm Sunday. Phones may not be answered due to a high volume of calls.
Under Magnolia: A Southern Memoir (Hardcover)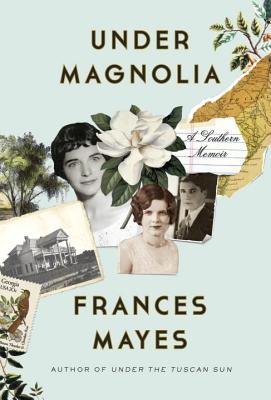 $26.00
Hard to find: allow 24 hours for information
Staff Reviews
---
Written in elegant prose, brimming with gorgeous imagery, this memoir gives new insight into the woman who captivated us with her Tuscan books. But you needn't have read one of her other books to love this one. If you grew up in the South—or in any small town; if the 60's figured in your life; if your family had "issues", you'll appreciate its poignancy, honesty and humor and, I dare say, find at least a little bit of yourself in these pages.
— Samantha
Description
---
A lyrical and evocative memoir from Frances Mayes, the Bard of Tuscany, about coming of age in the Deep South and the region's powerful influence on her life.
The author of three beloved books about her life in Italy, including Under the Tuscan Sun and Every Day in Tuscany, Frances Mayes revisits the turning points that defined her early years in Fitzgerald, Georgia. With her signature style and grace, Mayes explores the power of landscape, the idea of home, and the lasting force of a chaotic and loving family.
From her years as a spirited, secretive child, through her university studies a period of exquisite freedom that imbued her with a profound appreciation of friendship and a love of travel to her escape to a new life in California, Mayes exuberantly recreates the intense relationships of her past, recounting the bitter and sweet stories of her complicated family: her beautiful yet fragile mother, Frankye; her unpredictable father, Garbert; Daddy Jack, whose life Garbert saved; grandmother Mother Mayes; and the family maid, Frances's confidant Willie Bell.
Under Magnolia is a searingly honest, humorous, and moving ode to family and place, and a thoughtful meditation on the ways they define us, or cause us to define ourselves. With acute sensory language, Mayes relishes the sweetness of the South, the smells and tastes at her family table, the fragrance of her hometown trees, and writes an unforgettable story of a girl whose perspicacity and dawning self-knowledge lead her out of the South and into the rest of the world, and then to a profound return home.
About the Author
---
In addition to her worldwide bestselling Tuscany memoirs Under the Tuscan Sun, Bella Tuscany, and Every Day in Tuscany, FRANCES MAYES is the author of the travel memoir, A Year in the World, illustrated books In Tuscany and Bringing Tuscany Home (with Edward Mayes), and The Tuscan Sun Cookbook (also with Edward Mayes). She has published a novel, Swan, set in the South, The Discovery of Poetry: A Guide for Readers and Writers, and five books of poetry. Her books have been translated into more than fifty languages.She divides her time between Tuscany and North Carolina. Visit her at www.francesmayesbooks.com."
Praise For…
---
Southern Independent Booksellers Association Spring 2014 Okra Pick

"As gothic as anything Faulkner could have dreamed up, populated by characters straight out of a Flannery O'Connor story…a thorny memoir that strips away the polite Southern masks, sweet magnolias be damned. Unforgettable." – Atlanta Journal Constitution

"One of those books you want to devour but realize it's more satisfying to savor for as long as possible."– Kirkus Reviews (starred)

"A best-selling sensation worldwide, Mayes will galvanize readers with this vigorously promoted coming-of-age tale set on her home terrain." –Booklist

"Under Magnolia is a gorgeous, dreamy remembrance of hot Southern afternoons, mothers in red lipstick and Shalimar, Elvis turned up loud to cover up the family troubles that ran deep. An unflinching love song to her simultaneously rich and troubled childhood, it is Mayes' most generous work yet." –BookPage

"Like the rest of America, I fell in love with Tuscany and Italy when I read Frances Mayes's wondrous memoir, Under the Tuscan Sun.  She followed her Tuscan books with a beautiful novel called Swan, which alerted me to her southern heritage.  In her new southern memoir, Under Magnolia, Frances Mayes describes the birth of her extraordinary sensibility, the deep-pooled clarity of her writing, her giddy love of nature, and her sharp and satirical eye for those who brought her up to honorable womanhood in the tortured South of her girlhood.  Her prose style is seamless to me and she writes in a royal style." –Pat Conroy, New York Times bestselling author of The Prince of Tides and The Death of Santini

"No other writer today breathes life into place like Frances Mayes. In Under Magnolia, she turns her prolific gift of language and description to the South and her childhood there. This memoir recalls bygone days filled with neighborhood characters, sultry weather, Sears Roebuck catalogues, smothered quail—all the trappings of a Southern childhood. Under Magnolia is a love song, a rich and beautiful book." – Ann Hood, author of The Knitting Circle and Comfort: A Journey Through Grief

"No one could have invented a more combustible, joy-starved pair of glam and oblivious parents or a more incandescent child to dive into the blue ruins, explore the sealed-off passages, blacked-out dreams and neglected outlets by the beams of her own incredulous eyes; then break the surface a smart-mouthed, truth-seeing sensualist, fully in attendance to the vibratory moment. The deft framing, the exacting word picks, apposite references, high speed wit, singled out synecdoches of a life; the cadence, phrasing, and pulse of a muted Georgian accent are all signature to the prose and poetry, stove-tops and passport stamps of Frances Mayes. In her memoir Under Magnolia they are second skin. When she comes clean, you feel, can I say it, cleansed. Freer. Floatable. What an offering." – C.D. Wright, author of One with Others

"Under Magnolia is much more than an entrancing memoir: it is a work of art that defies the distinction between prose and poetry or novels and autobiographies.  It is also much more than a personal narrative: it is an unflinching meditation on the relation between self and culture, and, more specifically, on the gravitational pull of memory.  This is a book to be savored, a feast for both mind and soul."  – Carlos Eire, author of Waiting for Snow in Havana

"Mayes has written a brash and delightful, cringe-worthy and uproariously funny memoir. As I read, I wished Mayes had been my teenage neighbor. Wit–as well as misery–loves company." –Margaret Sartor, author of Miss American Pie

"Under Magnolia is one of the most brilliant memoirs ever written, shedding new light on a certain mysterious South and offering  a memorable portrait of the artist as a young girl. Frances Mayes, a petite, brainy beauty from what we used to call politely 'a troubled home' has written an unnervingly honest and refreshingly open account of how a child can be neglected even amid privilege and a large family...  Reader, artist, scholar, poet—Frances Mayes gradually became the aesthete and writer she is today, a passionate lover of the world and the word." –Lee Smith, author of Guests on Earth