Daughter of Persia: A Woman's Journey from Her Father's Harem Through the Islamic Revolution (Paperback)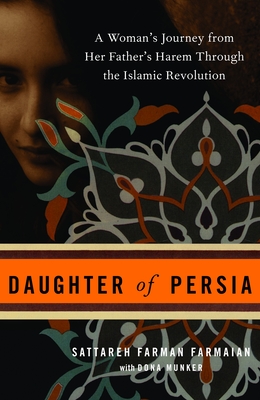 Description
---
An intimate and honest chronicle of the everyday life of Iranian women over the past century

"A lesson about the value of personal freedom and what happens to a nation when its people are denied the right to direct their own destiny. This is a book Americans should read." —Washington Post

The fifteenth of thirty-six children, Sattareh Farman Farmaian was born in Iran in 1921 to a wealthy and powerful shazdeh, or prince, and spent a happy childhood in her father's Tehran harem. Inspired and empowered by his ardent belief in education, she defied tradition by traveling alone at the age of twenty-three to the United States to study at the University of Southern California. Ten years later, she returned to Tehran and founded the first school of social work in Iran.

Intertwined with Sattareh's personal story is her unique perspective on the Iranian political and social upheaval that have rocked Iran throughout the twentieth century, from the 1953 American-backed coup that toppled democratic premier Mossadegh to the brutal regime of the Shah and Ayatollah Khomeini's fanatic and anti-Western Islamic Republic. In 1979, after two decades of tirelessly serving Iran's neediest, Sattareh was arrested as a counterrevolutionary and branded an imperialist by Ayatollah Khomeini's radical students.

Daughter of Persia is the remarkable story of a woman and a nation in the grip of profound change.
About the Author
---
Sattareh Farman Farmaian immigrated to the United States in 1979. She lives in Los Angeles. Dona Munker is a writer, editor, and teacher. She lives in New York.
Praise For…
---
"Beautifully written." —New York Times Book Review

"A great life story. [A] loving memoir, which both describes [Farmaian's] lost world and, at the same time, explains why it had to disappear." —Wall Street Journal

"Sattareh Farman Farmaian has given us a remarkable personal story as well as a succinct history of her enigmatic and exasperating homeland." —Los Angeles Times
Free Media Mail shipping on U.S. orders over $75
"Ships from warehouse" books to be shipped: order by Wednesday, 12/6
"Ships from warehouse" books for pickup: order by Tuesday, 12/12