The Bright Forever: A Novel (Paperback)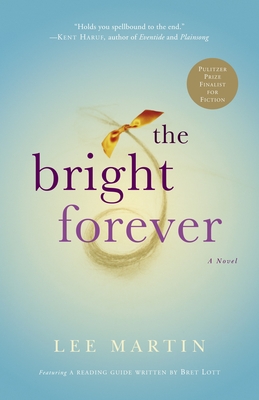 List Price: $15.00
Our Price: $14.00
(Save: $1.00 7%)
Hard to find: allow 24 hours for information
Description
---
A dark, harrowing novel about a nine-year-old girl's disappearance and the lasting impact it has on her close-knit community

On an evening like any other, nine-year-old Katie Mackey, daughter of the most affluent family in a small town on the plains of Indiana, sets out on her bicycle to return some library books.

This simple act is at the heart of The Bright Forever, a deeply affecting novel about the choices people make that change their lives forever. Fact, speculation, and contradiction play off one another as the details about Katie's disappearance--and about the townspeople--unfold, creating a fast-paced story that is as gripping as it is richly human. A nuanced portrayal of the complicated give and take among people struggling to maintain their humanity in the shadow of a loss, The Bright Forever is a compelling and emotional tale about the human need to know even the hardest truth.
About the Author
---
Lee Martin is the author of the Pulitzer Prize finalist The Bright Forever; as well as the novels River of Heaven and Quakertown; a story collection, The Least You Need to Know; and two memoirs, From Our House and Turning Bones. He has won a fellowship from the National Endowment for the Arts, the Mary McCarthy Prize in Short Fiction, a Lawrence Foundation Award, and the Glenna Luschei Award. He lives in Columbus, Ohio, where he teaches in the MFA in Creative Writing Program at The Ohio State University. Visit him at www.leemartinauthor.com.
Praise For…
---
"With what consummate skill Lee Martin conjures up a small town in the grip of tragedy and how deftly he explores the way in which a casual remark, a brief kiss, a white lie can have the most terrible consequences. The Bright Forever is a remarkable and almost unbearably suspenseful novel." —Margot Livesey, author of Banishing Verona and Eva Moves the Furniture

"Lee Martin's The Bright Forever goes deep into the mystery of being alive on this earth. Written in the clearest prose, working back and forth over its complex story, and told in the dark, desperate, vivid voices of its various speakers, it holds you spellbound to the end, to its final, sad revelations." —Kent Haruf, author of Eventide and Plainsong

"Like Winesburg, Ohio, The Bright Forever captures, in alternating voices, the individual acts of desperation that lead to a community's sorrow. And, like Sherwood Anderson, Lee Martin is not happy to let guilt reside singularly or simply. This is a morally complex quilt, a page-turner that also insists on the reader's participation in moral contemplation." —Antonya Nelson, author of Female Trouble and Talking in Bed

"I read The Bright Forever in one sitting. I couldn't put it down. Part Mystic River, part Winesburg, Ohio, this harrowing and beautiful book is one of the most powerful novels I've read in years and heralds the breakout of a remarkable talent." —Bret Lott, author of A Song I Knew by Heart and Jewel

"The Bright Forever will get under your skin with its exquisite psychology and fine-tuned suspense. Lee Martin has created a world of aching beauty and terrible loss." —Jean Thompson, author of City Boy and Wide Blue Yonder

"The Bright Forever is ravishing. . . . Lee Martin's characters, dear readers, are us—riven and bedeviled, our souls gone grainy and rank, our hearts busted and beating heavily for love. We have Martin to thank for having the moral courage—yes, an old-fashioned but rare virtue—to tell it to us plain." —Lee K. Abbott, author of Living After Midnight