Atlas of Poetic Zoology (Hardcover)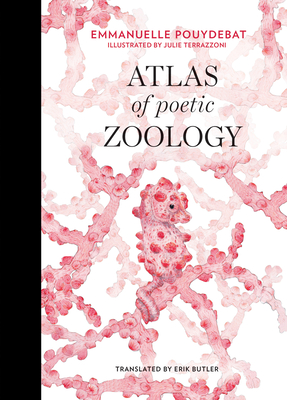 $24.95

Ships from warehouse to store in 3-6 business days
Description
---
A catalog of wonders, from walking fish to self-medicating chimpanzees.
This Atlas of Poetic Zoology leads readers into a world of wonders where turtles fly under the sea, lizards walk on water, insects impersonate flowers, birds don't fly, frogs come back from the dead, and virgin sharks give birth. Animals, writes Emmanuelle Pouydebat, are lyric poets; they discover and shape the world when they sing, dance, explore, and reproduce. The animal kingdom has been evolving for millions of years, weathering many crises of extinction; this book allows us to draw inspiration from animals' enduring vitality.
Pouydebat's text, accompanied by striking color illustrations by artist Julie Terrazzoni, offers a catalog of wondrous beings. Pouydebat describes the African bush elephant—the biggest land mammal of them all, but the evolutionary descendant of a tiny animal that stood less than fifty centimeters (nineteen inches) high sixty million years ago; the scaly, toothless pangolin, the world's most endangered mammal—and perhaps its most atypical; the red-lipped batfish, which walks, rather than swims, across the ocean floor; and the great black cockatoo, a gifted percussionist. Chimpanzees, she tells us, self-medicate with medicinal plants; the jellyfish, under stress, reverts to juvenile polyp-hood; and the sweetly named honey badger feeds on reptiles, termites, scorpions, and earthworms.
Pouydebat, a researcher at the French Museum of Natural History, and Terrazzoni capture the astonishment promised by any excursion into nature—the happiness that comes from watching a dragonfly, spider, frog, lizard, elephant, parrot, mouse, orangutan, or ladybug. It's the joy of witnessing life itself. We need only open our eyes to see.
About the Author
---
Emmanuelle Pouydebat is a permanent researcher employed by the CNRS (French National Center for Scientific Research), working at the Muséum National d'Histoire Naturelle in Paris.
Free Media Mail shipping on U.S. orders over $75
"Ships from warehouse" books to be shipped: order by Wednesday, 12/6
"Ships from warehouse" books for pickup: order by Tuesday, 12/12