African Art Reframed: Reflections and Dialogues on Museum Culture (Paperback)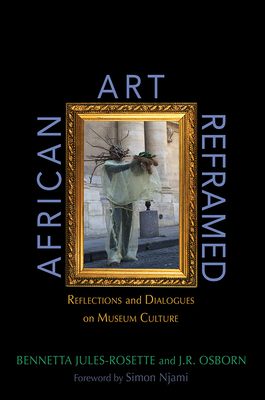 $29.69
Ships from warehouse to store in 1-5 business days
Description
---
Once seen as a collection of artifacts and ritual objects, African art now commands respect from museums and collectors. Bennetta Jules-Rosette and J.R. Osborn explore the reframing of African art through case studies of museums and galleries in the United States, Europe, and Africa.
The authors take a three-pronged approach. Part One ranges from curiosity cabinets to virtual websites to offer a history of ethnographic and art museums and look at their organization and methods of reaching out to the public. In the second part, the authors examine museums as ecosystems and communities within communities, and they use semiotic methods to analyze images, signs, and symbols drawn from the experiences of curators and artists. The third part introduces innovative strategies for displaying, disseminating, and reclaiming African art. The authors also propose how to reinterpret the art inside and outside the museum and show ways of remixing the results.
Drawing on extensive conversations with curators, collectors, and artists, African Art Reframed is an essential guide to building new exchanges and connections in the dynamic worlds of African and global art.
About the Author
---
Bennetta Jules-Rosette is Distinguished Professor of Sociology and director of the African and African-American Studies Research Center at the University of California, San Diego. Her books include Josephine Baker in Art and Life: The Icon and Image, Black Paris: The African Writers' Landscape, and The Messages of Tourist Art. J.R. Osborn is an associate professor of communication, culture, and technology at Georgetown University. He is the author of Letters of Light: Arabic Script in Calligraphy, Print, and Digital Design.
Praise For…
---
"This book is nothing less than a major breakthrough in museum studies. It is the first to systematically connect museum display practice to the recalibration of 'ethnic identity' that happens after colonialism. Its focus is on the global display of art and crafts from Africa and the African diaspora. But it is essential reading for anyone who wonders about what we want to hear from our forebears as we compel them to speak from behind glass, standing on plinths, and hanging on walls."—Dean MacCannell, author of The Tourist: A New Theory of the Leisure Class

"An important intervention featuring new approaches to 'unmixing' in the exhibitionary complex of African and African American Art. It features interviews with French and US-based curators and museum directors engaged in emerging contexts and legacies of ethnographic display."—Peter J. Bloom, author of French Colonial Documentary: Mythologies of Humanitarianism