From the Seashore to the Seafloor: An Illustrated Tour of Sandy Beaches, Kelp Forests, Coral Reefs, and Life in the Ocean's Depths (Hardcover)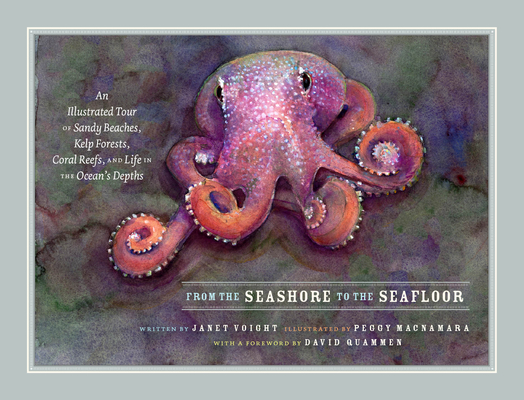 $25.00

Ships from warehouse to store in 3-6 business days
Description
---
An octopus expert and celebrated artist offer a deep dive to meet the enchanting inhabitants of the world's marine ecosystems.
 
Have you ever walked along the beach and wondered what kind of creatures can be found beneath the waves? Have you pictured what it would be like to see the ocean not from the shore but from its depths? These questions drive Janet Voight, an expert on mollusks who has explored the seas in the submersible Alvin that can dive some 14,000 feet below the water's surface. In this book, she partners with artist Peggy Macnamara to invite readers to share her undersea journeys of discovery.

With accessible scientific descriptions, Voight introduces the animals that inhabit rocky and sandy shores, explains the fragility of coral reefs, and honors the extraordinary creatures that must search for food in the ocean's depths, where light and heat are rare. These fascinating insights are accompanied by Macnamara's stunning watercolors, which illuminate these ecosystems and other scenes from Voight's research. Together, they show connections between life at every depth—and warn of the threats these beguiling places and their eccentric denizens face.
 
About the Author
---
Janet Voight is the Women's Board Associate Curator for Invertebrate Zoology at the Field Museum of Natural History in Chicago.

Peggy Macnamara is artist-in-residence at the Field Museum and an adjunct associate professor at the School of the Art Institute of Chicago. She is the author of several books published by the University of Chicago Press.

David Quammen is the author of numerous books, including Spillover: Animal Infections and the Next Human Pandemic and The Song of the Dodo: Island Biogeography in an Age of Extinction.
Praise For…
---
"Look closely, dear people. Look with sympathy and fascination and awe. Look upon these majesties of marine life, read about them, learn something about them—and be grateful you were born on the blue planet. . . . The minds and the eyes of these two journeying women will take you places you haven't been."
— David Quammen

"From the Seashore to the Seafloor . . .  takes its readers on a watercolor illustrated journey between its title locations of the northeastern Pacific Ocean, blending into its narrative explanations of some of the creatures and systems to be found along the way with exhortations to conserve them."
— The Well-read Naturalist

"From the Seashore to the Seafloor is a gem. . . Reflecting the scientific experiences of Dr. Voight, an expert in mollusks who has taken eight dives in the deep-sea Alvin submersible, each chapter focuses on a different marine ecosystem. . . Almost every page is graced with Macnamara's carefully observed and lively, brilliantly colorful illustrations. . . From the Seashore to the Seafloor is a lovely and very informative work that would be welcome in any scientist's or artist's library."
— American Biology Teacher
Free Media Mail shipping on U.S. orders over $75
"Ships from warehouse" books to be shipped: order by Wednesday, 12/6
"Ships from warehouse" books for pickup: order by Tuesday, 12/12