Hate: Why We Should Resist It with Free Speech, Not Censorship (Inalienable Rights) (Paperback)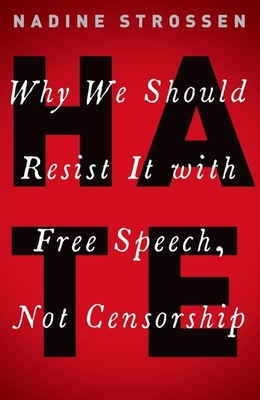 $16.95

Ships from warehouse to store in 3-6 business days
Staff Reviews
---
Nadine Strossen is a law school professor, former head of the American Civil Liberties Union, and an expert on the First Amendment and challenges to it. In this important and insightful book she demonstrates, with references to wide-ranging cases in the U.S. and in Europe, why laws and rules that seek to ban hate speech, usually with the intention of protecting minority or vulnerable populations, inevitably are used against them instead. Strossen also shows why it is impossible to craft a law that bans hate speech that doesn't have far graver and adverse consequences than desirable ones. This book should be required reading for anyone seeking to restrict speech, regardless of their possibly good intentions.
— Sarah G
Description
---
The updated paperback edition of HATE dispels misunderstandings plaguing our perennial debates about "hate speech vs. free speech," showing that the First Amendment approach promotes free speech and democracy, equality, and societal harmony. As "hate speech" has no generally accepted definition, we hear many incorrect assumptions that it is either absolutely unprotected or absolutely protected from censorship. Rather, U.S. law allows government to punish hateful or discriminatory speech in specific contexts when it directly causes imminent serious harm. Yet, government may not punish such speech solely because its message is disfavored, disturbing, or vaguely feared to possibly contribute to some future harm. "Hate speech" censorship proponents stress the potential harms such speech might further: discrimination, violence, and psychic injuries. However, there has been little analysis of whether censorship effectively counters the feared injuries. Citing evidence from many
countries, this book shows that "hate speech" are at best ineffective and at worst counterproductive. Therefore, prominent social justice advocates worldwide maintain that the best way to resist hate and promote equality is not censorship, but rather, vigorous "counterspeech" and activism.

About the Author
---
New York Law School professor Nadine Strossen, the immediate past President of the American Civil Liberties Union (1991-2008), is a leading expert and frequent speaker/media commentator on constitutional law and civil liberties, who has testified before Congress on multiple occasions. She serves on the advisory boards of the ACLU, Electronic Privacy Information Center, Foundation for Individual Rights in Education (FIRE), and Heterodox Academy. The National Law Journal has named Strossen one of America's "100 Most Influential Lawyers," and several other national publications have named her one of the country's most influential women. HATE was selected by Washington University as its 2019 "Common Read."
Free Media Mail shipping on U.S. orders over $50