The Maldonado Miracle (Paperback)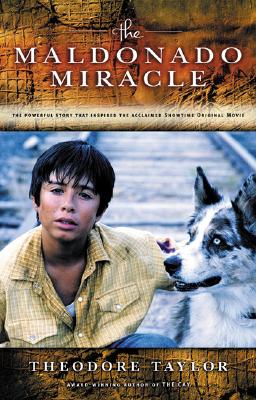 $6.95

Ships from warehouse to store in 3-6 business days
Description
---
Twelve-year-old Jose Maldonado used to dream of becoming a fine artist. But this son of a poor Mexican farmer now focuses on survival, not art. After Jose's mother died, his father left to work in the United States, leaving Jose on his own in Mexico. When it's time for father and son to reunite, things go terribly wrong. Jose's attempt to cross the border is harrowing, and his stay at a migrant worker camp turns into a nightmare, forcing him to flee for his life. Hiding out in a church seems a wise thing to do—until the blood dripping from his wounded shoulder lands on a statue of Christ. Now everyone thinks the statue itself is bleeding. Jose's accidental "miracle" kick-starts a media frenzy—and threatens the future of an entire town.
Theodore Taylor's riveting story of faith and desperation inspired the September 2003 Showtime movie The Maldonado Miracle, directed by Salma Hayek.
About the Author
---
THEODORE TAYLOR (1921-2006), an award-winning author of many books for young people, was particularly known for fast-paced, exciting adventure novels. His books include the bestseller The Cay, Timothy of the Cay, The Bomb, Air Raid--Pearl Harbor!, Ice Drift, The Maldonado Miracle, and The Weirdo, an Edgar Award winner for Best Young Adult Mystery.
Free Media Mail shipping on U.S. orders over $75