No One Is Too Small to Make a Difference (Paperback)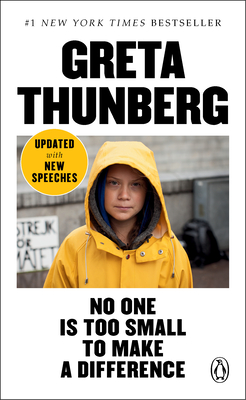 Description
---
The #1 New York Times bestseller by Time's 2019 Person of the Year

"Greta Thunberg is already one of our planet's greatest advocates." —Barack Obama

The groundbreaking speeches of Greta Thunberg, the young climate activist who has become the voice of a generation, including her historic address to the United Nations 

In August 2018 a fifteen-year-old Swedish girl, Greta Thunberg, decided not to go to school one day in order to protest the climate crisis. Her actions sparked a global movement, inspiring millions of students to go on strike for our planet, forcing governments to listen, and earning her a Nobel Peace Prize nomination.

No One Is Too Small to Make A Difference brings you Greta in her own words, for the first time. Collecting her speeches that have made history across the globe, from the United Nations to Capitol Hill and mass street protests, her book is a rallying cry for why we must all wake up and fight to protect the living planet, no matter how powerless we feel. Our future depends upon it.
About the Author
---
Greta Thunberg was born in 2003. In August 2018 she started a school strike that became a movement called Fridays For Future, which has inspired school strikes for climate action in more than 150 countries involving millions of students. Thunberg has spoken at climate rallies across Europe, and at the United Nations COP24 in Poland and the World Economic Forum in Davos. In September 2019 she spoke in New York City at the UN Climate Action Summit. She has won the prestigious Prix Liberté and been nominated for a Nobel Peace Prize. Thunberg is vegan, and doesn't fly, in order to live a low-carbon life.
Praise For…
---
"Greta Thunberg is already one of our planet's greatest advocates." —Barack Obama

"[Greta Thunberg's] just 16, but her voice has woken up the world. . . . An inspiring call to action." —People

"A powerhouse compendium of [Greta's] greatest hits." —Teen Vogue

"When I turned in my book last September, I was skeptical that dramatic political progress on climate change was even possible, since so little had been accomplished over the past few decades. We're still moving far, far too slowly to avoid climate catastrophe, but Greta Thunberg's book of speeches—and even more so, her incredibly inspiring turn as global warming's Joan of Arc, leading millions of protestors into the streets all across the world—made me realize that my own political cynicism is just another form of naivete. And that climate change is much too important to ever give up on." —David Wallace–Wells, author of The Uninhabitable Earth

"Thunberg has always been refreshingly—and necessarily—blunt in her demands for action from world leaders who refuse to address climate change. With clarity and unbridled passion, she presents her message that climate change is an emergency that must be addressed immediately, and she fills her speeches with punchy sound bites delivered in her characteristic pull-no-punches style . . . . A tiny book . . . with huge potential impact." —Kirkus, starred review


We will be open on Memorial Day from 10 AM until 6 PM.
Free Media Mail shipping on U.S. orders over $50