Miss Julia Strikes Back: A Novel (Paperback)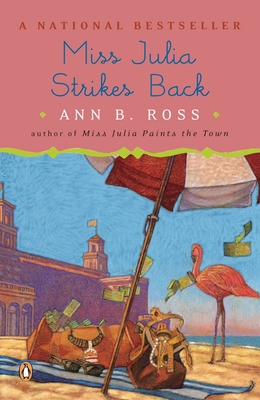 Other Books in Series
This is book number 8 in the Miss Julia series.
Description
---
The irresistible, indefatigable Miss Julia is back, turning the tables on a thief who chose the wrong belle to burgle. Don't miss  Ann Ross's latest, Miss Julia Raises the Roof, coming April 2018 from Viking. 


Having earned a devoted following for her rollicking antics and unshakable poise, Miss Julia's eighth outing begins with an unfortunate discovery. Her cherished engagement ring-an exact replica of Princess Di's-turns up missing after a party, making her the latest target of a Florida- based gang who, according to Sergeant Coleman Bates, has been denuding Dixie of its jewelry. Incensed, Miss Julia packs Little Lloyd into the car and heads south to claim what is rightfully hers-and to show the feds that there's more than one way to do reconnaissance: selling the Good Book!
About the Author
---
Ann B. Ross is the author of eighteen novels featuring the popular Southern heroine Miss Julia, as well as Etta Mae's Worst Bad-Luck Day, a novel about one of Abbotsville's other most outspoken residents: Etta Mae Wiggins. Ross holds a doctorate in English from the University of North Carolina at Chapel Hill, and has taught literature at the University of North Carolina at Asheville. She lives in Hendersonville, North Carolina.
Praise For…
---
"Ross allows the reader to laugh gently at feisty, opinionated Miss Julia while thoroughly enjoying the view through her eyes."
-Booklist

"Ann B. Ross and Miss Julia are fast becoming Southern classics."
-Winston-Salem Journal

Praise for Ann B. Ross and the Miss Julia series:

"Ross has a gift for elevating such everyday matters as marital strife and the hazards of middle age to high comedy, while painting her beautifully drawn characters with wit and sympathy."
-Publishers Weekly

"A charming, fun adventure with new relatives, old secrets and a will putting Miss Julia and the Abbotsville regulars in a true Southern mess. I loved it!" —Duffy Brown, bestselling author of the Consignment Shop Mysteries

"Ann B. Ross develops characters so expertly, through quirks, names, and mannerisms, that they easily feel familiar as the reader is gently immersed into the world Miss Ross has created. . . . A delightful read." —Winston-Salem Journal

"Miss Julia is one of the most delightful characters to come along in years. Ann B. Ross has created what is sure to become a classic Southern comic novel. Hooray for Miss Julia, I could not have liked it more." —Fannie Flagg, author of The All-Girl Filling Station's Last Reunion 

"Yes, Miss Julia is back, and I, for one, am one happy camper." —J. A. Jance, author of Cold Betrayal 
Free Media Mail shipping on U.S. orders over $50