We are closed to the public under the stay-at-home order, but we are still offering free Media Mail shipping on eligible items to the continental United States!
Europe Central (Paperback)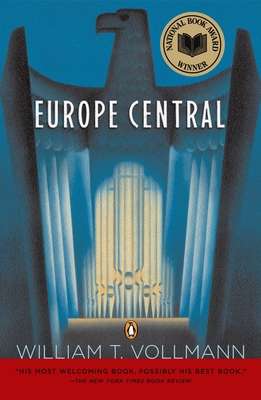 Staff Reviews
---
This is a novel about the conflict between Russia and Germany during World War II, but it is not predominantly a military novel. It is largely about the plight of Russian and German artists (Dmitri Shostakovich, Anna Akhmatova and many more) who were forced into a situation where they had to choose between Stalin and Hitler. One of the greatest novels ever written by a future Nobel Prize winner.
— Jason
Description
---
A daring literary masterpiece and winner of the National Book Award

In this magnificent work of fiction, acclaimed author William T. Vollmann turns his trenchant eye on the authoritarian cultures of Germany and the USSR in the twentieth century to render a mesmerizing perspective on human experience during wartime. Through interwoven narratives that paint a composite portrait of these two battling leviathans and the monstrous age they defined, Europe Central captures a chorus of voices both real and fictional— a young German who joins the SS to fight its crimes, two generals who collaborate with the enemy for different reasons, the Soviet composer Dmitri Shostakovich and the Stalinist assaults upon his work and life.
About the Author
---
William T. Vollmann is the author of ten novels, including Europe Central, which won the National Book Award.  He has also written four collections of stories, including The Atlas, which won the PEN Center USA West Award for Fiction, a memoir, and six works of nonfiction, including Rising Up and Rising Down and Imperial, both of which were finalists for the National Book Critics Circle Award. He is the recipient of a Whiting Writers Award and the Strauss Living Award from the American Academy of Arts and Letters.  His journalism and fiction have been published in The New Yorker, Harpers, Esquire, Granta, and many other publications.
Praise For…
---
"His most welcoming work, possibly his best book . . . part novel and part stories, virtuoso historical remembrance and focused study of violence."
- The New York Times Book Review  

"A jarring, haunting, absurdly ambitious symphony of a book . . . It has an emotional force capable of ripping almost any reader from his moorings. . . . Vollmann has done as much as anyone in recent memory to return moral seriousness to American fiction." 
- Steve Kettmann, San Francisco Chronicle 

"Resembles War and Peace not merely in its scope, but in its perception of history as a determining force that individual lives merely illustrate . . . Aspires to the highest possible potential of literature."
- Melvin Jules Bukiet, Los Angeles Times

"A grimly magnificent dramatization of the impossible moral choices forced on individuals by these totalitarian regimes . . . if you have been following Vollmann's extraordinary career, Europe Central may be his best novel ever."
 - Steven Moore, The Washington Post

"Profound . . . Vollmann asks us to put aside what we think we know of history and immerse ourselves in it once again."
 - John Freeman, The Boston Globe