Miss Julia Takes Over: A Novel (Paperback)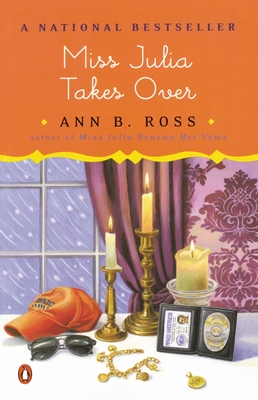 Other Books in Series
This is book number 2 in the Miss Julia series.
Description
---
The follow-up to Ann B. Ross's beloved debut that kicked off the New York Times bestselling series. Look out for Ann Ross's newest, Miss Julia Raises the Roof, coming April 2018 from Viking.  

When Miss Julia burst on the scene in her fictional debut, Miss Julia Speaks Her Mind, this proper lady of a certain age found her orderly world turned upside down when Hazel Marie Puckett appeared with her nine-year-old son, Little Lloyd, who looked disturbingly similar to Miss Julia's late husband. Now, in Miss Julia Takes Over, with her sharp tongue and iron backbone intact, Miss Julia must tackle another disruption when Hazel Marie doesn't return from a dinner date with a fund-raiser who, in Miss Julia's opinion, wears his shorts too tight. Frantic and unable to persuade the local police that Hazel Marie is in danger, Miss Julia hires J. D. Pickens to investigate, despite her reservations about his taste for beer and women. She and Little Lloyd help search for Hazel Marie, running into adventures ranging from a most indelicate display of fisticuffs to a high-speed car chase on the track of a NASCAR Speedway, all the while standing strong ...because if Miss Julia doesn't take care of things, who will?

Fast paced, funny, and full of colorful characters you'll want to meet again and again, Miss Julia Takes Over is a zany race through the South you'll not soon forget.
About the Author
---
Praise for Ann B. Ross and the Miss Julia series:

"Ross has a gift for elevating such everyday matters as marital strife and the hazards of middle age to high comedy, while painting her beautifully drawn characters with wit and sympathy."
-Publishers Weekly

"A charming, fun adventure with new relatives, old secrets and a will putting Miss Julia and the Abbotsville regulars in a true Southern mess. I loved it!" —Duffy Brown, bestselling author of the Consignment Shop Mysteries

"Ann B. Ross develops characters so expertly, through quirks, names, and mannerisms, that they easily feel familiar as the reader is gently immersed into the world Miss Ross has created. . . . A delightful read." —Winston-Salem Journal

"Miss Julia is one of the most delightful characters to come along in years. Ann B. Ross has created what is sure to become a classic Southern comic novel. Hooray for Miss Julia, I could not have liked it more." —Fannie Flagg, author of The All-Girl Filling Station's Last Reunion 

"Yes, Miss Julia is back, and I, for one, am one happy camper." —J. A. Jance, author of Cold Betrayal 
Praise For…
---
Praise for Ann B. Ross and the Miss Julia series:

"Miss Julia is one of the most delightful characters to come along in years." —Fannie Flagg

"Ross allows the reader to laugh gently at feisty, opinionated Miss Julia while thoroughly enjoying the view through her eyes. [For] readers who love Jan Karon." —Booklist

"Ross has a gift for elevating such everyday matters as marital strife and the hazards of middle age to high comedy, while painting her beautifully drawn characters with wit and sympathy."
-Publishers Weekly

"A charming, fun adventure with new relatives, old secrets and a will putting Miss Julia and the Abbotsville regulars in a true Southern mess. I loved it!" —Duffy Brown, bestselling author of the Consignment Shop Mysteries

"Ann B. Ross develops characters so expertly, through quirks, names, and mannerisms, that they easily feel familiar as the reader is gently immersed into the world Miss Ross has created. . . . A delightful read." —Winston-Salem Journal

"Miss Julia is one of the most delightful characters to come along in years. Ann B. Ross has created what is sure to become a classic Southern comic novel. Hooray for Miss Julia, I could not have liked it more." —Fannie Flagg, author of The All-Girl Filling Station's Last Reunion 

"Yes, Miss Julia is back, and I, for one, am one happy camper." —J. A. Jance, author of Cold Betrayal 
Free Media Mail shipping on U.S. orders over $50