The Singing Creek Where the Willows Grow: The Mystical Nature Diary of Opal Whiteley (Paperback)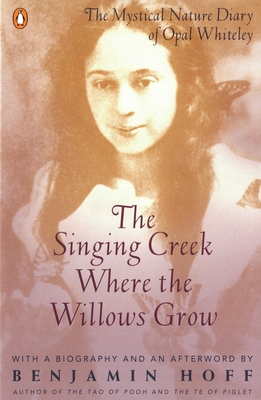 $17.00

Ships from warehouse to store in 3-6 business days
Description
---
Long before environmental consciousness became popular, a young nature writer named Opal Whitely captured America's heart. Opal's childhood diary, published in 1902, became an immediate bestseller, one of the most talked-about books of its time. Wistful, funny, and wise, it was described by an admirer as "the revelation of the ...life of a feminine Peter Pan of the Oregon wilderness—so innocent, so intimate, so haunting, that I should not know where in all literature to look for a counterpart."
But the diary soon fell into disgrace. Condemning it as an adult-written hoax, skeptics stirred a scandal that drove the book into obscurity and shattered the frail spirit of its author.
Discovering the diary by chance, bestselling author Benjamin Hoff set out to solve the longstanding mystery of its origin. His biography of Opal that accompanies the diary provides fascinating proof that the document is indeed authentic—the work of a magically gifted child, America's forgotten interpreter of nature.
About the Author
---
Opal Whiteley grew up in logging settlements near the town of Cottage Grove, at the southern end of Oregon's Willamette Valley. A child literary prodigy and acclaimed nature teacher, she is the author of
The Fairyland Around Us
, a self-published nature book for children (1918) and her bestselling childhood diary,
The Story of Opal
(1920).
Benjamin Hoff grew up in a rural area a few miles from Portland, Oregon—at the opposite end of the valley in which Opal Whiteley wrote her diary. As a child, he, like Opal, preferred to spend his time outdoors, observing animals, insects, and plants. From an early age, he, too, loved to write. He is tha author of the bestselling The Tao of Pooh and The Te of Piglet.
Praise For…
---
Praise for The Diary of Opal Whiteley in 1920:
"A human miracle... The most wonderful book concerning childhood, and written by a child, that has ever been given to the world." —The London Sphere
"Like no other book that ever was, that is certain." —Life
"A wonderful book." —The New York Times
Praise for Opal's Diary and Benjamin Hoff's biography:
"One of the great forgotten works of 20th-century American literature." —The Washington Post
"We can rejoice that [Opals'] enchanting diary has at last been republished." —Newsday
"The Singing Creek is truly wonderful—an intriguing reading experience." —Fort Worth Star-Telegram
"A strange, sad tale...has at last been given a happy ending." —Chicago Tribune
Free Media Mail shipping on U.S. orders over $50