Banker to the World: Leadership Lessons from the Front Lines of Global Finance (Hardcover)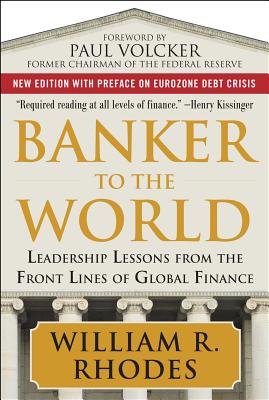 Description
---
Now featuring a New Preface on The Eurozone Debt Crisis
Praise for Banker to the World
"From Ukraine to China and Nigeria to Egypt debt and finance are central to global stability and United States interests. No one else has nearly as much experience on the front lines as Bill Rhodes. All who care about the 21st century will profit from close study of his thoughts."
--Lawrence H. Summers, Charles W. Eliot University Professor and President Emeritus at Harvard University, former Secretary of the Treasury for President Clinton, and former Director of the National Economic Council for President Obama
"Rhodes's recollections are lively and richly detailed, replete with glimpses of top-ranking personalities from the world of banking and government interacting under pressure, and they provide a rare window into how these important but normally secretive operations of high-level international finance actually work. . . . "
--The New York Review of Books
"Mr. Rhodes was one of the few members of the financial establishment to sense that the world was on the brink of a calamity in 2007 (most of the prophets of doom were either academic theoreticians or maverick financiers) . . . . Mr. Rhodes is rightly proud of his record in defusing debt bombs and calming financial storms. Let's hope that his successors will be able to make similar boasts in the decades to come."
--The Wall Street Journal
"Bill Rhodes has made it his life's work to bring common sense to the most serious international problems. On something I know firsthand, the Brady Plan, Bill's steady support and energy were invaluable to its conclusion. This comes as no surprise--that's what he always does."
--Nicholas Brady, former U.S. Secretary of the Treasury
"Banker to the World, a book exceptionally well titled, is an illuminating lesson in leadership, diplomacy, vision, and tenacity. It will be required reading at all levels of finance."
--Henry Kissinger, former U.S. Secretary of State
"His memoir is a must for anyone who wants to recapture the behind-the-scenes details of this important recent era of banking history."
--Robert Mundell, Nobel Laureate and Professor, Columbia University
"William Rhodes' book is an important and interesting one, and something that those who want to understand the past and present better would do well to read. A highly talented banker and wise statesman, Rhodes' book is essential reading as a history, business, and life lesson."
-Forbes.com
" S]hould be required reading not only for other bankers, but also for Washington's would-be reformers of Wall Street, but most of all for the ordinary lay citizens dismayed by the persisting panic. . . ."."
-American Spectator
"An absorbing read."
--Foreign Affairs
"Anyone interested in learning what lessons the emerging markets restructurings might hold for Europe should read William Rhodes' book Banker to the World."
--John Dizard, Financial Times
In more than five decades with Citi, William "Bill" Rhodes, the firm's former senior vice chairman and senior international officer, has worked with senior business leaders, statesmen, and strongmen and brokered immense financial deals while looking across the table at finance ministers . . . and up the barrels of guns trained on him. He has earned the cooperation of Fidel Castro over cigars and the admiration of Rupert Murdoch, who said of Rhodes, "By dogged hard work, Bill forms important and great relationships. Everyone knows Bill. Everyone trusts Bill."
From these and other experiences, Rhodes has learned a lifetime of lessons about managing amid crises--and, more important, how to lead prudently, decisively, and effectively to prevent crises from ever happening in the first place. In Banker to the World, Rhodes presents his collected wisdom, best-practices, analysis, and anecdotes in one essential volume on the creation of value through leadership--and on the importance of leading by one's values.
About the Author
---
William R. (Bill) Rhodes is the retired senior vice chairman and senior international officer of Citigroup and Citibank. He is President and CEO, William R. Rhodes Global Advisors, LLC; senior advisor, Citi; and professor-at-large, Brown University. Bill gained a reputation for international financial diplomacy in the 1980s and 1990s as a result of his leadership in helping manage the external debt crises that involved developing nations and their creditors worldwide. He has since served as a trusted advisor to governments, financial officials, and corporations worldwide. He is a director of many for-profit and not-for-profit organizations and has received numerous decorations and honors from governments and institutions.
Free Media Mail shipping on U.S. orders over $50