Baby Signs: How to Talk with Your Baby Before Your Baby Can Talk, Third Edition (Paperback)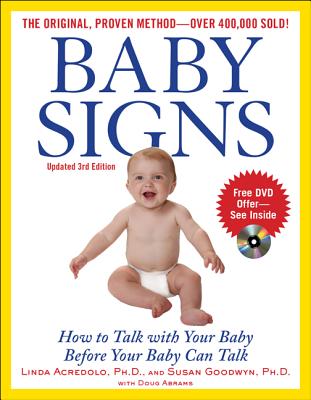 $20.00

On our shelves
(PLEASE NOTE: This book cannot be returned!)
Description
---
The Essential Parenting Guide- NOW COMPLETELY UPDATED AND EXPANDED
In 1982, child development experts Linda Acredolo, Ph.D., and Susan Goodwyn, Ph.D., discovered that babies can communicate with simple signs-even before they're able to talk. The result: Baby Signs, the groundbreaking technique that has changed parenting forever.
Now, with the widespread popularity of signing with hearing babies and new and exciting research findings to report, the authors have completely revised and expanded Baby Signs to create this indispensable new edition. Featuring an American Sign Language approach, as well as a set of "baby-friendly" alternatives, this comprehensive new program offers all the information any parent needs to join the hundreds of thousands of families around the world who are using Baby Signs to help their children communicate their "joys and fears without tears." (Newsweek)
Inside you will find . . .
An expanded dictionary with easy-to-follow photos of 150 ASL signs along with a set of 35 "baby-friendly" alternatives
New research showing the benefits of Baby Signs for children's emotional development, for the parent-child relationship, and for reducing frustration and aggression in childcare settings
Information to help parents use the magic of Baby Signs to meet the challenges of potty training (as seen on CBS's The Doctors)
Real-life stories of parents achieving both stunning and heartwarming communication breakthroughs with their children
About the Author
---
Linda Acredolo, Ph.D., Professor Emeritus of Psychology at the University of California at Davis, is an internationally recognized scholar in the field of child development. She is a Fellow of both the American Psychological Association and the American Psychological Society and has served as an associate editor of the prestigious journal, Child Development. She is also a member of the Parents magazine advisory board. Susan Goodwyn, Ph.D., Professor Emeritus of Psychology at the California State University at Stanislaus, has served as a project director and co-principle investigator for several longitudinal research projects funded by the National Institutes of Health and the Kellogg Foundation. She currently serves as president of Baby Signs, Inc., an infant and toddler educational products company.