Snowshoe Thompson (I Can Read Level 3) (Paperback)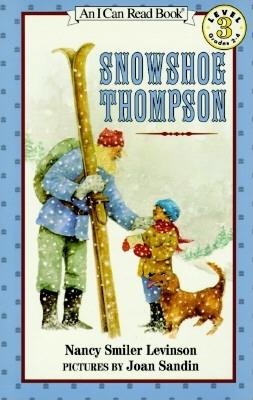 $5.99

Ships from warehouse to store in 3-6 business days
Description
---
Christmas is coming, and Danny's father is away digging for gold...
Danny wishes his dad would come home from Nevada for Christmas and writes him a letter to tell him so. When snow cuts off the mail until spring, only postman John Thompson can get through the Sierra Nevada Mountains to deliver his letter.
This tale is based on the true story of a Scandinavian immigrant in the 1850s who braved the long and treacherous journey over the mountains on skis to deliver bags of mail that often weighed over 100 pounds. Snowshoe Thompson managed to become a legend of the gold rush days.
"This is lively historical fiction with a nice sense of character and adventure, and the illustrations are packed with feeling and action." —Booklist
Snowshoe Thompson is a Level Three I Can Read book. Level 3 includes many fun subjects kids love to read about on their own. Themes include friendship, adventure, historical fiction, and science. Level Three books are written for early independent readers. They include some challenging words and more complex themes and stories
About the Author
---
Nancy Smiler Levinson has written many popular books for young readers, including Magellan and the First Voyange Around the World and the I Can Read Books Clara and the Bookwagon, illustrated by Carolyn Croll, and Snowshoe Thompson, illustrated by Joan Sandin. She lives in Beverly Hills, California.
Joan Sandin is the illustrator of many books for young readers, including the "I Can Read" books Small Wolf, written by Nathaniel Benchley, Snowshoe Thompson, written by Nancy Smiler Levinson, and her own The Long Way Westward and The Long Way to a New Land. Ms. Sandin lives in Tucson, AZ.
Free Media Mail shipping on U.S. orders over $75