Wagon Wheels (I Can Read Level 3) (Paperback)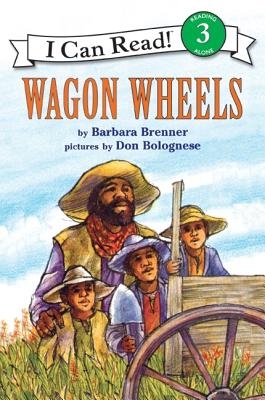 $5.99

Ships from warehouse to store in 3-6 business days
Description
---
Based on a true story, Wagon Wheels tells a powerful and overlooked story of the country's post-Civil War era.
Formerly enslaved Ed Muldie and his family travel to Kansas in 1878 to claim land under the Homestead Act. Mother dies on the journey from Kentucky. The family joins a free Black community in Nicodemus, Kansas. They survive a difficult winter thanks to help from the Osage Native community. But in spring Daddy must leave the boys to find better land for farming.
The two older boys, eleven and eight, take care of their three-year-old brother in these difficult times. Then a letter arrives via Pony Express. Daddy has settled and gives the boys a map to follow. The three boys must begin their own journey. They must care for one another as they travel 150 miles on foot to join him in their new home.
"The Muldies' story gives beginning readers a glimpse of homesteaders' life and, specifically, an awareness of the Black groups in Kansas—and the boys' impressive feats of coping make for...genuine human interest." (Kirkus)
Wagon Wheels is a Level Three I Can Read book. Level 3 includes many fun subjects kids love to read about on their own. Themes include friendship, adventure, historical fiction, and science. Level Three books are written for early independent readers. They include some challenging words and more complex themes and stories.
About the Author
---
Barbara Brenner's curiosity about the world ranges far and wide. Her interests are reflected in the wide scope of her quality fiction and nonfiction. Some of her best-selling titles include Wagon Wheels and Voices: Poetry and Art from Around the World, which was an ALA Notable Book for Children and an ALA Best Book for Young Adults. One Small Place in a Tree is a companion book to the striking One Small Place by the Sea. Barbara Brenner lives with her husband, artist Fred Brenner, in Hawley, Pennsylvania.
Don Bolognese is the illustrator of many popular books of historical fiction, including the I Can Read Books
Buffalo Bill and the Pony Express
by Eleanor Coerr and
Wagon Wheels
by Barbara Brenner. He lives in New York City and Vermont.
Free Media Mail shipping on U.S. orders over $75