Finale: Late Conversations with Stephen Sondheim (Hardcover)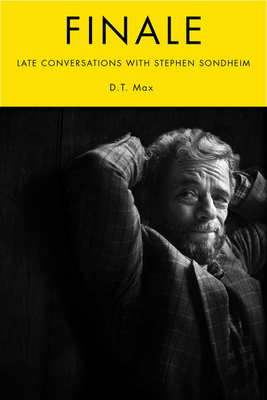 Description
---
An intimate portrait of a genius: the late Stephen Sondheim in a series of illuminating and deeply personal interviews from the last years of his life—conversations that show the composer-lyricist as he has likely never been seen before.
In 2017, New Yorker staff writer D.T. Max began working on a major profile of Stephen Sondheim that would be timed to the eventual premiere of a new musical Sondheim was writing. Sadly , that process – and the years of conversation – was cut short by Sondheim's own hesitations, then the global pandemic, and finally by the great artist's death in November 2021.
Now, Max has taken the raw version of these conversations and knit them together into an unforgettable work of literature and celebration. Finale reveals Sondheim—a star who disliked the spotlight—at his most relaxed, thoughtful, sardonic, and engaging, as he talks about work, music, movies, family, New York City, aging, the creative process, and much more.
Max brings you into the room and gives you a front row seat for their unusual and intimate three-year-long "pas de deux." The two bond, spar, separate, and reunite, as Max elicits from Sondheim a candor and vulnerability he seldom displayed in public. 
This is a unique portrait of an artist in his twilight, offering remarkable insight into the mind and heart of a genius whose work changed American musical theater and popular culture forever.
About the Author
---
D.T. Max is a staff writer at the New Yorker. He is the author of The Family That Couldn't Sleep: A Medical Mystery, and the bestselling Every Love Story is a Ghost Story: A Life of David Foster Wallace. He lives outside of New York City.
Praise For…
---
"Max paints a nuanced and sympathetic portrait of a notoriously private figure, enhanced with his own astute and earnest perspective . . . . Sondheim's fans shouldn't miss this." — Publishers Weekly
"[An] erudite and affably self-conscious memoir of the creative process. . . . For every brilliant chunk of dialogue, there are multiple moments when Max invites readers into his thought process while interviewing, as well as first-person accounts of the frenzied desire he felt coaxing Sondheim into revealing what makes him tick." — Vulture
Free Media Mail shipping on U.S. orders over $50
Christmas ordering guidelines
"Ships from warehouse" items to be shipped: Order by Monday, 12/5
"Ships from warehouse" items to be picked-up in store: Order by Monday, 12/12
On hand items: We'll pull items in order of orders received, so keep them coming!