The Blonde Identity: A Novel (Hardcover)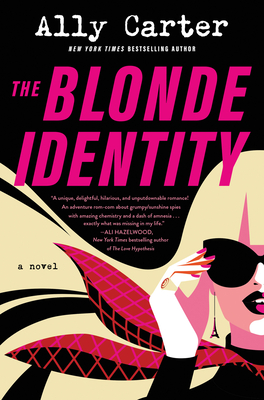 August 2023 Indie Next List
---
"This wonderfully bonkers, deliciously slow-burning romance is marvelous! With witty banter, a grumpy spy and a sunshiny amnesiac, fake dating, oodles of feelings, and a beautiful narrative, Carter's adult debut cannot be missed!"
— Lucy Perkins-Wagel, Blinking Owl Books, Arcadia, FL
Description
---
USA TODAY BESTSELLER
"A unique, delightful, hilarious, unputdownable romance… I'm wonderstruck by The Blonde Identity!" — Ali Hazelwood, New York Times bestselling author of The Love Hypothesis
The New York Times bestselling YA author of the beloved Gallagher Girls series bursts onto the adult scene with a fast-paced, hilarious road trip rom-com about a woman with amnesia who discovers she's the identical twin sister of a rogue spy… and must team up with a rugged, grumpy operative to stay alive.
It's the middle of the night in the middle of Paris and a woman just woke up with no memory.
She only knows three things for certain:
1. She has a splitting headache.
2. The hottest guy she has (probably) ever seen is standing over her, telling her to run.
And oh yeah…
3. People keep trying to kill her.
She doesn't know who. Or why. But when she sees footage of herself fighting off a dozen men there's only one explanation: obviously. . . she's a spy!
Except, according to Mr. Hot Guy, she's not. She's a spy's identical twin sister.
Too bad the only person who knows she's not the woman they're looking for is this very grouchy, very sexy, very secret agent who (reluctantly) agrees to help her disappear. Which is easier said than done when a criminal organization wants you dead and every intelligence service in the world wants you caught.
Luckily, no one is looking for a pair of lovesick newlyweds on their honeymoon. And soon they're lying their way across Europe—dodging bullets and faking kisses as they race to unravel a deadly conspiracy and clear her sister's name.
But with every secret they uncover, the truth shifts, until she no longer knows who to trust: the twin she can't remember or the mysterious man she can't let herself forget…
"Spies! Amnesia! And banter that'll make you chant "Kiss! Kiss! Kiss!" No one writes an action rom-com quite like Ally Carter." – Rachel Hawkins, New York Times bestselling author of The Wife Upstairs
About the Author
---
Ally Carter is the bestselling author of novels that have epitomized action-adventure YA romance for more than a decade. From the spy-centric humor of I'd Tell You I Love You, but Then I'd Have to Kill You, to the globe-trotting glamour of Heist Society, and the nonstop thrill ride of Not If I Save You First, the name Ally Carter is synonymous with hilarious action and heart-pounding romance. Her first original screenplay, A Castle for Christmas, was recently #1 on Netflix. Now she is bringing her trademark style, voice to the adult rom-com market.
Praise For…
---
"Ally Carter wrote a unique, delightful, hilarious, unputdownable romance! I didn't know I needed an adventure romcom about grumpy/sunshine spies with amazing chemistry and a dash of amnesia, but it was exactly what was missing in my life. I'm wonderstruck by The Blonde Identity! (Also, this book needs to be a movie!)"
— Ali Hazelwood, New York Times Bestselling author of The Love Hypothesis

"Spies! Amnesia! And banter that'll make you chant "Kiss! Kiss! Kiss!" No one writes an action rom-com quite like Ally Carter." — Rachel Hawkins, New York Times bestselling author of The Wife Upstairs
"A delightful, delicious joy ride of a romp!"  — Susan Elizabeth Phillips, #1 New York Times bestselling author of When Stars Collide
"The Blonde Identity was everything I wanted in rom-com and more! Full of brilliant banter, clever humor, and so many swoon worthy scenes, this was a perfect book. I hope Ally Carter writes more stories in this world, because every second of this unexpected adventure made me smile. I can't remember the last time I had so much fun reading a book." — Stephanie Garber, #1 New York Times bestselling author of A Curse for True Love 
"Romance, espionage, and mystery—this novel satisfies fans of all three!"
— Murder & Mayhem
"Completely captivating—funny, fresh and deliciously swoon-worthy, The Blonde Identity had me smiling over every action packed page. I loved it." — Annabel Monaghan, author of Nora Goes Off Script and Same Time Next Summer
"The Blonde Identity is hands-down the cutest, most fast-paced wild ride of a rom-com I've ever read. Utterly impossible to put down!" — Lynn Painter, New York Times bestselling author of The Love Wager
"The Blonde Identity is explosively funny and jam-packed with chemistry! I couldn't have loved this hilarious romcom more. The story is full of humor, action, romance, and emotions that tug on your heartstrings. Ally is a romcom genius!"  — Sarah Adams, author of The Cheat Sheet
"Fun and pulse-pounding, The Blonde Identity will keep readers turning pages." — Parade
"I absolutely adored The Blonde Identity! I loved the humor, Zoe and Sawyer were perfection, and the chemistry… I couldn't put it down."   — Lorraine Heath, New York Times bestselling author
"The Blonde Identity is a charming and heartwarming adventure where opposites collide, resulting in a swoony rom-com that delivers all the heart-eyes and belly laughs. Tremendous good fun on every page—I loved every minute."  — Isabel Ibañez, author of What the River Knows
"I am a Gallagher Girls fan, and The Blonde Identity satisfied ALL of my GG cravings! Carter has that magic formula of the perfect amount of brilliance, fun, and sizzling banter down pat!"  — Jesse Q Sutanto, bestselling author of Dial A for Aunties and Vera Wong's Unsolicited Advice for Murderers
"This hilarious romantic comedy is unputdownable. The characters have instant chemistry, and their well-written dialogue is peppered with witty banter. Readers will be riveted through all of the twists and turns as the protagonists race across Europe with the bad guys hot on their heels. Those who grew up reading Carter's "Gallagher Girls" teen series will tear through her adult romance debut and clamor for more." — Library Journal
"Want a grumpy-sunshine romance with plenty of delightful banter and a spy plot? Cha-ching. Ally Carter's got you covered." — Bookriot
"Bestselling YA author Carter (the Gallagher Girls series) serves up an irresistible cocktail of danger and passion in her un-put-downable adult debut...Carter ratchets up the danger—and the sexual tension—at every turn, throwing plenty of red herrings across the trail and keeping readers guessing who to trust. Zoe's sense of humor in the face of danger adds levity, and readers will fall hard for gallant Sawyer. Carter also expertly teases a sequel about Alex, whetting appetites for the next installment. This snappy and suspenseful romance fires on all cylinders." — Publishers Weekly (starred review)
We will be closing at 8pm on Friday, 9/22 due to severe weather.
Free Media Mail shipping on U.S. orders over $75