Banyan Moon: A Read with Jenna Pick (Paperback)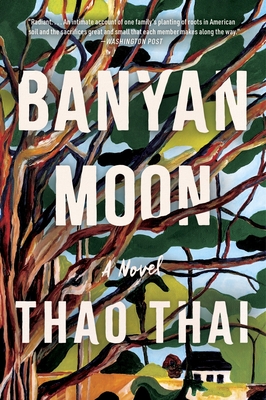 $18.99

Coming soon - PRE-ORDER NOW!
Staff Reviews
---
Taking place across different periods of time in Vietnam and Florida, "Banyan Moon" follows a multi-generational family of Vietnamese-American women and the secrets they keep and sacrifices they make for their loved ones. Told in three different perspectives, follow Minh's journey from a naive, love struck teenager to a determined woman fighting to save her children from the shadow of the Vietnam War; Huong's struggle with her marriage and ever devolving relationship with her daughter; and Ann with her eternal struggle between happiness and practicality. These women are tied together through their history and love for each other, and you'll find a piece of yourself in each of their stories. This is a beautiful book about immigration and loss and the unique bonds of motherhood.
— Emma
July 2023 Indie Next List
---
"Banyan Moon is a remarkable debut that follows Vietnamese-American Ann, her mother, grandmother, and generations of women who came before. Thai peels open family secrets like an onion to reveal truth, healing, love and friendship."
— Patience Allan-Glick, Underground Books, Carrollton, GA
Description
---
A TODAY Show #ReadWithJenna Book Club Pick
"A riveting mother-daughter tale." — Elle
"Radiant. … An intimate account of one family's planting of roots in American soil and the sacrifices great and small that each member makes along the way." — Washington Post
A sweeping, evocative debut novel following three generations of Vietnamese American women reeling from the death of their matriarch, revealing the family's inherited burdens, buried secrets, and unlikely love stories. 
When Ann Tran gets the call that her fiercely beloved grandmother, Minh, has passed away, her life is already at a crossroads. In the years since she's last seen Minh, Ann has built a seemingly perfect life—a beautiful lake house, a charming professor boyfriend, and invites to elegant parties that bubble over with champagne and good taste—but it all crumbles with one positive pregnancy test. With both her relationship and carefully planned future now in question, Ann returns home to Florida to face her estranged mother, Huơng.
Back in Florida, Huơng is simultaneously mourning her mother and resenting her for having the relationship with Ann that she never did. Then Ann and Huơng learn that Minh has left them both the Banyan House, the crumbling old manor that was Ann's childhood home, in all its strange, Gothic glory. Under the same roof for the first time in years, mother and daughter must face the simmering questions of their past and their uncertain futures, while trying to rebuild their relationship without the one person who's always held them together.
Running parallel to this is Minh's story, as she goes from a lovestruck teenager living in the shadow of the Vietnam War to a determined young mother immigrating to America in search of a better life for her children. And when Ann makes a shocking discovery in the Banyan House's attic, long-buried secrets come to light as it becomes clear how decisions Minh made in her youth affected the rest of her life—and beyond.
Spanning decades and continents, from 1960s Vietnam to the wild swamplands of the Florida coast, Banyan Moon is a stunning and deeply moving story of mothers and daughters, the things we inherit, and the lives we choose to make out of that inheritance.
About the Author
---
Thao Thai is a writer living in Ohio with her husband and daughter. Her work engages with tangled family relationships and the intersections of motherhood and identity. She's been published in Cup of Jo, Eater, Catapult, Sunday Long Read, and more. A recipient of the Barbara Deming Memorial Fund, she has also been nominated for multiple Pushcart Prizes and earned fellowships in creative writing. She received her MFA from The Ohio State University and her MA from The University of Chicago. 
Praise For…
---
"I loved it. ... You will sit down and finish this in one reading!" — Jenna Bush Hager
"A riveting mother-daughter tale spanning two different timelines, and anchored by the magnetic pull of a Gothic home known as the Banyan House, Banyan Moon is author Thao Thai's beautiful debut." — Elle
"Pleasurably atmospheric...Banyan Moon is strongest when exploring the unique blend of contempt and fury that can exist between mothers and daughters...The story's maneuvering through time and space provides a roundness to the Tran women, allowing readers to see aspects of, and similarities between, each character that they keep from one another....Banyan Moon urges readers to consider whether it is best for some truths to remain hidden—whether deceit can ultimately be an act of love." — New York Times Book Review
"Poetic, often radiant. … An intimate account of one family's planting of roots in American soil and the sacrifices great and small that each member makes along the way." — Washington Post
"Spanning decades and continents, vignettes of a teenage Minh's life in 1960s Vietnam add vibrant strokes to a searing portrait of mothers and daughters." — Entertainment Weekly
"A compelling look at three generations of women, from 1960s Vietnam to modern-day Florida. ... Readers who savor many unexpected twists and a surprising conclusion will be rewarded." — Library Journal (starred review)
"[A] rich novel of inheritance and generational divides." — Vanity Fair
"A beautifully written, page-turning novel that explores the traumatic legacy of war, the complexity of cultural assimilation, and the intimacy of family conflict with fierce grace and psychological acuity. Banyan Moon is a celebration of life in all its forms and a joy to read." — Christina Baker Kline, #1 New York Times bestselling author of The Exiles
"Heart-shatteringly beautiful. Banyan Moon is a love letter to keepers of secrets, to motherhood, family and survival. Thao Thai is a major talent whose exciting, impressive, and poetic prose will grow into you, like a strong and lush banyan tree deeply rooted in the rich Vietnamese literary heritage." — Nguyễn Phan Quế Mai, internationally bestselling author of The Mountains Sing and Dust Child
"Well worth reading." — Vogue
"Haunting, a little spooky and occasionally heartbreaking, this sweeping debut novel follows three generations of Vietnamese women as they try to find their way in the world." — Good Housekeeping
"Tender, gripping and heartbreaking. A haunting page turner that reexamines lineage, motherhood, and what it means to be a survivor -- in every definition of the word. A welcome debut from a stunning voice who will forever impact the Vietnamese American canon." — Carolyn Huynh, author of The Fortunes of Jaded Women
"Banyan Moon offers an honest and aching exploration of the gulf between generations—how we misunderstand those we love the most, the unintentional hurt we cause them, how we struggle to find the language to connect. But it's also a novel of hope, a story of forgiveness, a reminder that even though we can never fully know the people closest to us, it is worth the try." — Tracey Lien, internationally bestselling author of All That's Left Unsaid
"Banyan Moon is an intricately woven story of three generations of women, surviving and living each in their own way. This novel has everything you want: desire, betrayal, grit, tenderness, pride, love, and--most deliciously, most brazenly--the dirty secrets and sacred secrets we make and keep to protect what we hold dear." — Meng Jin, author of Little Gods and Self-Portrait with Ghost
"Thao Thai captures the complexities of familial love with an unflinching, yet gorgeously lyric, eye. Banyan Moon is an ambitious and masterful debut!" — Stacey Swann, author of Olympus, Texas
"Thao Thai pierces the veil between the living and the dead in this haunted and beautifully rendered debut. This is a story about mothers and daughters, the chasm where misunderstandings accrue, and enduring tenderness despite the little hurts we may inflict on our loved ones. Most affectingly, Thai gives us characters who mourn lost origins, but who still get to decide what home looks like. A spellbinding and intricately layered story, Banyan Moon celebrates Vietnamese women." — E.M. Tran, author of Daughters of the New Year
"Mother-daughter relationships are inexplicably complex. Thao Thai's debut novel, Banyan Moon, explores this in a way that few books (or people) do. ... A deeply poignant exploration of motherhood and womanhood." — Observer
"An accomplished story of a Vietnamese American family's complex relationships and pressing mysteries. ... There's no shortage of multigenerational family narratives out there, and this one really stands out from the pack." — Publishers Weekly
"Heartwarming. ... Thai's writing is lovely and engaging as she explores grief, trauma, and the binding power of familial love." — Booklist
"Thai deftly dissects the touchiness of strained mother-daughter relationships in a surprise-filled narrative that ranges from 1960s Vietnam to present-day Florida. Thai has created three strong, unique women determined to find their own paths despite daunting circumstances." — Kirkus Reviews
"A sweeping, multifaceted story of legacy, grief and, above all, love — especially the kind that doesn't look the way you expect. ... Banyan Moon reads like an instant classic that no doubt will be passed from mother to daughter and beyond. This perfect book club read will stick with you for a very long time." — Bookreporter.com
"Powerful." — Reader's Digest
"Through a rich exploration of mother-daughter relationships and the complexities of inheritance, Banyan Moon weaves together a poignant tale set across different time periods and locations. Recommended for fans of Burnt Sugar and The Joy Luck Club." — The Messenger
"The complex dynamic between the women in Thao Thai's Banyan Moon—grandmother, mother, and daughter— is so realistic, you'd swear the novel was a memoir." — Real Simple
"The characters are well-drawn and mysterious, and, as each chapter unfolds, their secrets become more engaging. ... With elements of magical realism and the Southern Gothic in a multiple narrator format, Banyan Moon provides a reading experience that is both familiar and inventive, making it perfect for summer reading. Many different readers will find points of interest in the Tran women and their stories, and the mysterious moments will generate plenty of discussion among the book clubs who are sure to take up this novel." — Southern Review of Books
"A true joy to read. ... Perfect for fans of Amy Tan's The Joy Luck Club. ... Incredibly absorbing." — Fredericksburg Free Lance-Star
Free Media Mail shipping on U.S. orders over $75