Chenneville: A Novel of Murder, Loss, and Vengeance (Hardcover)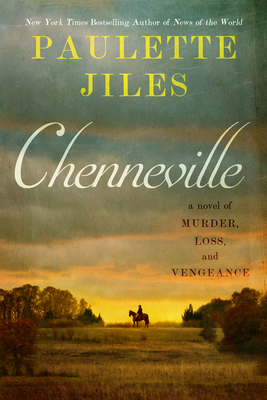 $30.00

Coming soon - PRE-ORDER NOW!
Description
---
Consumed with grief, driven by vengeance, a man undertakes an unrelenting odyssey across the lawless post–Civil War frontier seeking redemption in this fearless novel from the award-winning and New York Times bestselling author of News of the World. 
Union soldier John Chenneville suffered a traumatic head wound in battle. His recovery took the better part of a year as he struggled to regain his senses and mobility. By the time he returned home, the Civil War was over, but tragedy awaited. John's beloved sister and her family had been brutally murdered.
Their killer goes by many names. He fought for the North in the late unpleasantness, and wore a badge in the name of the law. But the man John knows as A. J. Dodd is little more than a rabid animal, slaughtering without reason or remorse, needing to be put down.
Traveling through the unforgiving landscape of a shattered nation in the midst of Reconstruction, John braves winter storms and confronts desperate people in pursuit of his quarry. Untethered, single-minded in purpose, he will not be deterred. Not by the U.S. Marshal who threatens to arrest him for murder should he succeed. And not by Victoria Reavis, the telegraphist aiding him in his death-driven quest, yet hoping he'll choose to embrace a life with her instead.
And as he trails Dodd deep into Texas, John accepts that this final reckoning between them may cost him more than all he's already lost… 
About the Author
---
Paulette Jiles is a novelist, poet, and memoirist. She is the author of Cousins, a memoir, and the novels Enemy Women, Stormy Weather, The Color of Lightning, Lighthouse Island, and News of the World, which was a finalist for the 2016 National Book Award. She lives on a ranch near San Antonio, Texas.
Praise For…
---
"News of the World is . . . [an] exquisite book about the joys of freedom; the discovery of unexpected, proprietary love between two people who have never experienced anything like it; pure adventure in the wilds of an untamed Texas; and the reconciling of vastly different cultures. . . . That's a lot to pack into a short, vigorous volume, but Ms. Jiles is capable of saying a lot in few words." — New York Times
"Paulette Jiles' spare Western packs a powerful punch. And, boy, can Jiles write. . . News of the World is surprisingly tender, but never soft. It's lovely." — USA Today (4 out of 4 stars)
"[A] sleek and entertaining novel . . . [W]hat stands out amid the gun smoke and the period detail is the moving friendship between a girl with no place to fit in and an old man who has outlived his usefulness. Add them to the list of the Wild West's great odd couples." — Wall Street Journal on News of the World
"The reader is treated to a kind of alchemy on the page when character, setting and song converge at all the right notes, generating an authentic humanity that is worth remembering and celebrating."  — New York Times on Simon the Fiddler
"Jiles' sparse but lyrical writing is a joy to read. . . . A beautifully written book and a worthy follow-up to News of the World." — Associated Press on Simon the Fiddler
"Imbued with the dust, grit, and grime of Galveston at the close of the Civil War, Simon the Fiddler immerses readers in the challenges of Reconstruction. Jiles brings her singular voice to the young couple's travails, her written word as lyrical and musical as Simon's bow raking over his strings. Loyal Jiles readers and fans of Anthony Doerr's All the Light We Cannot See and Elizabeth Strout's Olive Kitteridge will adore the author's latest masterpiece."  — Booklist (starred review) on Simon the Fiddler
We will be open on Memorial Day from 10 AM until 6 PM.
Free Media Mail shipping on U.S. orders over $50