A Ghost of Caribou: A Novel of Suspense (Alex Carter Series #3) (Hardcover)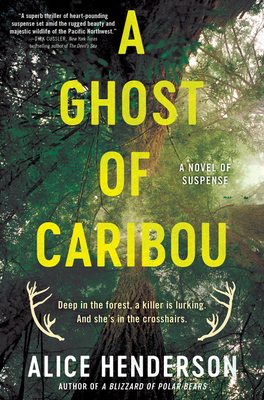 $27.99

Ships from warehouse to store in 3-6 business days
Other Books in Series
This is book number 3 in the Alex Carter Series series.
Description
---
Building upon the highly acclaimed debut of Alice Henderson's A Solitude of Wolverines and its follow-up thriller A Blizzard of Polar Bears comes the eagerly anticipated and electrifying third installment A Ghost of Caribou, in which wildlife biologist Alex Carter encounters an unsolved murder and a town in turmoil while in search of this majestic, all-but-vanished animal. 

When a remote camera on a large, rugged expanse held by the Land Trust for Wildlife Conservation picks up a blurry image of what could be a mountain caribou, they contact Alex Carter to investigate. After all, mountain caribou went extinct in the contiguous U.S. years ago, and if one has wandered down from Canada, it's monumental.
But when Alex arrives on scene in the Selkirk mountains of northeastern Washington state, she quickly learns that her only challenge isn't finding an elusive caribou on a massive piece of land. The nearby townspeople are agitated; loggers and activists clash over a swath of old growth forest marked for clearcutting. The murdered body of a forest ranger is found strung up in the town's park, and Alex learns of a backcountry hiker who went missing in the same area the year before.
As she ventures into the forest in search of the endangered animal, she quickly finds herself in a fight for her life, caught between factions warring for the future of the forest and a murderer stalking the dense groves of ancient trees.
About the Author
---
In addition to being a writer, Alice Henderson is a wildlife sanctuary monitor, geographic information systems specialist, and bioacoustician. She documents wildlife on specialized recording equipment, checks remote cameras, creates maps, and undertakes wildlife surveys to determine what species are present on preserves, while ensuring there are no signs of poaching. She's surveyed for the presence of grizzlies, wolves, wolverines, jaguars, endangered bats, and more. 
Praise For…
---
"Henderson neatly integrates a master class on forests, caribou, and other endangered animals into Alex's suspenseful search for caribou—and for a killer. The eventual sighting of the elusive caribou, 'the gray ghosts of the forest,' is indeed an exciting moment. Alex, who thrives on the outdoors and solitude, makes a formidable heroine, while the breathtaking scenery illustrates why a person would want to be one with nature. Environmental crime fiction doesn't get much better than this." — Publishers Weekly
"Readers who enjoy a well-paced, suspenseful thriller will give this book a thumbs up, but A Ghost of Caribou is more than that…As much as we care about Alex's fate at the hands of a killer, we also care about the animal that brought her to the mountains in the first place. There's real passion here, and that gives the novel added substance." — Booklist
"[A] superb thriller of heart-pounding suspense set amid the rugged beauty and majestic wildlife of the Pacific Northwest." — Dirk Cussler, New York Times bestselling author
"Just when you thought it was safe to go back into the woods…Alice Henderson has penned another taut environmental thriller that will leave you breathless." — Robin Burcell
"Truly a novel of suspense with chilling undercurrents of danger and murder…I was utterly captivated…exciting and riveting." — Fresh Fiction
"What a treat! Alice Henderson has delivered a treasure of a novel—and, to readers' delight, a promise of more where this came from. Her depiction of the natural world in all its beauty and terror is spot-on. Into this she weaves a cast of characters both original and fascinating, as well as a heroine who does the unbelievable, yet one can believe it. A great read!"
— Nevada Barr on A Solitude of Wolverines
"With a plot and character arc that leap from the frying pan into the fire, A Solitude of Wolverines sizzles with action, dripping with the kind of characters and environs that make for a long-lasting series in which readers can really sink their teeth." — Craig Johnson
"It's not often that a novel can combine thrilling action with fascinating characters and a setting that is depicted so precisely that we shiver while reading about venturing out onto pack ice in Northern Canada. Alice Henderson accomplishes all that and more in A Blizzard of Polar Bears…gripping…exquisitely expressed…difficult to put down." — BookReporter.com
"A true stunner of a thriller debut...It's so fraught with excitement and wondrous details that it demands to be read in one sitting and savored afterward. Don't miss it."
— James Rollins on A Solitude of Wolverines
"[A] swift-paced and fact-packed outdoors thriller." — Fresh Fiction on A Blizzard of Polar Bears
Henderson manages to marry both suspense and mystery in this book, featuring a classic, suspense-driven fight-and-flight with several overarching mysteries. It's even better than the excellent first book in the series, A Solitude of Wolverines. — First Clue
"A Solitude of Wolverines is a rare species indeed: an edge-of-your-seat thriller that engages not just the adrenaline glands but the heart and soul as well. With an engaging heroine, an incredible setting and pulse-pounding action, this one is truly a breed apart." — —Lisa Morton, six-time Bram Stoker Award winner
"A Solitude of Wolverines by Alice Henderson is a thriller with a heart, a riveting story of conspiracy, murder, and wilderness survival that will keep you turning the pages. Vivid characters, a pulse-pounding plot, a fascinating wildlife-conservation background, and beautifully realized settings make this an exceptional read. This is the first book in a series about wildlife biologist Alex Carter; I can't wait for the next one."
— Douglas Preston, #1 bestselling coauthor of Relic and Crooked River.
"Best thriller of the year so far. Seriously." — Fresh Fiction
"Alice Henderson at this point takes what might have been the first animal-activist/naturalist thriller I can recall and combines chills, thrills, and heart right up through the breathless finale. I look forward to the next Alex Carter novel!" — CriminalElement.com
"The novel is packed with action. Alex is smart, with an impressive knowledge of wildlife as well as guns and self-defense tactics. It's no plot spoiler to say she survives and will be back."
— Denver Post
"The combination of environmentalism, suspense, and action strategically placed throughout A Solitude of Wolverines makes this novel distinctly different than others in its respective genre... A Solitude of Wolverines is filled with twists and turns that keep readers interested and engaged." — The Nerd Daily
Free Media Mail shipping on U.S. orders over $75