How to Date a Superhero (And Not Die Trying) (Hardcover)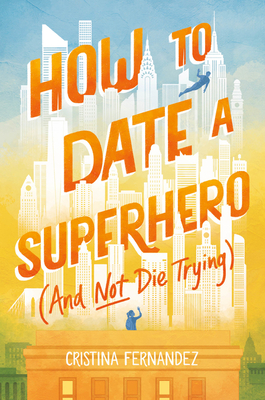 Staff Reviews
---
Debut author Cristina Fernandez is a person to watch if you like fun stories told by nerds. If you've ever thought about how difficult life is for the love interest in superhero media, this story is for you. This book is both accessible to casual fans and engaging for geeks who will get references that are a bit more obscure (example: there's a room number 616 – if you get that reference, great! But you don't need to in order to have a good time). The romantic partners in this book have agency, intelligence, and self-respect. It's refreshing to see empowerment on non-powered people.
— Lizzy
Description
---
A romantic coming-of-age story about growing up, falling in love, and surviving life—all set in the world of superheroes—from debut author Cristina Fernandez, proving that you don't need a superpower to be the hero of your own origin story, perfect for fans of The Rest of Us Just Live Here and Renegades.
* Bank Street Best Children's Book of the Year 2023 * CCBC Choices Best of 2023 *
Falling for a superhero is dangerous. You have to trust that they'll catch you.
Astrid isn't a superhero, not like the ones she sees on the news, but she has something she thinks of as a small superpower: She has a perfect sense of time. And she's not going to waste a single second.
Her plan for college is clear—friends, classes, and extra-curriculars all carefully selected to get her into medical school.
Until Max Martin, a nerdy boy from high school, crashes back into her life. Things with Max were never simple, and he doesn't keep to her schedule. He disappears in the middle of dates and cancels last-minute with stupid excuses.
When a supervillain breaks into her bedroom one night, Astrid has to face the facts: Her boyfriend, Max Martin, is a superhero. Double-majoring as a pre-med was hard, but now Astrid will have to balance a double-life. This wasn't part of her plan.
About the Author
---
Cristina Fernandez is a recent Johns Hopkins University graduate who, against all odds, was not a premed but rather studied creative writing and film and media studies. Born and raised in Queens, she talks way too much about superheroes, roller coasters, our current Golden Age of Television, and how much she loves New York bagels. She's been reading and writing books for as long as she can remember and has been known to get lost in the stacks at her local bookstore and spend way too much money cultivating her paperback collection.
Praise For…
---
" . . . through Astrid's keenly developed and fiercely independent voice, Fernandez adeptly examines the collateral damage and extraordinary stressors of living in a superhuman world, and resulting underlying trauma and anxieties." — Publishers Weekly
"This fun and funny take on superheroes goes back and forth in time, looking at the evolution of Astrid and Max's relationship . . . Cuteness abounds in this charming story. A romantic, breezy, delightful take on superheroes." — Kirkus Reviews
" . . . this accessible book will appeal to fans of superhero worlds, as well as over-scheduled and overworked teens preparing for college."
— School Library Journal
"Funny, fresh, and full of heart, How to Date a Superhero (And Not Die Trying) is an endlessly clever exploration of both genre and growing up, in all its joy and chaos." — Katie Henry, author of Gideon Green in Black and White and Heretics Anonymous
"With sugar, spice, and an overworked STEM undergrad too stubborn to quit, How to Date a Superhero (And Not Die Trying) swoops in, gets the guy, and flies off into the sunset. The perfect combination of TJ Klune and Marissa Meyer. A superpowered debut!" — Ashley Poston, author of Geekerella and The Dead Romantics
"How to Date a Superhero (and Not Die Trying) is the story we need right now—a rallying cry for the ones left standing on rooftops while the world falls apart, wondering what we have to offer. Astrid is the Mary Jane Watson I wanted growing up. Hilarious, poignant, and kickass." — Katharyn Blair, author of The Beckoning Shadow and Unchosen
Free Media Mail shipping on U.S. orders over $75