After Jesus Before Christianity: A Historical Exploration of the First Two Centuries of Jesus Movements (Hardcover)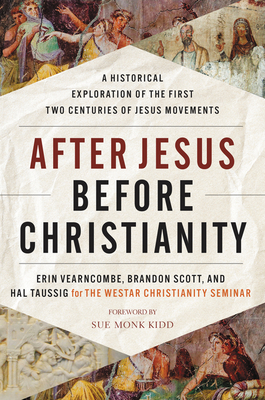 $29.99

Ships from warehouse to store in 3-6 business days
Description
---
From the creative minds of the scholarly group behind the groundbreaking Jesus Seminar comes this provocative and eye-opening look at the roots of Christianity that offers a thoughtful reconsideration of the first two centuries of the Jesus movement, transforming our understanding of the religion and its early dissemination.
Christianity has endured for more than two millennia and is practiced by billions worldwide today. Yet that longevity has created difficulties for scholars tracing the religion's roots, distorting much of the historical investigation into the first two centuries of the Jesus movement. But what if Christianity died in the fourth or fifth centuries after it began? How would that change how historians see and understand its first two hundred years?
Considering these questions, three Bible scholars from the Westar Institute summarize the work of the Christianity Seminar and its efforts to offer a new way of thinking about Christianity and its roots. Synthesizing the institute's most recent scholarship—bringing together the many archaeological and textual discoveries over the last twenty years—they have found: 
There were multiple Jesus movements, not a singular one, before the fourth century
There was nothing called Christianity until the third century
There was much more flexibility and diversity within Jesus's movement before it became centralized in Rome, not only regarding the Bible and religious doctrine, but also understandings of gender, sexuality and morality.
Exciting and revolutionary, After Jesus Before Christianity provides fresh insights into the real history behind how the Jesus movement became Christianity. 
After Jesus Before Christianity includes more than a dozen black-and-white images throughout.
About the Author
---
Erin Vearncombe is a professor in the Faculty of Arts and Science at the University of Toronto. Her research focuses on the social realities of the earliest Jesus groups.
Brandon Scott is the Darbeth Distinguished Professor of New Testament Emeritus at Phillips Theological Seminary, Tulsa, and the author of many books.
Hal Taussig recently retired as professor of New Testament at Union Theological Seminary in New York. He edited the award-winning A New New Testament and has published fourteen books.
The Westar Institute is a member organization of Bible scholars. It gained notoriety with the Jesus Seminar—where scholars voted on which sayings from Jesus were authentic. The institute holds numerous scholarly gatherings at the Society for Biblical Literature which draws 20,000 Bible scholars each November.
Hal Taussig recently retired as Professor of New Testament at Union Theological Seminary in New York. He lectures around the country and world. He is a United Methodist minister, the editor of the award-winning A New New Testament, and the author of fourteen books, his work has been featured in the New York Times, Time magazine, People, Newsweek, and the Washington Post, and on The Daily Show, National Public Radio, the Brian Lehrer Show on WNYC, the Bob Edwards show on Sirius Radio, and the History Channel.
Bernard Brandon Scott is the author and editor of many books, including The Real Paul: Recovering His Radical Challenge and The Trouble with Resurrection. A charter member of the Jesus Seminar, he is chair of Westar's newly established Christianity Seminar. He holds an A.B. from St. Meinrad Seminary and School of Theology, an M.A. from Miami University, and a Ph.D. from Vanderbilt University. He lives in Tulsa, Oklahoma.
Erin Vearncomb completed her Ph.D. at the University of Toronto and is currently a Lecturer in the Princeton Writing Program at Princeton University. She lives in Princeton, New Jersey. 
Praise For…
---
"This book is a work of genius. You are about to read a book that possesses the potential to rewrite history." — Sue Monk Kidd, bestselling author of The Dance of the Dissident Daughter and The Secret Life of Bees
"Here is a room full of forgotten stories about what it once meant to follow Jesus. Some are so strange that they tell me what a stranger I have become to my own faith. Others are so compelling that they refresh my sense of what this faith asks of me." — Barbara Brown Taylor, author of Holy Envy
"With a prose cool, clear, and crisp, a tone positive, powerful, and persuasive, and a vision confident, collective, and collegial, After Jesus Before Christianity is good news, truth, and joy—as Christianity itself should always be." — John Dominic Crossan, author of The Birth of Christianity and Jesus: A Revolutionary Biography
"Tracing the early history of Christianity from Jesus to Constantine, this book serves as an excellent preparation for the emergence of Christendom. Its timing is auspicious, given the current confusion in America about the definition of Christianity and the relations between Christianity, culture, and society." — Burton L. Mack, author of The Lost Gospels
"Well-conceived, well-organized, honestly and bravely argued. It provokes consideration of what persistently haunts us as moderns." — Vincent L. Wimbush, Director of the Institute for Signifying Scriptures    
"After Jesus Before Christianity describes a time of widespread resistance to violence and oppression in the ancient world while also providing models of hope for modern day seekers of justice and wholesome spirituality." — Chebon Kernell, executive secretary of Native American and Indigenous Ministries, United Methodist Church
"A ground-breaking, truth-telling account of the development of early Christianity, a must read and will have implications for generations." — Liz Theoharis, director of the Kairos Center for Religions, Rights, and Social Justice at Union Theological Seminary
"There have always been Jesus people who challenged the assumptions of Empire and created refuge for the oppressed. This noble effort to uncover movements that were silenced reminds me of the saints who sing, 'I know Jesus for myself.'" — Bishop William J. Barber, II, President of Repairers of the Breach and author, We Are Called To Be A Movement
Free Media Mail shipping on U.S. orders over $50
Christmas ordering guidelines
"Ships from warehouse" items to be shipped: Order by Monday, 12/5
"Ships from warehouse" items to be picked-up in store: Order by Monday, 12/12
On hand items: We'll pull items in order of orders received, so keep them coming!