The Totally NOT Wicked Stepmother (Hardcover)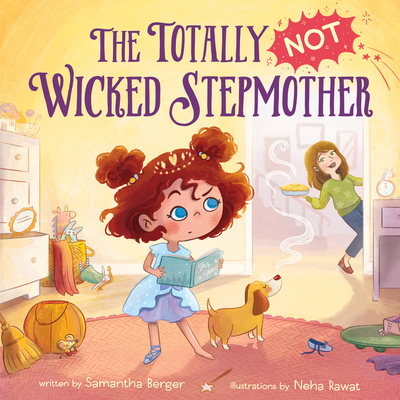 $17.99

Ships from warehouse to store in 3-6 business days
Description
---
From acclaimed author and three-time Emmy-nominated writer Samantha Berger and rising star illustrator Neha Rawat comes a hilarious and heartwarming story that follows a young girl as she learns that her new stepmother might not be as evil or wicked as she originally seems. Perfect for newly blended families and a celebration of stepmothers and stepchildren everywhere!
When I first met my stepmother, I was a little suspicious. All stepmothers are supposed to be wicked! Evil! Downright B-A-D BAD! Or at least, that's what the stories say. So I thought I knew just what to expect from mine.
But my stepmother didn't seem to be any of those things. She helped me paint my room. She left me notes in my lunchbox. She baked my favorite lemon squares. Is it possible I might have been wrong about stepmothers?
About the Author
---
Samantha Berger grew up reading lots of books that had evil, wicked, and B-A-D bad Stepmothers in them. But her *own* Stepmother is one of the coolest people on the planet! She thought it was high time that Steps had a book celebrating THEM. Sam is the author of 90 books for young readers, a three-time Emmy nominated TV writer, and lives in Santa Monica with her dog Polly Pocket.
Visit her at www.samanthaberger.com.
Neha Rawat is an award winning children's book illustrator from India. She spent a few years working as an engineer before her passion for art and visual storytelling led her to specialize in children's illustration. Neha can be found cuddling dogs, doing yoga, and hiking when not working in her studio. Visit Neha at https://www.nrbstudio.in 
Praise For…
---
Perhaps stepmothers aren't as cruel as folklore has led us to believe. This is a simple lesson, shared humorously and earnestly, about how fears and pre-judgments can shift with experience. Totally genuine and fills a gap by showcasing positive outcomes in blended families. — Kirkus Reviews
Free Media Mail shipping on U.S. orders over $50