The Neil Gaiman Reader: Selected Fiction (Hardcover)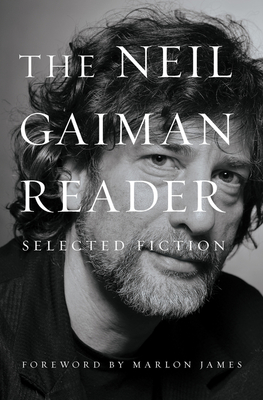 Staff Reviews
---
Whether you are a long-time reader of the stories of Neil Gaiman or totally new to his writings, you are in luck! The Neil Gaiman Reader contains a variety of stories—old favorites and new delights—selected from his decades spanning career as a master storyteller, each of them unique unto themselves and vastly entertaining to readers across the globe.
Personally, as a long-time fan of Gaiman's work, I highly recommend this book. It's full of short stories that stand on their own while some others will offer tantalizing glimpses into others should you decide to go off exploring.
— Bud
Description
---
An outstanding array—52 pieces in all—of selected fiction from the multiple-award-winning, #1 New York Times bestselling author Neil Gaiman, introduced with a foreword by Booker Prize-winning author Marlon James
Spanning Gaiman's career to date, The Neil Gaiman Reader: Selected Fiction is a captivating collection from one of the world's most beloved writers.
A brilliant representation of Gaiman's groundbreaking, entrancing, endlessly imaginative fiction, this captivating volume includes excerpts from each of his five novels for adults —Neverwhere, Stardust, American Gods, Anansi Boys, and The Ocean at the End of the Lane—and nearly fifty of his short stories. 
Impressive in its depth and range, The Neil Gaiman Reader: Selected Fiction is both an entryway to Gaiman's oeuvre and a literary trove Gaiman readers old and new will return to many times over.
About the Author
---
Neil Gaiman is a #1 New York Times bestselling author of books for children and adults whose award-winning titles include Norse Mythology, American Gods, The Graveyard Book, Good Omens (with Terry Pratchett), Coraline, and The Sandman graphic novels. Neil Gaiman is a Goodwill Ambassador for UNHCR and Professor in the Arts at Bard College.
Praise For…
---
"This abundant selection of short fiction celebrates the breadth and depth of beloved writer Neil Gaiman's career. . . . Gaiman has transcended [his] influences to become the influencer himself, creating fictional landscapes that inspire and move us as much as they entertain." — BookPage
"Fans of Gaiman's novels will discover new insights with the novel excerpts arranged between the larger bodies of shorter fiction. . . . Gaiman's unique writing style and narrative voice shine in this collection." — Booklist (starred review)
"What emerges from these stories is Gaiman's true genre, which isn't any genre, but which stirs them all together . . . . He's as fine a custodian of that cauldron of the strange as we currently have." — Locus
"If you've already read the novel, The Annotated American Gods is a terrific way to delve more deeply into the world of the story and also the creative inspirations of the author."  — Fantasy & Science Fiction
"Gaiman is a master storyteller. . . . The stories showcase his imagination, sense of humor and interesting way of looking at things. And many of the stories stay with you long after you've turned the page. . . . Each novel is worth a read, but these little tastes will help you decide which you'd like to devour first."
— Fredericksburg Free Lance-Star
"Funny, scary, bizarre, moving, and both unreal and hyper-real at once. . . . Read enough Neil Gaiman and life starts to feel like the fantasy. The story is the only truth." — Independent.ie