Conquer the Kingdom (A Gargoyle Queen Novel #3) (Paperback)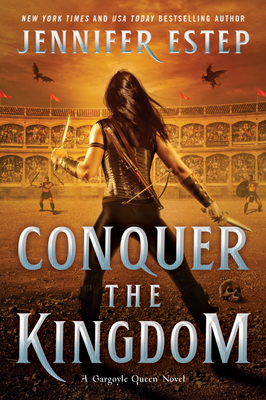 Other Books in Series
This is book number 3 in the A Gargoyle Queen Novel series.
Description
---
Magic reigns, plots abound, and a new love might not conquer all, in this must-read finale to the epic Gargoyle Queen trilogy by international bestselling author Jennifer Estep.
Time is running out for crown princess Gemma Ripley. Despite being a cunning spy and a powerful mind magier, Gemma hasn't been able to track down the most dangerous enemy her kingdom of Andvari has ever seen. Adding to her worries is the Sword and Shield tournament. With gladiators flocking to the capital city of Glanzen, Gemma can't tell who is friend—or foe.
Determined to protect Andvari at any cost, Gemma hatches a bold plan, but things aren't what they seem. Soon, everything she holds dear is being threatened, including her burgeoning relationship with Prince Leonidas Morricone.
With the kingdom she holds dear slipping through her fingers, Gemma will have to conquer her fear and unlock the true secret of her magic—or watch her friends and family die and her beloved Andvari fall . . .  
About the Author
---
Jennifer Estep is a New York Times, USA Today, and international bestselling author who prowls the streets of her imagination in search of her next fantasy idea.
Jennifer is the author of the Crown of Shards, Elemental Assassin, and other fantasy series. She has written more than 35 books, along with numerous novellas and stories.
In her spare time, Jennifer enjoys hanging out with friends and family, doing yoga, and reading fantasy and romance books. She also watches way too much TV and loves all things related to superheroes.
Praise For…
---
"Estep lands solidly with her last book of the "Gargoyle Queen" trilogy, capping off a delightful romantic fantasy in her growing world." — Library Journal
"Estep's fast-paced sequel to Capture the Crown dives deeper into the world of her Gargoyle Queen series…with tension-filled battle scenes and a delightfully offbeat magic system. There's plenty for series fans to look forward to." — Publishers Weekly on Tear Down the Throne
"Guaranteed to thrill readers with intrigue, political machinations, battles, and a thread of romance, Tear Down the Throne made me love Jennifer Estep's work—and epic fantasy romances—even more." — Harlequin Junkie
"Pretty princess + dangerous spy, that's Gemma Ripley. She does both with equal panache. Tracking a missing batch of magical tearstone leads Gemma into the heart of a hostile kingdom, the presence of a mortal enemy, and heart-pounding danger. This is action at its finest." — #1 New York Times bestselling author Charlaine Harris on Capture the Crown
"Bestseller Estep returns to the world of gargoyles, mind magiers, and political intrigue first conjured in the Crown of Shards series with this romantic and exciting fantasy adventure, the first in her Gargoyle Queen Trilogy…the gripping romp flies, like Grimley, Gemma's beloved gargoyle, at a breakneck speed that will keep readers turning pages." — Publishers Weekly on Capture the Crown
"Estep's new series takes readers back to the world she built in Crown of Shards, filled once again with exciting machinations and a slow burn of romance."  — Library Journal on Capture the Crown
"Hold onto your hearts, fantasy romance lovers! Because you're going to lose them to the deliciously smexy new bad boy prince in Capture the Crown. Jennifer Estep has outdone herself in penning my new favorite book of hers. Prince Leonidas is everything I could ask for—and Princess Gemma as a spy in a deadly waltz with him had me devouring the pages." — Jeffe Kennedy, award-winning author of the Forgotten Empires, Heirs of Magic and Bonds of Magic romantic fantasy series on Capture the Crown
"Gemma Ripley is my favorite kind of heroine—smart, courageous, fierce, spirited, flawed, and full of heart. The Gargoyle Queen will capture yours!" — Amanda Bouchet, USA Today bestselling author of The Kingmaker Chronicles
"Crush the King is a truly epic climax to a fantastic trilogy. With glittering pageantry, lethal magic, and political conniving among warring kingdoms, the story kept me rapt with anticipation—and the truly glorious ending satisfied in style. The Crown of Shards is an action-packed, magical ride, and I loved seeing Everleigh grow from hunted girl to confident queen. Long live the Winter Queen!"  — Jeffe Kennedy, RITA® Award Winning Author of The Orchid Throne on Crush the King
"Jennifer Estep's Crown of Shards series is a fantasy lover's thrill ride. Stunning magic, epic battles, masterful political plays, strong friendships, shocking twists, a touch of romance, and enemies to absolutely hate while others surprise you make this story unputdownable and one for the keeper shelf. Estep gives us a heroine to root for, whose bravery and cunning set her apart and whose compassion and loyalty will keep readers turning the pages to see what this remarkable leader will do next. Everleigh Blair isn't only a Winter Queen; she's an avalanche." — Amanda Bouchet, USA Today bestselling author of The Kingmaker Chronicles on Crush the King
"A tale as action and character-driven as its predecessor, proving that strong female protagonists are still in fine form." — Library Journal on Protect the Prince
"Kill the Queen is the definition of epic fantasy: exciting, original, and filled with characters who jump off the page. Jennifer Estep enters the arena and takes no prisoners. Long live the Winter Queen." — Ilona Andrews, #1 New York Times bestselling author on Kill the Queen
"Kill the Queen rocked my world! With court intrigue, a cast of fantastic characters, epic political sweep, and a slow-burn romance to die for, this book had me rapt. I only regret I devoured it so fast. And that I didn't write it. More please!" — Jeffe Kennedy, RITA® Award winning author of The Pages of the Mind on Kill the Queen
"Jennifer Estep takes the world of high fantasy by storm with a book so perfectly plotted and executed that I gasped out loud at each new reveal and unexpected turn. Evie is the heroine we all want to read about: as compassionate as she is ruthless, as cunning as she is kind, and as fierce and focused as anyone must be in order to Kill the Queen." — Amanda Bouchet, USA Today bestselling author of The Kingmaker Chronicles on Kill the Queen
We will be closing at 8pm on Friday, 9/22 due to severe weather.
Free Media Mail shipping on U.S. orders over $75