Seasonal Work: Stories (Hardcover)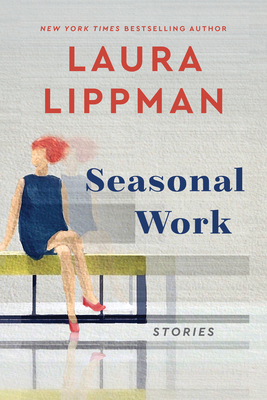 $26.99

Ships from warehouse to store in 3-6 business days
January 2022 Indie Next List
---
"What is there to say about a new Laura Lippman story collection except for: More, please! Each tale is a gem, and Tess Monaghan makes a couple of appearances. Laura Lippman knows what evil lurks in the hearts of men…and women."
— Susan Taylor, Book House of Stuyvesant Plaza, Albany, NY
Description
---
New York Times bestseller Laura Lippman showcases why she is one of today's top crime writers in this acclaimed collection of suspenseful stories featuring fierce women—including one never-before-published novella.
"A first-rate collection, an obvious must for the legions of Lippman fans, but also great reading for anyone who savors short crime fiction." — Booklist (starred review)
The award-winning master of psychological suspense is in top form in this collection of diverse and diabolically clever stories.
In the never-before-published "Just One More," a married couple—longing for that old romantic spark—creates a playful diversion that comes with unexpected consequences.
Lippman's beloved Baltimore PI Tess Monaghan keeps a watchful eye on a criminally resourceful single father in "Seasonal Work," while her mother, Judith, realizes that the life of "The Everyday Housewife" is an excellent cover for all kinds of secrets.
In "Slow Burner," a husband's secret cell phone proves to be a dicey temptation for a suspicious wife.
A father's hidden past piques the curiosity of a young snoop in "The Last of Sheila-Locke Holmes."
Plus seven other brilliantly crafted stories of deception, murder, dangerous games, and love gone wrong—irrefutable evidence that Laura Lippman's riveting fiction will more than satisfy any crime reader.
About the Author
---
Since Laura Lippman's debut, she has been recognized as a distinctive voice in mystery fiction and named one of the "essential" crime writers of the last 100 years. Stephen King called her "special, even extraordinary," and Gillian Flynn wrote, "She is simply a brilliant novelist." Her books have won most of the major awards in her field and been translated into more than twenty-five languages. She lives in Baltimore and New Orleans with her teenager.
Praise For…
---
"This collection of a dozen delightful stories from Lippman (Tess Monaghan series; Dream Girl) features resourceful women from many walks of life... A must for Lippman fans and devotees of female-empowerment crime fiction." — Library Journal (starred review)
"Clever, well-paced, laced with humor and insight—damn fine short stories." — Kirkus Reviews
"Lippman displays her uncanny understanding of human nature and all its foibles in this worthy collection of 12 stories involving deceit, violence, and psychological mayhem." — Publishers Weekly
"Some writers are good at novels but not short stories (or the other way around); Lippman aces both... they put on display Lippman's skill at crafting suspense, her way of dropping a detail deep into the story that skews the reader's perspective a little—or a lot." — Tampa Bay Times
"Laura Lippman's chronicles of Baltimore—and the human heart—shine in this collection of 12 short stories that examine betrayal and emotional blackmail that can spiral out of control. . . . Long-time fans of Lippman will devour Seasonal Work, which also serves as an entry point for new Lippman readers." — Florida Sun-Sentinel
"All in all, this is a first-rate collection, an obvious must for the legions of Lippman fans, but also great reading for anyone who savors short crime fiction." — Booklist (starred review)
""A masterful collection... Zipping through this section of the collection is inevitable." — Woman Around Town
"Her celebratory gift to avid fans and new readers alike is Seasonal Work, an electrifying collection of short stories, which includes a compelling new novella. Lippman is a literary luminary, shining as brightly as the towering, red neon Domino Sugars sign that proclaims "Home" to returning Baltimoreans." — BookTrib
"[Lippman] only seems to be getting better." — Entertainment Weekly
We will be closing at 8pm on Friday, 9/22 due to severe weather.
Free Media Mail shipping on U.S. orders over $75