Astor: The Rise and Fall of an American Fortune (Hardcover)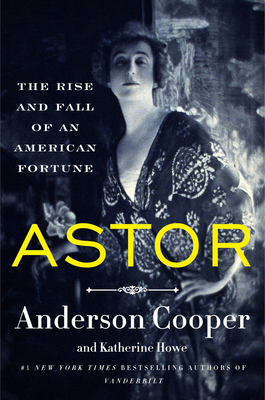 $32.99

Coming soon - PRE-ORDER NOW!
Description
---
The number one New York Times bestselling authors of Vanderbilt return with another riveting history of a legendary American family, the Astors, and how they built and lavished their fortune.
The story of the Astors is a quintessentially American story—of ambition, invention, destruction, and reinvention.
From 1783, when German immigrant John Jacob Astor first arrived in the United States, until 2009, when Brooke Astor's son, Anthony Marshall, was convicted of defrauding his elderly mother, the Astor name occupied a unique place in American society.
The family fortune, first made by a beaver trapping business that grew into an empire, was then amplified by holdings in Manhattan real estate. Over the ensuing generations, Astors ruled Gilded Age New York society and inserted themselves into political and cultural life, but also suffered the most famous loss on the Titanic, one of many shocking and unexpected twists in the family's story.
In this unconventional, page-turning historical biography, featuring black-and-white and color photographs, #1 New York Times bestselling authors Anderson Cooper and Katherine Howe chronicle the lives of the Astors and explore what the Astor name has come to mean in America—offering a window onto the making of America itself.
About the Author
---
Anderson Cooper joined CNN in 2001 and has anchored his own program, Anderson Cooper 360°, since March 2003. Cooper has won 18 Emmys and numerous other major journalism awards. He lives in New York with his sons.
Praise For…
---
"Splendid. . . . haunting and beautifully written. . . . This is a terrific book." — Washington Post on Vanderbilt
"An incredible story." — People on Vanderbilt
"A dramatic tale expertly told of rapacious ambition, decadent excess, and covert and overt tyranny and trauma. . . . With resplendent detail, the authors capture the gasp-eliciting extravagance of the Vanderbilt Gilded Age mansions. . . . With its intrinsic empathy and in-depth profiles of women, this is a distinctly intimate, insightful, and engrossing chronicle of an archetypal, self-consuming American dynasty. . . . Irresistible." — Booklist (starred review) on Vanderbilt
"Marked by meticulous research and deep emotional insight, this is a memorable chronicle of American royalty." — Publishers Weekly on Vanderbilt
We will be open on Memorial Day from 10 AM until 6 PM.
Free Media Mail shipping on U.S. orders over $50