The Clergyman's Wife: A Pride & Prejudice Novel (Paperback)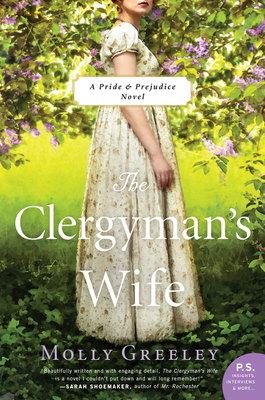 Staff Reviews
---
Charlotte Lucas is sensible, not sentimental; unlike Elizabeth, she finds it possible to tolerate Mr. Collins's foibles with a smile. Depending on the adaptation/retelling/fan fiction, we are led to believe that Charlotte is either miserable or resigned, but certainly not happy. 'The Clergyman's Wife' gives her probably the most realistic attitude: sometimes embarrassed, sometimes irritated, but also sometimes content, sometimes gratified. It allows her to form her own opinions of her surroundings and connections without imposing Elizabeth's feelings at the front of our minds.
This was a lovely, quick read that I happily devoured all at once. It's a picture of a short time in Charlotte Collins's life, treating her story sensitively and believably while inventing lovable, deeply human original characters. The book left me feeling wistful, but with a better understanding and respect for this classic character.
— Kaley
Description
---
For everyone who loved Pride and Prejudice—and legions of historical fiction lovers—an inspired debut novel set in Austen's world.

Charlotte Collins, nee Lucas, is the respectable wife of Hunsford's vicar, and sees to her duties by rote: keeping house, caring for their adorable daughter, visiting parishioners, and patiently tolerating the lectures of her awkward husband and his condescending patroness, Lady Catherine de Bourgh. Intelligent, pragmatic, and anxious to escape the shame of spinsterhood, Charlotte chose this life, an inevitable one so socially acceptable that its quietness threatens to overwhelm her. Then she makes the acquaintance of Mr. Travis, a local farmer and tenant of Lady Catherine..
In Mr. Travis' company, Charlotte feels appreciated, heard, and seen. For the first time in her life, Charlotte begins to understand emotional intimacy and its effect on the heart—and how breakable that heart can be. With her sensible nature confronted, and her own future about to take a turn, Charlotte must now question the role of love and passion in a woman's life, and whether they truly matter for a clergyman's wife.
About the Author
---
Molly Greeley earned her bachelor's degree in English, with a creative writing emphasis, from Michigan State University, where she was the recipient of the Louis B. Sudler Prize in the Arts for Creative Writing. Her short stories and essays have been published in Cicada, Carve, and Literary Mama.  She works as on social media for a local business, is married and the mother of three children but her Sunday afternoons are devoted to weaving stories into books. 
Praise For…
---
"Greeley's attention to historical detail and her astute characterization as she adeptly uncovers nuances of character in both Charlotte and her husband . . . feel fresh while also ringing true to [Jane] Austen's writing. . . Fans of other Austen spinoffs . . . will devour this thoughtful, moving, readable debut."
— Booklist

"The Clergyman's Wife is a poignant, pensive, and brilliant exploration of women's lot in early nineteenth-century England and how one woman rose to make a silk purse out of a sow's ear."
— Laurel Ann Nattress, editor of s>Jane Austen Made Me Do It

"The Clergyman's Wife is a compelling, beautifully rendered view into the soul of Pride and Prejudice's Charlotte Collins, and into the bittersweet realities of the life of compromise she chose when she married for security rather than love. Molly Greeley manages to tell Charlotte's story in a refreshingly contemporary style while at the same time keeping the reader's feet firmly planted in a time gone by."
— Shannon Winslow, author of The Darcys of Pemberley


"Greeley debuts with a delightful yet poignant historical inspired by Jane Austen's classic Pride and Prejudice, from the pragmatic point of view of Charlotte Collins, a friend of Elizabeth Bennet's who married one of Elizabeth's cast-off suitorsWith tight prose and expert characterization, Greeley easily draws readers into the world she's created while largely staying true to Pride and Prejudice's original plot. Ideal for fans of Austen's work, Greeley's strong debut also stands on its own."
— Publishers Weekly

"There's a hint of DH Lawrence in this nuanced, cleverly-plotted Pride and Prejudice spin-off. Greeley builds Charlotte's world artfully…You needn't be an Austen fan to relish Greeley's spirited first novel."
— BBC