Ophie's Ghosts (Paperback)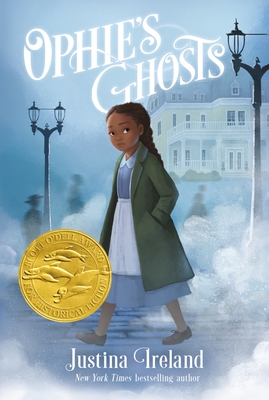 It's 1922. Ophelia Harrison and her mother are forced to flee their home in the Georgia countryside to Pittsburgh after a terrible tragedy. And on top of all that, Ophie discovers she can see ghosts!
This enticing historical mystery story highlights issues of race in America with great thoughtfullness.
Ghost and historical stories aren't usually my cup of tea, but I was pleasantly surprised by this book! It is a perfect combination of those genres.
— Laurel
May/June 2021 Kids Indie Next List
---
"Ophie is a smart girl with a scary talent. Ophie is growing up in post WWI racist America, dealing with a lot of darkness in her life, and some of it is definitely unnatural. Her father's grisly death, she and her mom's struggle to make ends meet and the ghosts! are all part of the life she never imagined. A slice of history, a brave little girl and a rip roaring/slightly scary adventure will earn Ophie a lot of love from readers!"
— Margaret Neville, The King's English Bookshop, Salt Lake City, UT
Description
---
Winner, Scott O'Dell Award for Historical Fiction! The New York Times bestselling author of Dread Nation makes her middle grade debut with a sweeping tale of the ghosts of our past that won't stay buried, starring an unforgettable girl named Ophie.
Ophelia Harrison used to live in a small house in the Georgia countryside. But that was before the night in November 1922, and the cruel act that took her home and her father from her. Which was the same night that Ophie learned she can see ghosts.
Now Ophie and her mother are living in Pittsburgh with relatives they barely know. In the hopes of earning enough money to get their own place, Mama has gotten Ophie a job as a maid in the same old manor house where she works.
Daffodil Manor, like the wealthy Caruthers family who owns it, is haunted by memories and prejudices of the past—and, as Ophie discovers, ghosts as well. Ghosts who have their own loves and hatreds and desires, ghosts who have wronged others and ghosts who have themselves been wronged. And as Ophie forms a friendship with one spirit whose life ended suddenly and unjustly, she wonders if she might be able to help—even as she comes to realize that Daffodil Manor may hold more secrets than she bargained for.
About the Author
---
Justina Ireland is the New York Times bestselling author of Dread Nation and its sequel, Deathless Divide, as well as Vengeance Bound and Promise of Shadows. She is also one of the authors creating the next generation of Star Wars novels entitled the High Republic and is the author of the middle grade Star Wars adventures Lando's Luck, Spark the Resistance, and A Test of Courage. She lives with her family in Maryland, where she enjoys dark chocolate and dark humor and is not too proud to admit that she's still afraid of the dark. You can visit her online at www.justinaireland.com.
Praise For…
---
"Ophie's Ghosts is at once a gripping mystery and a deeply moving story of one determined girl's quest to bring peace and healing to those whom society has left behind. With grace and heart, Ireland asks us to bear witness to America's ghosts and shines a light on the path to setting them free." — Anne Ursu, author of The Lost Girl
"Haunting, suspenseful, and steeped in the very real ghosts of injustice in America, Ophie's Ghosts is a brilliant page-turner of a mystery. I couldn't put it down, and Ophie's courage and compassion make her a character I'll never forget." — Kate Messner, author of Chirp and Breakout
"Ireland's debut on the middle grade scene is beautifully written with a clear-eyed view of a complex past that is still to be reckoned with. The reverberations of the heart-wrenching mystery at its center will haunt readers in the best of ways." — Tracey Baptiste, New York Times bestselling author of The Jumbies
" Ireland's first middle-grade novel deftly examines the haunting aftermath of racial trauma and how people can learn to thrive despite it. Equal parts supernatural suspense and historical fiction, this is a compelling spin on the classic whodunit narrative."  — Booklist (starred review)
"Ireland weaves together the fantastical with historical realities that Black Americans have faced. Ophie's optimistic personality and the intrigue-filled story will keep pages turning all the way to the satisfying conclusion. An enthralling journey." — Kirkus Reviews
"Ireland's first middle-grade novel thoughtfully explores issues of race, privilege, and historical injustice, while also being a well-paced and shivery supernatural page-turner." — Horn Book (starred review)
"Chilling on a number of levels, this is a historically rooted ghost story well worth reading." — School Library Journal
"Ireland provides an immersive experience of the shifting race dynamics in 1920s America by focusing on Ophie's inner dialogue and her experiences as a young Black girl, and by interspersing chapters from the perspective of various objects and places, is particularly effective." — Bulletin of the Center for Children's Books
Free Media Mail shipping on U.S. orders over $50