Second First Impressions: A Novel (Paperback)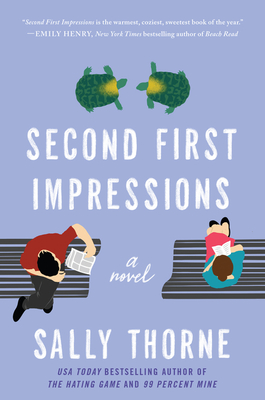 Description
---
"Second First Impressions is the warmest, coziest, sweetest book of the year, an absolutely perfect blend of humor and heart. I want to live inside Sally Thorne's brain." —Emily Henry, New York Times bestselling of Beach Read
From the USA Today bestselling author of The Hating Game, soon to be a movie starring Lucy Hale and Austin Stowell, and 99 Percent Mine comes the clever, funny, and unforgettable story of a muscular, tattooed man hired as an assistant to two old women—under the watchful eye of a beautiful retirement home manager.
Dazzle (n): Brightness that blinds someone temporarily. 
Position Vacant: Two ancient old women residing at Providence Retirement Villa seek male assistant for casual exploitation and good-natured humiliation. Duties include boutique shopping, fast-food fetching, and sincerely rendered flattery. Good looks a bonus—but we aren't picky. 
An advertisement has been placed (again!) by the wealthy and eccentric Parloni Sisters. The salary is generous and the employers are 90 years old, so how hard could the job be? Well, none have lasted longer than a week. Most boys leave in tears. 
Ruthie Midona will work in Providence's front office, and be at the Parloni's beck and call, forever. That's sort of her life plan. If Ruthie can run the place in her almost-retired bosses' absence, with no hijinks/hiccups, she has a shot at becoming the new manager. She might also be able to defend her safe little world from Prescott Development, the new buyer of the prime site. Maybe after all that, she can find a cute guy to date. All she needs to do is stay serious—and that's what she does best. 
Until, one day, someone dazzling blows into town. 
Teddy Prescott devotes his life to sleeping, tattooing, and avoiding seriousness. When Teddy needs a place to crash, he makes a deal with his developer dad. Teddy can stay in one of Providence's on-site maintenance cottages—right next door to an unimpressed Ruthie—but only if he works there and starts to grow up.
Ruthie knows how this sweetly selfish rich boy can earn his keep—and be out of her hair in under a week. After all, there is a position vacant…
About the Author
---
Sally Thorne is the USA Today-bestselling author of The Hating Game. She spends her days climbing into fictional worlds of her own creation. She lives in Canberra, Australia with her husband in a house filled with vintage toys, too many cushions, a haunted dollhouse and the world's sweetest pug.
Praise For…
---
"Second First Impressions is the warmest, coziest, sweetest book of the year, an absolutely perfect blend of humor and heart. I want to live inside Sally Thorne's brain." — Emily Henry, New York Times bestselling author of Beach Read
"I inhaled Second First Impressions! I had to force myself to slow down because I didn't want it to end. It's a truly adorable, heart-warming, swoon-worthy love story. A book hasn't given me the warm-fuzzies like this for a very long time." — Beth O'Leary, bestselling author of The Flatshare
"Second First Impressions is about realizing that life is short, and that to live it to the fullest we must be both selfish and selfless. It urges us to soak up the beauty of each passing moment — and this wondrous book is a good place to start." — Entertainment Weekly
"Thorne manages to bring all the characters to vivid life, endearing them to the reader through the enumeration of their quirks and fleeting revelations about their pasts. Each scene between the protagonists—whose first meeting will make you laugh and wince simultaneously—is a delight, as is Ruthie's motley found family." — Kirkus Reviews (starred review)
"Following 99 Percent Mine, Thorne's latest novel is a sweet story, merging a woman whose fears tend to overpower her dreams, and a slow-burn romance that turns her world upside down." — Library Journal
"Second First Impressions was perfect for the moment I was reading it in. It's funny and might make you cry (in a cathartic way), and has a hero whose kindness I truly loved." — Smart Bitches, Trashy Books 
"Sally Thorne satisfies hearts longing for laughter in their love stories… [Joshua and Lucy's] battle of wits is tremendously fun—acerbic and sexy and filled with tension. The result is a wicked, witty romance that will capture readers' hearts long before Joshua manages to capture Lucy's." — Washington Post on The Hating Game
"Good fun." — People on The Hating Game
"Funny, smart, fresh, and thoroughly enjoyable from the first delicious page to the last. I highly recommend." — Susan Elizabeth Phillips, New York Times bestselling author, on The Hating Game
"A brilliant, biting, hilarious new voice. The Hating Game will take the rom-com world by storm. One of the best I've read, ever." — Kristan Higgins, New York Times bestselling author

Free Media Mail shipping on U.S. orders over $50
Christmas ordering guidelines
"Ships from warehouse" items to be shipped: Order by Monday, 12/5
"Ships from warehouse" items to be picked-up in store: Order by Monday, 12/12
On hand items: We'll pull items in order of orders received, so keep them coming!