Efrén Divided (Paperback)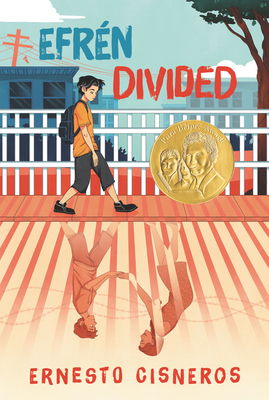 Staff Reviews
---
A powerful story about a family torn apart by deportation and a young boy forced to grow up too quickly. Efrén's struggles, while all-too common, are still those that the average person does not have to worry about, but Cisneros creates such realistic characters that the reader can't help but empathize.
With an ending that doesn't shy away from hard truths but remains ultimately hopeful, Efrén Divided is essential reading.
— tee
Spring 2020 Kids Indie Next List
---
"This book is, unfortunately, very relevant to our current political climate and to too many young readers. That's what makes it so important. When Efrén's mother is suddenly deported, he has to figure out how to balance his relationships at school with his new responsibilities at home. As if middle school wasn't hard enough! Reading about those most affected by the immigration crisis will make anyone want to take action to change this story to fiction."
— Riley Jay Davis, Next Chapter Booksellers, St. Paul, MN
Description
---
Winner of the Pura Belpré Award!
"We need books to break open our hearts, so that we might feel more deeply, so that we might be more human in these unkind times. This is a book doing work of the spirit in a time of darkness." —Sandra Cisneros, author of The House on Mango Street 
Efrén Nava's Amá is his Superwoman—or Soperwoman, named after the delicious Mexican sopes his mother often prepares. Both Amá and Apá work hard all day to provide for the family, making sure Efrén and his younger siblings Max and Mía feel safe and loved.
But Efrén worries about his parents; although he's American-born, his parents are undocumented. His worst nightmare comes true one day when Amá doesn't return from work and is deported across the border to Tijuana, México.
Now more than ever, Efrén must channel his inner Soperboy to help take care of and try to reunite his family.
A glossary of Spanish words is included in the back of the book. 
About the Author
---
Ernesto Cisneros was born and raised in Santa Ana, California, where he still teaches. Efrén Divided is his first book. He holds an English degree from the University of California, Irvine; a teaching credential from California State University, Long Beach; as well as a master of fine arts in creative writing from National University. As an author, he believes in providing today's youth with an honest depiction of characters with whom they can identify. The real world is filled with amazing people with diverse backgrounds and perspectives. His work strives to ref lect that. You can visit him online at www.ernestocisneros.com.
Praise For…
---
"Debut author Cisneros paints a vivid and palpable #ownvoices picture of the lost childhoods as children and parents are separated due to immigration issues. But even as Efrén's world seems to be crashing around him, Cisneros celebrates the kindness of the Mexican American community and its richness of food, culture, and resilient spirit.Honest and tender: a must-read." — Kirkus Reviews (starred review)
"As affecting as it is timely, Cisneros's debut depicts how draconian U.S. immigration policies rip through one Southern California family... Cisneros tells this urgent story with focus and heart-wrenching realism, especially concerning the ripple effects of family separation, not just at the border but also among those in the U.S." — Publishers Weekly (starred review)
"This timely middle-grade novel will not only open dialogue with children on the issue of immigration but also encourage conversations on the subjects of kindness, empathy, and activism. A moving novel perfectly pitched to its audience." — Booklist (starred review)
"In the last few years, the news has become saturated with headlines about deportations and separated families. Cisneros provides a heart-wrenching and evocative glimpse of what one family's life might look like on both sides of the border. Using down-to-earth characters and authentic scenarios, he tells a story of resilience, strength, and love. In a time full of divisiveness and unknowns, this resonant title will inspire young readers to make a difference, no matter the hardships they face." — School Library Journal (starred review)
"Authentically told, and interwoven with hope, strength, and beauty, Efrén Divided is true to life and all too timely. A must-read for anyone with a heart. This book is a gift to the world." — Sarah Scheerger, author of Operation Frog Effect
"This book broke my heart as much as it lifted it!" — Aida Salazar, critically acclaimed author of The Moon Within & Land of the Cranes
"A beautifully told and important book that offers readers a heart-wrenching and authentic glimpse into today's immigration policies. Cisneros handles the timely subject matter with heart, depth and authenticity, leaving readers like me hopeful and determined to make this world a better place for all children." — Angela Cervantes, award-winning author of Gaby, Lost and Found and Lety Out Loud
"In Efrén Divided, Cisneros tells the story of children grown up too quickly and families unfairly separated. Efrén's heartbreaking situation fills the reader with justified rage and empowering hope. This book is a call to not take the world as it is, but to fight for the world as it should be." — Adrianna Cuevas
"A moving portrayal of the shame, fear, and uncertainty of a family ripped apart by deportation. Efrén Divided eloquently defines how color doesn't matter." — Aimée Medina Ca, author of River of Love
"A golden door into crucial conversations we need to have in our classrooms about equity and human rights." — NoNieqa Ramos, Author of The Disturbed Girl's Dictionary and The Truth Is
"Efrén Divided can be counted among those books that will inspire young people to action, activism and change in their communities." —  e.E. Charlton-Trujillo, Author, Filmmaker, NCO Co-Founder
"We need books to break open our hearts, so that we might feel more deeply, so that we might be more human in these unkind times.  I felt the author was asking each of his readers to be more human, that we were being called to be our own heroes, just as the protagonist is being asked this.  This is a book doing work of the spirit in a time of darkness." — Sandra Cisneros, author of The House on Mango Street 
"Cisneros ably conveys for a young audience what life can look like for the working poor, and how fear, embarrassment, mistrust, and desperation become variables in the calculus of seeking help." — Bulletin of the Center for Children's Books
Free Media Mail shipping on U.S. orders over $50
Christmas ordering guidelines
Ships from warehouse items to be shipped: Order by Monday, 12/5
Ships from warehouse items to be picked-up in store: Order by Monday, 12/16
On hand items: We'll pull items in order of orders received, so keep them coming!