Concrete Rose (Hardcover)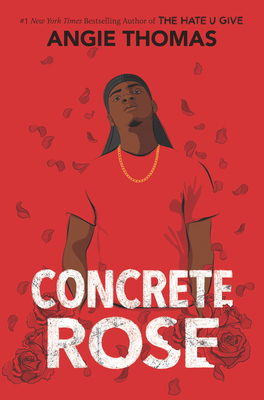 Angie Thomas only gets better and better! The third book in the Garden Heights universe continues to explore important themes through the lens of teens finding themselves. The most awe-inspiring part of this book is the fact that it acts as a prequel, imagining Maverick Carter's teenage years, but it seems as if she had all the character development planned for him and ready to go since day one of The Hate U Give. Concrete Rose blends seamlessly with what we have already been given about Star's family, and it is wonderful to explore the life of such an inspiring character. With her characteristic engrossing, propulsive dialogue and plot, this book is easy to read all at once, but it won't truly leave you for a long time.
— Taylor W.
Description
---
International phenomenon Angie Thomas revisits Garden Heights seventeen years before the events of The Hate U Give in this searing and poignant exploration of Black boyhood and manhood.
If there's one thing seventeen-year-old Maverick Carter knows, it's that a real man takes care of his family. As the son of a former gang legend, Mav does that the only way he knows how: dealing for the King Lords. With this money he can help his mom, who works two jobs while his dad's in prison.
Life's not perfect, but with a fly girlfriend and a cousin who always has his back, Mav's got everything under control.
Until, that is, Maverick finds out he's a father.
Suddenly he has a baby, Seven, who depends on him for everything. But it's not so easy to sling dope, finish school, and raise a child. So when he's offered the chance to go straight, he takes it. In a world where he's expected to amount to nothing, maybe Mav can prove he's different.
When King Lord blood runs through your veins, though, you can't just walk away. Loyalty, revenge, and responsibility threaten to tear Mav apart, especially after the brutal murder of a loved one. He'll have to figure out for himself what it really means to be a man.
About the Author
---
Angie Thomas is the author of the award-winning, #1 New York Times bestselling novels The Hate U Give, On the Come Up, and Concrete Rose, as well as Find Your Voice: A Guided Journal for Writing Your Truth. A former teen rapper who holds a BFA in creative writing, Angie was born, raised, and still resides in Mississippi. You can find her online at www.angiethomas.com.
Praise For…
---
"A heartfelt exploration of Black manhood and the power of possibility."
— People

"In Concrete Rose, Thomas casts a loving eye on the lives and realities of Black people, which is a powerful continuation of one of her most moving endeavors as a writer: her challenge to readers to affirm the goodness of all types of characters and to greet them with compassion at every turn, no matter where those turns may lead."?
— New York Times Book Review

"Thomas brings her trademark wit, nostalgic love of the 1990s and all things R&B and hip-hop, and her penchant for heartfelt characterization to this first-person exploration of Maverick Carter's coming-of-age."
— Publishers Weekly (starred review)

"Authentic to the point of heartbreak, Maverick's voice is earnest as he wrestles with his decisions. Fans of Thomas's work will not be disappointed in this intense portrayal of this phase in the Carter family's story."
— Horn Book (starred review)

"This is the perfect example of a narrative that straddles the beauty and pain of belonging and having the courage to make your own choices…. Thomas writes with a depth of humor and clarity that really allows readers to bond with the characters."
— School Library Journal (starred review)

"This literary DeLorean transports readers into the past, where they hope, dream, and struggle alongside beloved characters from Thomas' The Hate U Give…. Thomas proves Game of Thrones–esque in her worldbuilding ability, deepening her landscape without sacrificing intimacy or heart."
— Kirkus Reviews (starred review)

"Thomas delivers a poignant prequel to The Hate U Give…. Maverick's story is one that offers hope, encouragement, and optimism."
— Booklist (starred review)

"Thomas' genius is her ability to craft one man's history in a way that illuminates the forces that brought us to this critical juncture."
— Time