A Woman Is No Man: A Read with Jenna Pick (Hardcover)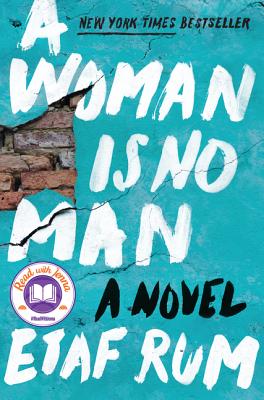 $27.99

Ships from warehouse to store in 3-6 business days
Staff Reviews
---
This is the story of three generations of Palestinian-American women living in Brooklyn who are torn between individual desire and the strict mores of Arab culture. It is a fascinating, horrifying, unvarnished glimpse at their world.  (The author was raised by Palestinian immigrants in Brooklyn so writes with authority.) I became completely immersed in the lives of these women and I left them with a better understanding of who they are ...not one-dimensional. In her letter to the reader Etaf hopes that people from both inside and outside her community will read this book and see "the strength and resiliency of our women." I certainly did.
— Rene
March 2019 Indie Next List
---
"A Woman Is No Man gives a rare and terrifying look into the lives of three generations of Palestinian and Palestinian-American women. Readers are invited into the secret world of these women living in Palestine and then Brooklyn; we watch nervously as they try to navigate and reconcile their two worlds — the violent, patriarchal world at home and the confusing, anti-cultural world outside their front door. I cringed at the pain and cheered at the successes of the women I came to know. This beautifully written book shines a light on an important topic. It is a story that must be told and, as importantly, must be heard."
— Debra Barrett, Where the Sidewalk Ends, Chatham, MA
Description
---
A Goodreads Choice Awards Finalist for Best Fiction and Best Debut • BookBrowse's Best Book of the Year • A Marie Claire Best Women's Fiction of the Year • A Real Simple Best Book of the Year • A PopSugar Best Book of the Year All Written By Females • A New York Times Book Review Editors' Choice • A Washington Post 10 Books to Read in March • A Newsweek Best Book of the Summer • A USA Today Best Book of the Week • A Washington Book Review Difficult-To-Put-Down Novel • A Refinery 29 Best Books of the Month • A Buzzfeed News 4 Books We Couldn't Put Down Last Month • A New Arab Best Books by Arab Authors • An Electric Lit 20 Best Debuts of the First Half of 2019 • A The Millions Most Anticipated Books of 2019
"Garnering justified comparisons to Khaled Hosseini's A Thousand Splendid Suns... Etaf Rum's debut novel is a must-read about women mustering up the bravery to follow their inner voice."   —Refinery 29
The New York Times bestseller and Read with Jenna TODAY SHOW Book Club pick telling the story of three generations of Palestinian-American women struggling to express their individual desires within the confines of their Arab culture in the wake of shocking intimate violence in their community.
"Where I come from, we've learned to silence ourselves. We've been taught that silence will save us. Where I come from, we keep these stories to ourselves. To tell them to the outside world is unheard of—dangerous, the ultimate shame."
Palestine, 1990. Seventeen-year-old Isra prefers reading books to entertaining the suitors her father has chosen for her. Over the course of a week, the naïve and dreamy girl finds herself quickly betrothed and married, and is soon living in Brooklyn. There Isra struggles to adapt to the expectations of her oppressive mother-in-law Fareeda and strange new husband Adam, a pressure that intensifies as she begins to have children—four daughters instead of the sons Fareeda tells Isra she must bear.
Brooklyn, 2008. Eighteen-year-old Deya, Isra's oldest daughter, must meet with potential husbands at her grandmother Fareeda's insistence, though her only desire is to go to college. Deya can't help but wonder if her options would have been different had her parents survived the car crash that killed them when Deya was only eight. But her grandmother is firm on the matter: the only way to secure a worthy future for Deya is through marriage to the right man.
But fate has a will of its own, and soon Deya will find herself on an unexpected path that leads her to shocking truths about her family—knowledge that will force her to question everything she thought she knew about her parents, the past, and her own future.
About the Author
---
Etaf Rum was born and raised in Brooklyn, New York, by Palestinian immigrants. She lives in North Carolina with her two children. Rum also runs the Instagram account @booksandbeans. A Woman Is No Man is her first novel.
Praise For…
---
"A dauntless exploration of the pathology of silence, an attempt to unsnarl the dark knot of history, culture, fear and trauma that can render conservative Arab-American women so visibly invisible. . . .  The triumph of Rum's novel is that she refuses to measure her women against anything but their own hearts and histories. . . . Both a love letter to storytelling and a careful object lesson in its power." — Beejay Silcox, New York Times Book Review
"What is a woman's life worth? This question echoes across countries and generations through Etaf Rum's intense debut novel…. The narrative draws links between economic desperation and discord in the home [and] also touches on the legacy of violence passed down from the Israeli occupation of Palestinian territories…. A Woman Is No Man complicates and deepens the Arab American story — a tale as rich and varied as America itself." — Diana Abu-Jaber, Washington Post
"I couldn't put it down.  I was obsessed with figuring out the mystery of this family." — Jenna Bush Hager, Today Show Book Club Pick
"A Woman Is No Man by Etaf Rum is a stunning debut novel that hooked me from page one.  With the utterly compelling characters, Rum accomplishes the high-wire act of telling a story that feels both contemporary and timeless, intimate and epic. This is a novel you devour in a few precious sittings, that you press into the hands of friends and family, that lingers in your heart and mind long after the last page." — Tara Conklin, author of The Last Romantics
"Garnering justified comparisons to Khaled Hosseini's A Thousand Splendid Suns... Etaf Rum's debut novel is a must-read about women mustering up the bravery to follow their inner voice." — Refinery 29
"Rum writes of the complexities inside the lives of Arab American women. She probes the dark and the daunting as she tells the story of a Brooklyn teenager navigating the wishes of a family who want her to marry." — Juliana Rose Pignataro, Newsweek
"A blistering exploration of three generations of Palestinian-American women, unfolding in lyrical but demanding prose." — David Canfield, Entertainment Weekly
"Sometimes heroism is loud and dramatic. Other times, it is daring to listen to that quiet voice within and have the courage to follow it. In this story, we see inside the lives of three generations of Palestinian women living in America, struggling and suffering to hear that voice. Etaf Rum has done a great service by sharing these voices with us." — Shilpi Somaya Gowda, author of Secret Daughter and The Golden Son
 "Three generations of women from a conservative Arab family living in America are at the core of Etaf Rum's riveting debut novel. From the very first line, Rum brings you into the hearts and minds of these characters, and you'll stay connected to them well beyond finishing the last page." — Ciera Velarde, Buzzfeed News
"Explores themes of cultural expectations and taboos, family tragedy and the immigrants' story, all from the perspective of an author whose life experience bears many similarities. [Also] how women who are limited by societal norms can make their own unique contributions to society and be 'equal if not greater than men.'" — Nick Meyer, Arab American News
"A story of how a woman can break taboos and break free from patriarchal misogynistic families. This mesmerizing novel will take all your attention from the very beginning." — Washington Book Review
"Etaf Rum's A Woman Is No Man is a shattering, revelatory tale of immigration, womanhood, and the cyclical impact of violence and oppression. In her unflinching story of both loss and hope, strewn with enthralling, vibrant characters, Rum has accomplished the extraordinary: a tale that bridges the domestic and the global, memory and future, the old world and the new. A spectacular debut." — Hala Alyan, author of Salt Houses
 "A Woman Is No Man, bold as a drumbeat, banishes the repressive silence that haunts Isra and her spirited daughter, Deya. This tender tale of women soldiering through a barbed world is a clarion call and a work of literary bravery." — Nadia Hashimi, author of The Pearl that Broke Its Shell and A House Without Windows
"[A] brave debut [that] underscore[s] the economic and political challenges that contribute to the victimization of women…. Throughout this heart breaking yet inspiring novel, reading, the forbidden pleasure, offers an alternative sense of community and a safe place for dreams. In that tradition, 'A Woman Is No Man' contributes its own gratifying and immensely healing salve." — Al Jidad
"A richly detailed and emotionally charged debut." — Kirkus
"First-time novelist Rum's setting… is rare: a Brooklyn Palestinian enclave in which reputation matters above all else…. The daughter of Brooklyn Palestinian immigrants, Rum was often told 'a woman is no man.' Overcoming her fear of community reprisal, she alchemizes that limiting warning into a celebration of 'the strength and power of our women.'" — Booklist
"A gripping portrait of three generations of Palestinian women whose narratives are heartfelt and unsettling. Rum writes with tender sensibility, creating characters with layers of complexity and depth. She gives these women what they most desire and deserve: a voice." — Frances de Pontes Peebles, author of The Air You Breathe and The Seamstress
"Through well-developed characters and a wonderfully paced narrative, [Rum] exposes the impact that the embedded patriarchy of some cultures can have on women while showing more broadly how years of shame, secrets, and betrayal can burden families across generations no matter what the cultural or religious affiliation. Highly recommended." — Library Journal (starred review)
"Etaf Rum's acclaimed debut novel looks at Palestinian-American women's experiences within their tight-knit, patriarchal Brooklyn community. Though their neighborhood isn't far from the hip Williamsburg neighborhood of Girls, it's worlds away…. When writing her book, Etaf Rum drew from personal experiences…. Like her protagonist, she had to undergo a trek to find—and listen to—her own voice." — O, the Oprah Magazine, online
Coverage from NPR
Free Media Mail shipping on U.S. orders over $75