The Jane Austen Project: A Novel (Paperback)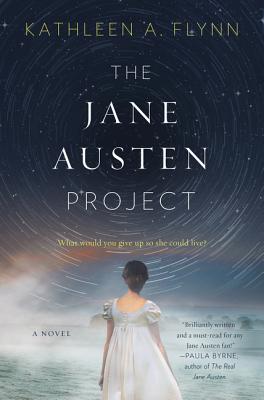 $16.99

Ships from warehouse to store in 3-6 business days
Description
---
"The most brilliant Austen-adjacent book on the market. . . . Flynn's style makes this a quick, fun read, and since the story is Jane-related there's even a romantic subplot."  — Vulture

"What lover of literature hasn't dreamed of going back in time to meet Jane Austen? . . . . Kathleen A. Flynn brings this dream to life, creating a vivid portrait of Regency England in all its glory and squalor." —Lauren Belfer, author of After the Fire and A Fierce Radiance
Perfect for fans of Jane Austen, this engrossing novel offers an unusual twist on the legacy of one of the world's most celebrated and beloved authors: two researchers from the future are sent back in time to meet Jane and recover a suspected unpublished novel.
London, 1815: Two travelers—Rachel Katzman and Liam Finucane—arrive in a field in rural England, disheveled and weighed down with hidden money. Turned away at a nearby inn, they are forced to travel by coach all night to London. They are not what they seem, but rather colleagues who have come back in time from a technologically advanced future, posing as wealthy West Indies planters—a doctor and his spinster sister. While Rachel and Liam aren't the first team from the future to "go back," their mission is by far the most audacious: meet, befriend, and steal from Jane Austen herself.
Carefully selected and rigorously trained by The Royal Institute for Special Topics in Physics, disaster-relief doctor Rachel and actor-turned-scholar Liam have little in common besides the extraordinary circumstances they find themselves in. Circumstances that call for Rachel to stifle her independent nature and let Liam take the lead as they infiltrate Austen's circle via her favorite brother, Henry.
But diagnosing Jane's fatal illness and obtaining an unpublished novel hinted at in her letters pose enough of a challenge without the continuous convolutions of living a lie. While her friendship with Jane deepens and her relationship with Liam grows complicated, Rachel fights to reconcile the woman she is with the proper lady nineteenth-century society expects her to be. As their portal to the future prepares to close, Rachel and Liam struggle with their directive to leave history intact and exactly as they found it. . . however heartbreaking that may prove.
About the Author
---
Kathleen A. Flynn is an editor at the New York Times, where she works at "The Upshot." She holds a B.A. from Barnard College and an M.A. from the University of North Carolina. She has taught English in Hong Kong, washed dishes on Nantucket, and is a life member of the Jane Austen Society of North America. She lives in Brooklyn with her husband and their shy fox terrier, Olive.
Praise For…
---
"The most brilliant Austen-adjacent book on the market…Flynn's style makes this a quick, fun read, and since the story is Jane-related there's even a romantic subplot."
— Vulture
"Kathleen Flynn spins an entertaining story of time travel, complicated romantic connections and Austenalia in her debut novel, The Jane Austen Project...Witty, well-researched and thought-provoking, Flynn's debut is a fun and unusual addition to the canon of Austen tributes and pastiche." — Shelf Awareness
"Written in an engaging Austen style, full of witty dialogue, a secret engagement, and a delightful clan of loving siblings" — Booklist
"What lover of literature hasn't dreamed of going back in time to meet Jane Austen? In her debut novel, Kathleen A. Flynn brings this dream to life, creating a vivid portrait of Regency England in all its glory and squalor. Flynn illuminates the stark contrasts between that era and our own, and movingly depicts the heartbreak of those who might try to travel between the two." — Lauren Belfer, author of After the Fire and A Fierce Radiance
"The Jane Austen Project is clever, captivating, and original. I loved it and couldn't put it down! It's been a long time since I've been so engrossed in a novel, or lost so much sleep reading it. Who wouldn't want to travel back in time and meet Jane Austen? Flynn's depiction of Jane Austen is wonderful, exactly as I imagine she must have been. The ending is a shocker and one of the strengths of the novel. It presents a view of time travel—and history—you won't soon forget. A keeper on my Austen shelf." — Syrie James, author of Jane Austen's First Love
"I loved The Jane Austen Project. Brilliantly written and a must-read for any Jane Austen fan!" — Paula Byrne, author of The Real Jane Austen
We will be open on Memorial Day from 10 AM until 6 PM.
Free Media Mail shipping on U.S. orders over $50