The Magnificent Mya Tibbs: Spirit Week Showdown (Paperback)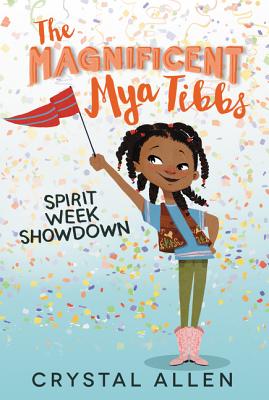 $6.99

Ships from warehouse to store in 1-5 business days
Description
---
A hilarious and spunky new heroine in the vein of Ramona the Pest and Clementine, from Crystal Allen—the acclaimed author of How Lamar's Bad Prank Won a Bubba-Sized Trophy. 
Nine-year-old cowgirl Mya Tibbs is boot-scootin' excited for the best week of the whole school year—SPIRIT WEEK! She and her megapopular best friend Naomi Jackson even made a pinky promise to be Spirit Week partners so they can win the big prize: special VIP tickets to the Fall Festival.
But when the partner-picking goes horribly wrong, Mya gets paired with Mean Connie Tate—the biggest bully in school. And she can't get out of it. Good gravy!
Now Naomi is "friend-ending" mad at Mya for breaking a promise—even though Mya couldn't help it—and everyone at school is calling Mya names. Can Mya work with Mean Connie to win the VIP tickets, and get her best friend back?
About the Author
---
Crystal Allen is the author of How Lamar's Bad Prank Won a Bubba-Sized Trophy, which received a Florida Sunshine State Award Master List nomination and was a Junior Library Guild selection. She is also the author of the acclaimed middle grade novels The Laura Line, The Magnificent Mya Tibbs: Spirit Week Showdown, and The Magnificent Mya Tibbs: The Wall of Fame Game. She currently lives in Sugar Land, Texas, with her husband, Reggie, and two sons, Phillip and Joshua. You can visit her website at www.crystalallenbooks.com.
Praise For…
---
"Nuanced depictions of friendship coupled with larger-than-life and fully three-dimensional characters make this delightful book at once thoughtful and a riot to read." — Kirkus Reviews (starred review)
"Spunky, sweet hearted, and full of fun, Mya will have readers everywhere yelling 'Yee-haw'!" — Varian Johnson, author of The Great Greene Heist
"[A] winning series debut." — Booklist
"Endearing" — Bulletin of the Center for Children's Books
"A big-hearted, high-spirited, cowboy-booted heroine…The story's vivid small-town setting and memorable characters will have many readers looking forward to more Mya." — Publishers Weekly
"Looking for a book that sparkles with laughter and heart? Yippee kai-yay—here it is! Mya's search for a true, not-fake friend will tickle your giggle bone and lasso your ticker. Everyone but everyone should have a friend like the magnetic and magnificent Mya Tibbs." — Tricia Springstubb, author of Moonpenny Island and Cody and the Fountain of Happiness
"In Spirit Week Showdown, earnest Mya, with her Texas charm and mounting friendship problems, kept me turning the pages all the way to the boo-yang cool finale. Trust me: you'll want all your friends to read this one!" — Tracey Baptiste, author of The Jumbies, a School Library Journal selection
Praise for THE LAURA LINE: "This is a lively approach to an issue that's come up recently in the news...and the historical aspect could help readers consider their own family lore that may not have made its way into written accounts." — Bulletin of the Center for Children's Books
Praise for THE LAURA LINE: "Laura Dyson's sweet, sassy voice draws you into this delightful story of self-discovery and acceptance, unwavering friendship and the deep roots of one amazing family." — Donna Gephart, author of OLIVIA BEAN, TRIVIA QUEEN
Praise for THE LAURA LINE: "Crystal Allen shows us how our relatives, even the ones we've never met, sometimes have a way of gently weaving a path to exactly who we're meant to be, our truest and best self." — Kathryn Fitzmaurice-author of THE YEAR THE SWALLOWS CAME EARLY
Praise for HOW LAMAR'S BAD PRANK WON A BUBBA-SIZED TROPHY: "Under all the braggadocio is a boy with a big heart, and from the first sentence Lamar will have readers hooked." — Publishers Weekly (starred review)
Praise for HOW LAMAR'S BAD PRANK WON A BUBBA-SIZED TROPHY: "This stands out for its unusual setting and smooth integration of friendship and family concerns. " — Kirkus Reviews
Praise for HOW LAMAR'S BAD PRANK WON A BUBBA-SIZED TROPHY: "The powerful mix of sibling rivalry, revenge, and hard-won redemption strengthens the perennial appeal of the naïve-underdog-makes-good plot; readers will come for the laughs and stay for the laughs." — Bulletin of the Center for Children's Books
Praise for HOW LAMAR'S BAD PRANK WON A BUBBA-SIZED TROPHY: "The tween book world has a new hero-Lamar Washington-as well as a brilliant new author who's bound to win a Bubba-sized trophy herself!" — Neal Shusterman, author of THE SCHWA WAS HERE and BRUISER