When Ghosts Come Home: A Novel (Hardcover)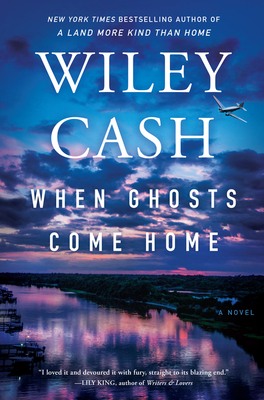 Staff Reviews
---
Wiley Cash's newest book, When Ghosts Come Home, affected me so profoundly that I contacted the author to discuss it. Set in a North Carolina coastal town in the 1980s, I was instantly caught up in a murder investigation with Sheriff Winston Barnes as he worked to piece together the puzzling crime scene and get to the truth. Through his skilled use of spare dialogue and sparse clues, the author deftly guides Sheriff Barnes in his reluctant quest to reveal the rot of racism in his community, spread by those who embrace its hate and destruction, and to acknowledge the despair and fury of those who are targets of that hate. A stunning plot turn rendered me aghast but, ultimately, led me to an unflinching understanding of the anguish, despair and devastation that are inevitably reaped from racism, bigotry and hate. A must read, the lasting effects of When Ghosts Come Home refuse to let go, and will remain with me for quite some time. 
— Belinda
Oak Island, NC, 1984: an unexpected plane crash lands at the small airport and a local man is found murdered in his car by the runway. Wiley Cash's new novel is a murder mystery, an exploration of race and politics, and a rich family drama. Winston Barnes could be the typecast small-town sheriff who bests the patronizing out-of-town FBI agents, but Cash avoids stereotypes in plot and character and delivers a complex story of two families caught in something for which they are not prepared.
Unlike some novels set on the North Carolina coast, this one gets every detail of time and place just right.
— Sarah
October 2021 Indie Next List
---
"This addictive, character-driven crime drama has an ending that will take your breath away. Written with subtlety and grace,When Ghosts Come Home will haunt you long after you read its final page."
— Amanda Gawthorpe, Page 158 Books, Wake Forest, NC
Description
---
Winner of the SIBA Southern Book Prize for Fiction
"I loved it and devoured it with fury, straight to its blazing end." —Lily King, author of Writers & Lovers
From the New York Times bestselling author of A Land More Kind Than Home, a tender and haunting story of a father and daughter, crime and forgiveness, race and memory.
When the roar of a low-flying plane awakens him in the middle of the night, Sheriff Winston Barnes knows something strange is happening at the nearby airfield on the coast of North Carolina. But nothing can prepare him for what he finds: a large airplane has crash-landed and is now sitting sideways on the runway, and there are no signs of a pilot or cargo. When the body of a local man is discovered—shot dead and lying on the grass near the crash site—Winston begins a murder investigation that will change the course of his life and the fate of the community that he has sworn to protect.
Everyone is a suspect, including the dead man. As rumors and accusations fly, long-simmering racial tensions explode overnight, and Winston, whose own tragic past has followed him like a ghost, must do his duty while facing the painful repercussions of old decisions. Winston also knows that his days as sheriff may be numbered. He's up for re-election against a corrupt and well-connected challenger, and his deputies are choosing sides. As if these events weren't troubling enough, he must finally confront his daughter Colleen, who has come home grieving a shattering loss she cannot fully articulate.
As the suspense builds and this compelling mystery unfolds, Wiley Cash delves deep into the hearts of these richly drawn, achingly sympathetic characters to reveal the nobility of an ordinary man struggling amidst terrifying, extraordinary circumstances. 
About the Author
---
Wiley Cash is the New York Times bestselling author of A Land More Kind Than Home, the acclaimed This Dark Road to Mercy, and most recently The Last Ballad. He is a three-time winner of the SIBA Southern Book Prize, won the Conroy Legacy Award, was a finalist for the PEN/Robert W. Bingham Prize and the Edgar Award for Best Novel, and has been nominated for many more. A native of North Carolina, he is the Alumni Author-in-Residence at the University of North Carolina Asheville. He lives in Wilmington, NC with his wife, photographer Mallory Cash, and their two daughters.
Praise For…
---
"Cash is a good storyteller, capturing the cadence of Southern speech and the complexity of modest lives with thoughtful intelligence." — New York Times Book Review
"Writing with clarity and grace, bestselling Cash is a gem of a storyteller, combining the solitary journey of a young mother's grief and a community's relentless battle against racial injustice. The result is a tightly crafted whodunit with true depth that readers will simultaneously want to speed through and savor." — Booklist (starred review)
"[A] gripping, multi-layered [novel]… Some readers may be taken aback by the abrupt gut-punch ending... But as I mulled it over for several days—and that says a lot about the power of the book—I understood it was not capricious… It was as inevitable as nightfall in late autumn." — Atlanta Journal-Constitution
"An intelligent mystery that features realistic and layered characters from a storyteller who becomes more masterful with every novel." — Augusta Chronicle
"Although the plot alone is compelling enough to keep readers turning the pages, this is also a quietly moving look at how realistically flawed characters deal with the tragedies life throws at them. A gripping mystery with characters that will linger in readers' minds long after they turn the last page." — Kirkus Reviews
"Taut, tense, and tender—this novel hits every note. I loved it and devoured it with fury, straight to its blazing end." — Lily King, author of Writers and Lovers
"In When Ghosts Come Home Wiley Cash reveals how family and history and the threads that connect us can contain such mystery. This is a masterful example of storytelling, told by one of the most open-hearted and clear-eyed writers I know." — Kevin Wilson, author of Nothing to See Here
"A searing, thunderous, heartbreaking thriller. Wiley Cash has talent to burn." — Chris Whitaker, author of We Begin at the End
 "A treatise on race in America wrapped in a family drama wrapped in a mystery, it brings us a thoughtful examination of a good man's struggle to do right under trying circumstances. Cash puts his whole heart on the page with these flawed, true characters, and the reward is ours." — Therese Anne Fowler, author of Z: A Novel of Zelda Fitzgerald
"A fascinating, nuanced meditation on life - both the living of it and the taking of it - in the crucible of small town America.  Wiley Cash is our guide through this maze of old secrets and fresh hurts. Take his hand, follow his lead and face the truth." — S.A. Cosby, author of Blacktop Wasteland
"When Ghosts Come Home is a gripping mystery as complex and layered as the characters who inhabit it. Set in 1984, Wiley Cash's exploration of race, justice, and grief – of the fault lines that rip apart families and communities – could not be more timely." — Lou Berney, author of November Road
"Wiley Cash's latest is an unputdownable knock-out: written in deft, thrilling prose, this book is both a gripping murder mystery and a thoughtful exploration of systemic racism in America. The perfect novel for our present moment." — Lauren Wilkinson, author of American Spy
"A brilliant portrait of how we arrived at the present, exploring race, class, greed, and how close we've always been to both the dangers that never hid themselves and the dangers we didn't see coming. This breathtaking story offers insight, heartbreak, and grace in equal measure." — Danielle Evans, author of The Office of Historical Corrections
"Wiley Cash has written a suspenseful, yet heart-tugging novel about community, duty, loss, racial divides, family and love. When Ghosts Come Home is a compassionate and timely gem." — De'Shawn Charles Winslow, author of In West Mills
 "Cash writes a taut narrative, and he's adept at dealing with the darker side of human nature… "When Ghosts Come Home" grapples with significant moral issues…[and] is compulsively readable." — Wilmington Star News
"A searing emotional story . . . . [Cash's]  four novels have proven him to be an author to watch. When Ghosts Come Home continues his high standards."
— Oline Cogdill, Florida Sun Sentinel
"Cash may be North Carolina's most promising and popular young fiction writer….His story is a compelling one, well worth waiting for its September release." — Wilkes Journal-Patriot (N. Wilkesboro, NC)
"Don't miss When Ghosts Come Home… [It's a] page-turner…. [and] the whodunit is mighty compelling." — Minneapolis Star Tribune
"When Ghosts Come Home haunts the heart and stresses the soul." — Fredericksburg Free Lance-Star
Wiley Cash delivers a spellbinding novel that is part family drama, part police procedural, and part race-reckoning in a small Southern town." — Business Insider
"[When Ghosts Come Home] is great work, a novel that will not disappoint… Readers will care, and care deeply, about the sheriff, his wife, and his daughter, each of whom is dealing with pain and regret." — Gaston Gazette, (Gastonia, NC)
"Cash excels at conveying realistic family and community dynamics and creating complex characters." — Library Journal
"A must read, the lasting effects of When Ghosts Come Home refuse to let go, and will remain with me for quite some time."  — WRAL.com (Raleigh, NC)
"Style is not the only reason [Cash's] latest novel is so consuming. This is a timely novel that, while certainly dark, also asks us to believe in hope — in redemption… Cash delivers the kind of book so many of us crave." — Chapter16.org