Interesting Times: A Novel of Discworld (Mass Market)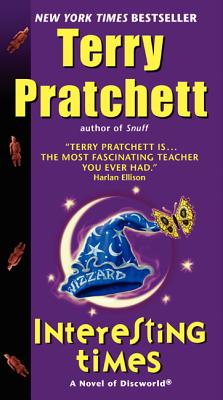 $9.99

Ships from warehouse to store in 3-6 business days
Other Books in Series
This is book number 18 in the Discworld series.
Description
---
"May you live in interesting times" is the worst thing one can wish on a citizen of Discworld—especially on the distinctly unmagical sorcerer Rincewind, who has had far too much perilous excitement in his life. But when a request for a "Great Wizzard" arrives in Ankh-Morpork via carrier albatross from the faraway Counterweight Continent, it's he who's sent as emissary. Chaos threatens to follow the impending demise of the Agatean Empire's current ruler. And, for some incomprehensible reason, someone believes Rincewind will have a mythic role in the war and wholesale bloodletting that will surely ensue. (Carnage is pretty much a given, since Cohen the Barbarian and his extremely elderly Silver Horde are busily formulating their own plan for looting, pillaging, and, er, looking wistfully at girls.) However, Rincewind firmly believes there are too many heroes already in the world, yet only one Rincewind. And he owes it to the world to keep that one alive for as long as possible.
About the Author
---
Sir Terry Pratchett was the internationally bestselling author of more than thirty books, including his phenomenally successful Discworld series. His young adult novel, The Amazing Maurice and His Educated Rodents, won the Carnegie Medal, and Where's My Cow?, his Discworld book for "readers of all ages," was a New York Times bestseller. His novels have sold more than seventy five million (give or take a few million) copies worldwide. Named an Officer of the British Empire "for services to literature," Pratchett lived in England. He died in 2015 at the age of sixty-six.
Free Media Mail shipping on U.S. orders over $50