We are offering FREE media mail shipping on books. We are open from 10am-7pm Monday through Saturday and 10am-6pm Sunday. Phones may not be answered due to a high volume of calls.
Nothing Gold Can Stay: Stories (Hardcover)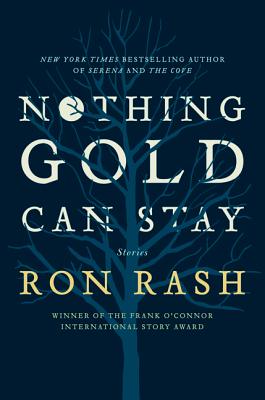 Email or call for price
Hard to find: allow 24 hours for information
Staff Reviews
---
I've been reading Ron Rash's book of stories, Nothing Gold Can Stay, and they're dark, beautiful and affecting. They're set in Appalachia and Kirkus's starred review said, "Rash's oneness with the region and its people makes an indelible impression."
— Nancy
Description
---
From Ron Rash, PEN / Faulkner Award finalist and New York Times bestselling author of Serena, comes a new collection of unforgettable stories set in Appalachia that focuses on the lives of those haunted by violence and tenderness, hope and fear—spanning the Civil War to the present day. 
The darkness of Ron Rash's work contrasts with its unexpected sensitivity and stark beauty in a manner that could only be accomplished by this master of the short story form.
Nothing Gold Can Stay includes 14 stories, including Rash's "The Trusty," which first appeared in The New Yorker.
About the Author
---
Ron Rash is the author of the 2009 PEN/Faulkner finalist and New York Times bestseller Serena and Above the Waterfall, in addition to four prizewinning novels, including The Cove, One Foot in Eden, Saints at the River, and The World Made Straight; four collections of poems; and six collections of stories, among them Burning Bright, which won the 2010 Frank O'Connor International Short Story Award, and Chemistry and Other Stories, which was a finalist for the 2007 PEN/Faulkner Award. Twice the recipient of the O. Henry Prize, he teaches at Western Carolina University.
Praise For…
---
"Violence-streaked stories that comprise another fine collection from [Ron] Rash…his oneness with the region and its people makes an indelible impression."
— Kirkus Reviews (starred review)

"Rash's short stories thematically paint Appalachia not as a definitive place but as a series of many interconnected ways of relating to human and environmental frailty. Another fine addition to the Rash bibliography, and a great entry point for the uninitiated reader."
— Library Journal

"Rash impresses with clear-eyed, sympathetic writing about flawed and troubled characters."
— Publishers Weekly

". . . a wonderful collection."
— Booklist

"Ron Rash's fifth story collection, NOTHING GOLD CAN STAY, set in hardscrabble Appalachia, has a tone and temperament like that of his compatriot Eudora Welty, with a twist of Barry Hannah."
— Elle

"A lovely, essential new collection of stories . . . lyrical and honest, grounded in place yet sweeping in scope. . . . .[Rash's] prose is elegant, suggestive, and Hardyesque."
— Boston Globe

"Striking . . . engaging . . . mesmerizing . . . After finishing this collection, one simply just wants to read more of Ron Rash."
— Minneapolis Star Tribune

"In his new collection of stories, Ron Rash stunningly renders his native Appalachia as an exotic planetoid governed by its own peculiar orbital laws . . . Rash is a fast-rising superstar in the North Carolina literary constellation that includes such luminaries as Michael Parker, Clyde Edgerton and Phillip Gerard."
— Charlotte Observer

"Crime, with its violence, threads through the butcher's-dozen of stories in the author's masterly 14th book, Nothing Gold Can Stay, as inexorably as it winds through the problematic lives of his Appalachian-dwelling characters."
— Wall Street Journal

"[Rash's] starkly beautiful prose has mapped the heart and soul of southern Appalachia in a way few writers of his generation can match. . . A splendid new collection. . . shimmering, liquid poetry. . ."
— Atlanta Journal-Constitution

"Nothing Gold Can Stay is a gripping collection, raw and real, that solidifies Rash as a powerful and imaginative storyteller."
— Kansas City Star

"Ron Rash's Nothing Gold Can Stay is [his] best book since Serena. Excitingly versatile. . . The stories are united by clean, tough specificity, courtly backwoods diction, and a capacity for sending shivers. (Alfred Hitchcock would have loved the story 'A Sort of Miracle')."
— Janet Maslin, The New York Times

A collection of short stories about Appalachia that are actually more like diamonds: cold, glittering, valuable."
— New York Magazine

"With NOTHING GOLD CAN STAY, Ron Rash cements his reputation as one of the foremost chroniclers of that mythic uber-America known as the South. . . At his best, Rash evokes an understated poignancy that is genuinely affecting. . .
— Washington Post

"Masterfully crafted. The best of Rash's stories, written in a spare prose style, have an aching lyricism as they chronicle the hard times and hard fall of his characters. The best of the best will haunt the reader long after they're done."
— Washington Independent Review of Books

"The stories of Nothing Gold Can Stay are tough-minded, surprising, illuminating even when Rash leaves much unsaid (often the reader comprehends more than the characters can). But no matter when they are set or who they concern, these stories are kin to each other."
— Miami Herald

"Mesmerized by Ron Rash's new NOTHING GOLD CAN STAY. Short stories that play on for a long time in your mind."
— Scott Simon, NPR

"[Rash] bears comparison to the world's truly great story writers—particularly Nathaniel Hawthorne for the gothic horrors that lie in the human heart and Anton Chekhov for his unflinching eye and his ability to capture a character in a single gesture."
— Richmond Times-Dispatch

"Each of the stories in this collection comes to life under the power of Rash's muscular way with words...The author creates a slice of life so authentic you can hear the rushing water and see the falling tears."
— St. Louis Post-Dispatch