Small Mercies: A Novel (Hardcover)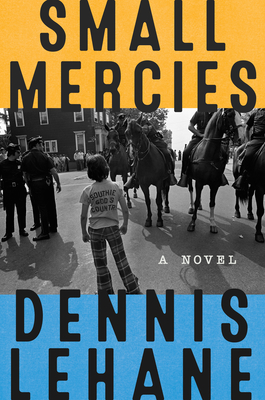 $30.00

Coming soon - PRE-ORDER NOW!
Staff Reviews
---
In "Small Mercies" Dennis Lehane tells the tale of a mother's love for her daughter.  Set in 1974, on the eve of the desegregation of South Boston's schools, Mary Pat Fennessy is worried because her teen-aged daughter, Jules, has not been home for days. The death of a young black man at the hands of 4 white teenagers has Mary Pat worried, because it is rumored that Jules had a hand in it.  Mary Pat becomes determined to find her daughter, no matter what powerful influences try to stop her.  This is Lehane's best book since "Mystic River."
— Bill
Some signed copies are available to pre-order!
— From
Featured Preorders
Description
---
"Small Mercies is thought provoking, engaging, enraging, and can't-put-it-down entertainment." — Stephen King
The acclaimed New York Times bestselling writer returns with a masterpiece to rival Mystic River—an all-consuming tale of revenge, family love, festering hate, and insidious power, set against one of the most tumultuous episodes in Boston's history.
In the summer of 1974 a heatwave blankets Boston and Mary Pat Fennessy is trying to stay one step ahead of the bill collectors. Mary Pat has lived her entire life in the housing projects of "Southie," the Irish American enclave that stubbornly adheres to old tradition and stands proudly apart.
One night Mary Pat's teenage daughter Jules stays out late and doesn't come home. That same evening, a young Black man is found dead, struck by a subway train under mysterious circumstances.
The two events seem unconnected. But Mary Pat, propelled by a desperate search for her missing daughter, begins turning over stones best left untouched—asking questions that bother Marty Butler, chieftain of the Irish mob, and the men who work for him, men who don't take kindly to any threat to their business.
Set against the hot, tumultuous months when the city's desegregation of its public schools exploded in violence, Small Mercies is a superb thriller, a brutal depiction of criminality and power, and an unflinching portrait of the dark heart of American racism. It is a mesmerizing and wrenching work that only Dennis Lehane could write.
About the Author
---
Dennis Lehane is the author of thirteen novels—including the New York Times bestsellers Live by Night; Moonlight Mile; Gone, Baby, Gone; Mystic River; Shutter Island; and The Given Day—as well as Coronado, a collection of short stories and a play. He grew up in Boston, MA and now lives in California with his family.
Praise For…
---
"Small Mercies is thought provoking, engaging, enraging, and can't-put-it-down entertainment."  — Stephen King
"Small Mercies is a jaw-dropping thriller, set in the fury of Boston's 1974 school-desegregation crisis, and propelled by a hell-bent woman who's impossible to ignore. Thought-provoking and heart-thumping, it's a resonant, unflinching story written by a novelist who is simply one of the best around." — Gillian Flynn
"Without flinching, Dennis Lehane shines a lantern on a dark story, one the reader will not forget." — James Lee Burke
"Dennis Lehane is a supernova and this is a novel that will throw your entire goddamn solar system out of alignment. Lehane has gone from strength to strength but never has he been more truthful, more heartbreaking, more essential. In the midst of our racial nightmare Small Mercies asks some of the only questions that matter: 'What's gonna change? When's it gonna change? Where's it gonna change? How's it gonna change?' This book is impossible to put down and its dark radiances will stay with you a long, long time." — Junot Díaz, Pulitzer Prize-winning author of This Is How You Lose Her
"Dennis Lehane peels back the layers of his characters like a sculptor finding the face of an angel in a block of stone. By a true master at the top of his game, Small Mercies is vintage Lehane. Beautiful, brutal, lyrical and blisteringly honest. Not to be missed." — S.A. Cosby, bestselling author of Razorblade Tears and Blacktop Wasteland
"Beautiful. I was blown away by how Dennis Lehane was able to bring such a deeply unfamiliar world into my heart. Small Mercies is hilarious and heartbreaking, infuriating and unforgettable."
— Jacqueline Woodson, National Book Award winning author
"This taut, gripping mystery is also a novel of soul-searching, for the author and reader alike." — Kirkus Reviews (starred review)
"Powerful, unforgettable…[a] remarkable novel about racism, violence, and parental vengeance." — Library Journal (starred review)
". . . ambitious and multi-layered." — Financial Times (UK)
"Lehane is now well established as one of America's finest crime writers, who superbly blends uncompromising social history with uncompromising tales of what people driven to the limit will do. As ever, Small Mercies is populated with a wide-ranging collection of unforgettable people." — Reader's Digest (UK)
Free Media Mail shipping on U.S. orders over $50