Mossad: The Greatest Missions of the Israeli Secret Service (Hardcover)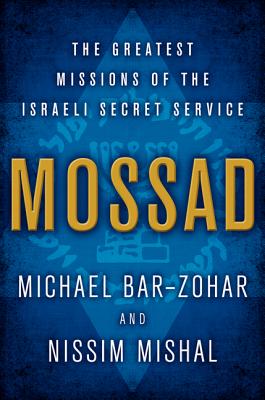 Description
---
"This book tells what should have been known and isn't—that Israel's hidden force is as formidable as its recognized physical strength."
— Israeli President Shimon Peres
For decades, Israel's renowned security arm, the Mossad, has been widely recognized as the best intelligence service in the world. In Mossad, authors Michael Bar-Zohar and Nissim Mishal take us behind the closed curtain with riveting, eye-opening, boots-on-the-ground accounts of the most dangerous, most crucial missions in the agency's 60-year history. These are real Mission: Impossible true stories brimming with high-octane action—from the breathtaking capture of Nazi executioner Adolph Eichmann to the recent elimination of key Iranian nuclear scientists. Anyone who is fascinated by the world of international espionage, intelligence, and covert "Black-Ops" warfare will find Mossad electrifying reading.
About the Author
---
Michael Bar-Zohar is a writer, public speaker, and former lawmaker. Author of many novels and nonfiction books, he was a member of the Knesset and envoy to the Council of Europe. A former adviser to General Moshe Dayan, Dr. Bar-Zohar has also served as a professor at Haifa University in Israel and at Emory University in Atlanta, Georgia. He is one of Israel's foremost experts on espionage and the official biographer of David Ben-Gurion and Shimon Peres. He also wrote the biography of Isser Harel, the legendary Director of the Mossad, and co-authored The Quest for the Red Prince, which dealt with the bloody war between the Mossad and Black September. Bar-Zohar's books have been translated into eighteen languages. 
Nissim Mishal is one of the foremost TV personalities in Israel. After graduating with a master's degree in political science, he joined the staff of the Israeli state television and worked as a political reporter, Washington correspondent, and, finally, its director-general. At the fiftieth and sixtieth anniversaries of Israel, Mishal published two record-selling books about the great events in Israel's history. They were translated into English, French, Russian, and Spanish. He has also coauthored a book on two thousand years of Judaism with Professor Shlomo Ben-Ami, a former Israeli minister of foreign affairs.
Praise For…
---
"This book tells what should have been known and isn't—that Israel's hidden force is as formidable as its recognized physical strength." — Shimon Peres, President of Israel
"Mossad reads like a spectacular spy novel, and contains the real stories from one of the world's premiere intelligence agencies. It's worth reading." — Chuck Hagel, U.S. Secretary of Defense
"Two insiders reveal some of the more fantastic episodes in the history of Israeli intelligence operations around the world. A quick and easy read, this book focuses on the operational details and personalities behind the famed Mossad's record of assassination, kidnapping, sabotage, and clandestine surveillance." — Publishers Weekly
"Action-packed accounts of the missions of one of the world's most effective and mysterious intelligence services." — Kirkus Reviews
Free Media Mail shipping on U.S. orders over $75