The Art of Racing in the Rain (Large Print / Paperback)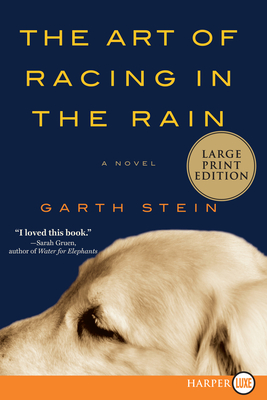 $27.99

Ships from warehouse to store in 3-6 business days
Indie Next List Highlights 2008
---
"Sometimes, if you are very lucky, fate gives you a special friend. Denny's friend Enzo will stand by him through some of the best and worst times of his life, his faith in Denny bone deep. Enzo is a dog, a dog with a very old soul. Denny is a race driver with natural talent, but sometimes life gets in the way of natural talent, and the road can have sharp bends. Suffused with humor, love, pain, and valor, this should be one of the year's best books!"
— Deon Stonehouse, Sunriver Books, Sunriver, OR
Description
---
The New York Times bestselling novel from Garth Stein—a heart-wrenching but deeply funny and ultimately uplifting story of a dog's efforts to hold together his family in the face of a divisive custody battle.
"Splendid." —People
"The perfect book for anyone who knows that compassion isn't only for humans, and that the relationship between two souls who are meant for each other never really comes to an end. Every now and then I'm lucky enough to read a novel I can't stop thinking about: this is one of them." —Jodi Picoult
"It's impossible not to love Enzo." —Minneapolis Star Tribune
"This old soul of a dog has much to teach us about being human. I loved this book." —Sara Gruen
Enzo knows he is different from other dogs: a philosopher with a nearly human soul (and an obsession with opposable thumbs), he has educated himself by watching television extensively, and by listening very closely to the words of his master, Denny Swift, an up-and-coming race car driver. Through Denny, Enzo has gained tremendous insight into the human condition, and he sees that life, like racing, isn't simply about going fast. Using the techniques needed on the race track, one can successfully navigate all of life's ordeals.
On the eve of his death, Enzo takes stock of his life, recalling all that he and his family have been through: the sacrifices Denny has made to succeed professionally; the unexpected loss of Eve, Denny's wife; the three-year battle over their daughter, Zoë, whose maternal grandparents pulled every string to gain custody. In the end, despite what he sees as his own limitations, Enzo comes through heroically to preserve the Swift family, holding in his heart the dream that Denny will become a racing champion with Zoë at his side.
A heart-wrenching but deeply funny and ultimately uplifting story of family, love, loyalty, and hope, The Art of Racing in the Rain is a beautifully crafted and captivating look at the wonders and absurdities of human life…as only a dog could tell it.
About the Author
---
Garth Stein is the author of Enzo Races in the Rain!, based on the New York Times bestselling novel The Art of Racing in the Rain (and its tween adaptation, Racing in the Rain). His other works include A Sudden Light, How Evan Broke His Head and Other Secrets, Raven Stole the Moon, and a play, Brother Jones. He is the cofounder of Seattle7Writers.org, a nonprofit collective of sixty-two Northwest authors dedicated to fostering a passion for the written word. Garth lives in Seattle with his family and his dog, Comet.
Praise For…
---
"One of those stories that may earn its place next to Richard Bach's Jonathan Livingston Seagull, Paulo Coelho's The Alchemist, and Yann Martel's Life of Pi." — Portland Oregonian
"Splendid." — People (3 ½ out of 4 stars)
"Fans of Marley & Me, rejoice." — Entertainment Weekly
"The perfect book for anyone who knows that some of our best friends walk beside us on four legs; that compassion isn't only for humans; and that the relationship between two souls...meant for each other never really comes to an end." — Jodi Picoult
"The Art of Racing in The Rain has everything: love, tragedy, redemption, danger, and—most especially—the canine narrator Enzo. This old soul of a dog has much to teach us about being human. I loved this book." — Sara Gruen, Author of Water for Elephants
"The Art of Racing in The Rain has everything: love, tragedy, redemption, danger, and--most especially--the canine narrator Enzo. This old soul of a dog has much to teach us about being human." — Sara Gruen, Author of Water for Elephants
"I savored Garth Stein's The Art of Racing in the Rain for many reasons: a dog who speaks, the thrill of competitive racing, a heart-tugging storyline, and--best of all--the fact that it is a meditation on humility and hope in the face of despair." — Wally Lamb, Author of She's Come Undone and I Know This Much Is True
Free Media Mail shipping on U.S. orders over $75