FREE Media Mail shipping on eligible items! We are open for browsing by appointment from 10am-7pm M-S and 10am-6pm Sundays. Email books@quailridgebooks.com for a reservation. Phones may not be answered due to high volume of calls.
In the Sanctuary of Outcasts: A Memoir (Paperback)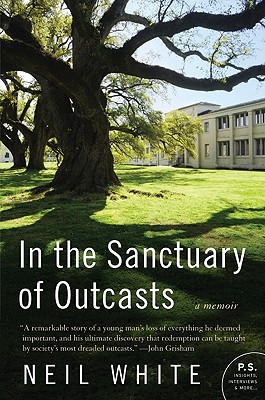 $16.99
Available from warehouse in 1-5 business days
June 2009 Indie Next List
---
"Mississippi wheeler-dealer Neil White, after years of snowballing financial deals and deceptions, finds himself assigned to a year in a Federal correction facility in Carville, Louisiana, home to the last people in the continental U.S. with Hansen's Disease -- better known as leprosy. From the unlikely combination of inmates and patients, White struggles to discover new values and to understand a little-known world."
— Carolyn Chesser, Bayou Book Company, Niceville, FL
Winter 2011 Reading Group List
---
"Neil White's story is rare and unusual, and made all the better by his deft telling of the granting of absolution over the pain of loss, human frailty, and shattered dreams. In the end dreams do come true, and White's pain and laughter become moving and inspirational. This book belongs in the hands of all readers seeking to find how locked doors can be opened."
— David Magee, Rock Point Books, Chattanooga, TN
Description
---
"A remarkable story of a young man's loss of everything he deemed important, and his ultimate discovery that redemption can be taught by society's most dreaded outcasts." —John Grisham
"Hilarious, astonishing, and deeply moving." —John Berendt, author of Midnight in the Garden of Good and Evil
The emotional, incredible true story of Neil White, a man who discovers the secret to happiness, leading a fulfilling life, and the importance of fatherhood in the most unlikely of places—the last leper colony in the continental United States. In the words of Pulitzer Prize winner Robert Olen Butler (A Good Scent from a Strange Mountain), White is "a splendid writer," and In the Sanctuary of Outcasts "a book that will endure."
About the Author
---
Neil White is the former publisher of New Orleans Magazine, Coast magazine, and Coast Business Journal. He lives in Oxford, Mississippi, where he owns a small publishing company. This is his first book.
Praise For…
---
"A surprisingly gentle, sometimes hilarious memoir."
— USA Today

"A moving story of growth and transformation. Among the lost, [White] found humility, beauty, courage—and himself. "
— Dallas Morning News

"Vibrant and readable."
— Harper's Magazine

"A remarkable story of a young man's loss of everything he deemed important, his imprisonment in a place that would terrify anyone, and his ultimate discovery that redemption can be taught by society's most dreaded outcasts."
— John Grisham

"A wonderfully bizarre and entertaining memoir of jailhouse redemption—by turns hilarious, astonishing, and, when all is said and done, deeply moving."
— John Berendt, author of Midnight in the Garden of Good and Evil

"Neil White in his luminous memoir IN THE SANCTUARY OF OUTCASTS explicates his own path to redemption. White brings to life a wacky bunch of characters who help him remember what is best about himself. His story is unique and deeply felt: I enjoyed this book immensely!"
— Darcey Steinke author of Easter Everywhere and Milk

"[Neil White] offers a memoir of personal transformation and a thoroughly engaging look at the social, economic, racial, and other barriers that separate individuals that harden, dissolve, and reconfigure themselves when people are involuntarily thrust together over long periods."
— Booklist (starred review)

"Brisk, ironic and perceptive, White's introspective memoir puts a magnifying glass to a flawed life, revealing that all of life is to be savored and respected."
— Publishers Weekly

"White's memoir continues to surprise as it presents a witty, well-rendered narrative of redemption and enlightenment. Readers who enjoy clever, off-beat memoirs will devour this in one sitting."
— Library Journal

"An impressively detailed and unsentimental memoir...funny and straightforward."
— Memphis Commercial Appeal

"An earnest chronicle written with equal parts enlightenment and atonement."
— Kirkus Reviews

"IN THE SANCTUARY OF OUTCASTS is more than a memoir. It's most importantly a testament to the patients at Carville and the life lessons they gave and White took."
— Memphis Flyer

"This memoir represents an atonement persuasively made in an unlikely setting by an accomplished and engaging writer. "
— Richmond Times-Dispatch

"Leprosy and white collar crime in one dynamic book? Neil White, a writer with a multiple mission, knits two fascinating and unfortunate stories into one powerful narrative that is informative, heart-breaking and highly compelling. White writes with clarity, sensitivity and unforgettable passion."
— Lee Gutkind, Editor, Creative Nonfiction magazine and author, Almost Human: Making Robots Think

"A meaningful look at the trajectory of one man's life and his chance to change its direction. Worth reading and discussing...a particularly intriguing choice for reading groups."
— The Mississippi Episcopalian

IN THE SANCTUARY OF OUTCASTS was a rare treat for me as I not only learned about this extraordinary place, only whispered about when I was a child, but, even better, was reminded again of what really matters in this life."
— Robert Hicks, author of The Widow of the South

"At once surreal and grittily naturalistic, funny and poignant, White's tale is fascinating and full of universal resonance. And, not incidentally, White is a splendid writer, adept at both creating a scene and illuminating the human heart. This is a book that will endure."
— Pulitzer Prize–winner Robert Olen Butler

"Narrated in an engaging, affable voice with self-deprecating humor, IN THE SANCTUARY OF OUTCASTS is a great American story of personal transformation that leaves White -- and ourselves -- forever changed."
— Tom Franklin, author of Smonk

"White wastes no time getting to the hurt, and once he takes you there, you'll be riveted. A searing tale of trouble, it's also about finding a time and a place in which to lay the groundwork for a new life. A fine memoir and one I highly recommend."
— Steve Yarbrough, James and Coke Hallowell Professor of Creative Writing Coordinator of the MFA Program English Department California State University