The Man Who Made the Movies: The Meteoric Rise and Tragic Fall of William Fox (Hardcover)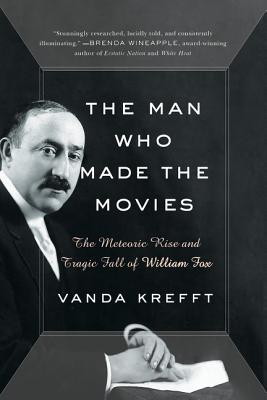 Staff Reviews
---
Yep, this book is almost 1000 pages, but I loved every page of it! Vanda Krefft has restored to us a lost history, an early world of actors, movies--and scheming and connivance among studio bosses. And at the start of it all, and the center of it all, was William Fox, who truly believed in the movies. He had a vision of creating the most powerful movie-making, theatre-owning company on the planet, and he came within a hair's breadth of doing it.
You would think early and silent movies were small affairs, but no—they were creating elaborate city-sized sets even then. And big actors and big releases obsessed the world just like now. Here's your summer read!
— Kent
Description
---
A riveting story of ambition, greed, and genius unfolding at the dawn of modern America. This landmark biography brings into focus a fascinating brilliant entrepreneur—like Steve Jobs or Walt Disney, a true American visionary—who risked everything to realize his bold dream of a Hollywood empire.
Although a major Hollywood studio still bears William Fox's name, the man himself has mostly been forgotten by history, even written off as a failure. Now, in this fascinating biography, Vanda Krefft corrects the record, explaining why Fox's legacy is central to the history of Hollywood.
At the heart of William Fox's life was the myth of the American Dream. His story intertwines the fate of the nineteenth-century immigrants who flooded into New York, the city's vibrant and ruthless gilded age history, and the birth of America's movie industry amid the dawn of the modern era. Drawing on a decade of original research, The Man Who Made the Movies offers a rich, compelling look at a complex man emblematic of his time, one of the most fascinating and formative eras in American history.
Growing up in Lower East Side tenements, the eldest son of impoverished Hungarian immigrants, Fox began selling candy on the street. That entrepreneurial ambition eventually grew one small Brooklyn theater into a $300 million empire of deluxe studios and theaters that rivaled those of Adolph Zukor, Marcus Loew, and the Warner brothers, and launched stars such as Theda Bara. Amid the euphoric roaring twenties, the early movie moguls waged a fierce battle for control of their industry. A fearless risk-taker, Fox won and was hailed as a genius—until a confluence of circumstances, culminating with the 1929 stock market crash, led to his ruin.
About the Author
---
Vanda Krefft is a former magazine and newspaper journalist who has covered the entertainment industry for publications such as Elle, Redbook, Woman's Day, and the Los Angeles Times. She has a BA in English and an MA in Communication, both from the University of Pennsylvania, and is a member of Phi Beta Kappa.
Praise For…
---
"Krefft captures both the culture of the origins of cinema as a business and the many fascinating personalities at play within the narrative. No longer Hollywood's forgotten pioneer, William Fox now has the history he deserves."
— Washington Post

"Life, ever unfair, had its way with the fantastic Mr. Fox. Yet Krefft reminds us, in this big, brassy production of a book, of his grand legacy."
— USA Today (four stars)

"Whether Krefft is describing how Fox built his studio, ushered in the talkies, or weathered a litany of troubles—bankruptcy, jail time for trying to bribe a judge, and poor health—in his later years, her attention to detail makes for gripping storytelling."
— Publishers Weekly

"Krefft's thoroughly researched, engagingly written book shows this scrappy visionary to be an enabler of the best sort of talent."
— Huffington Post, Best Film Books of 2017

"Stunningly researched, lucidly told, and consistently illuminating, The Man Who Made the Movies is actually the story of America: the tale of an immigrant who rises high, a captain of industry capturing dreams, a visionary later forgotten after the forces he helped to broker bring him down."
— Brenda Wineapple, award-winning author of Ecstatic Nation and White Heat

"William Fox has been hiding in plain sight, and Ms. Krefft has done an extraordinary job of putting him in the spotlight through exhaustive research in archives and libraries across America. The book is an immensely valuable resource...simultaneously a great American success story and a shudder-provoking cautionary tale."
— The Wall Street Journal

"The most exciting new biography I have read in years. The rags-to-riches tale of William Fox, a fascinating though inexplicably neglected figure in our history, is as big and vibrant as the film industry he helped to found…. Rich in conflict, teeming with energy, and impossible to resist."
— John Matteson, Pulitzer Prize-winning author of Eden's Outcasts: The Story of Louisa May Alcott and Her Father

"A big dig of a book, a nuanced human portrait as well as a sweeping financial chronicle, excavating William Fox from ancient burial grounds and restoring his preeminence as the T-Rex and Volpone of American silent film."
— —Patrick McGilligan, author of Young Orson:  The Years of Luck and Genius on the Path to Citizen Kane

"Krefft provides an in-depth overview of the early film industry and a lucid assessment of Fox's role in advancing the technology, art, and business of making films."
— Kirkus Reviews

"a celebration of Fox's spirit, his determination, and his lasting impact on the motion picture industry."
— Booklist

"Krefft has devoted years to her research and has emerged with a story that is not only fascinating, but surprisingly revelatory for an historical figure as high-profile as this one. Fox's story is filled with colorful incident and surprising reversals of fortune, and moreover is beautifully written here."
— J.B. Kaufman, film historian

"In The Man Who Made the Movies, an excellent biography of this criminally forgotten figure, William Fox lives up to his billing...Krefft has exhumed the story of a crucial figure slighted by history. She's also crafted a captivating portrait of a flawed dynamo. Somewhere out there a screenwriter now has the raw material to give Mr. Fox his due."
— Sight & Sound

"Vanda Krefft shines a light on previously unknown or ignored corners of his life and brings out the real man without whose efforts Hollywood would not have gained the status of the Mecca of international cinema. This meticulously researched book is virtually the previously ignored history of the Hollywood. It is an important book to understand how the American cinema began and evolved and gained the present status in the world of world cinema."
— The Washington Book Review