The Substance of Style: How the Rise of Aesthetic Value Is Remaking Commerce, Culture, and Consciousness (Paperback)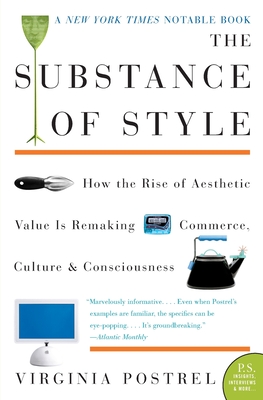 $15.99

Ships from warehouse to store in 3-6 business days
Description
---
Whether it's sleek leather pants, a shiny new Apple computer, or a designer toaster, we make important decisions as consumers every day based on our sensory experience. Sensory appeals are everywhere, and they are intensifying, radically changing how Americans live and work. The twenty-first century has become the age of aesthetics, and whether we realize it or not, this influence has taken over the marketplace, and much more.
In this penetrating, keenly observed book, Virginia Postrel makes the argument that appearance counts, that aesthetic value is real. Drawing from fields as diverse as fashion, real estate, politics, design, and economics, Postrel deftly chronicles our culture's aesthetic imperative and argues persuasively that it is a vital component of a healthy, forward-looking society.
Intelligent, incisive, and thought-provoking, The Substance of Style is a groundbreaking portrait of the democratization of taste and a brilliant examination of the way we live now.
About the Author
---
Virginia Postrel writes an economics column for the New York Times and is the author of The Future and Its Enemies: The Growing Conflict Over Creativity, Enterprise, and Progress. She lives in Dallas, Texas.
Praise For…
---
"A brilliant analysis ... After reading The Substance of Style, the world will literally look different to you." — Steven Pinker, Professor, MIT, and author of How the Mind Works and The Blank Slate
"A profoundly important book. The topic is absurdly under-studied; and Postrel has turned in a magnificent performance." — Tom Peters, author of In Search of Excellence
"[Postrel] connects a million seemingly disparate dots into a fresh, clear-eyed, persuasive picture of our culture circa 2003." — Kurt Andersen, author of Turn of the Century
"What a great read! It will heighten your awareness of our newly sculpted aesthetic world." — Karim Rashid, designer
"A work vast in its range, profound in its depth, rich in its detail." — Robert Venturi, architect
"Marvelously informative…Brightly argued…Even when Postrel's examples are familiar, the specifics can be eye-popping.…It's groundbreaking." — Atlantic Monthly
"Virginia Postrel . . . writes perceptively about everything on which her penetrating gaze alights." — George F. Will, Washington Post
"Provocative. . . demolishes the false dichotomy between substance and style." — Washington Post Book World
Free Media Mail shipping on U.S. orders over $75
"Ships from warehouse" books to be shipped: order by Wednesday, 12/6
"Ships from warehouse" books for pickup: order by Tuesday, 12/12