Kitchen Confidential Updated Ed: Adventures in the Culinary Underbelly (Paperback)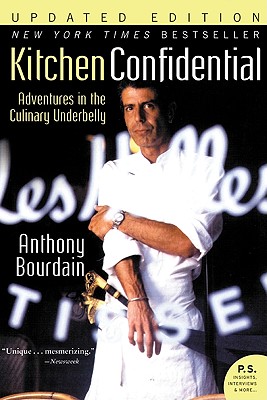 Description
---
An updated and revised edition of Anthony Bourdain's mega-bestselling Kitchen Confidential, with new material from the original edition
Almost two decades ago, the New Yorker published a now infamous article, "Don't Eat before You Read This," by then little-known chef Anthony Bourdain. Bourdain spared no one's appetite as he revealed what happens behind the kitchen door. The article was a sensation, and the book it spawned, the now classic Kitchen Confidential, became an even bigger sensation, a megabestseller with over one million copies in print. Frankly confessional, addictively acerbic, and utterly unsparing, Bourdain pulls no punches in this memoir of his years in the restaurant business.
Fans will love to return to this deliciously funny, delectably shocking banquet of wild-but-true tales of life in the culinary trade from Chef Anthony Bourdain, laying out his more than a quarter-century of drugs, sex, and haute cuisine—this time with never-before-published material.
About the Author
---
Anthony Bourdain was the author of the novels Bone in the Throat and Gone Bamboo, the memoir A Cook's Tour, and the New York Times bestsellers Kitchen Confidential, Medium Raw, and Appetites. His work appeared in the New York Times and The New Yorker. He was the host of the popular television shows No Reservations and Parts Unknown. Bourdain died in June 2018.
Praise For…
---
"Utterly riveting, swaggering with stylish machismo and precise ear for kitchen patois." — New York magazine
"You'll laugh, you'll cry...you're gonna love it." — Denver Post
"The kind of book you read in one sitting, then rush about annoying your coworkers by declaiming whole passages." — USA Today
Bourdain captures the world of restaurants and professionally cooked food in all its theatrical, demented glory. — USA Today
"A gonzo memoir of whats really going on behind those swinging doors.... Kitchen Confidential by Anthony Bourdain is unique." — Newsweek
"Bourdain's prose is utterly riveting, swaggering with stylish machismo and a precise ear for kitchen patois." — New York magazine
"Hysterical.... Bourdain gleefully rips through the scenery to reveal private backstage horrors." — New York Times Book Review
We will be closing at 8pm on Friday, 9/22 due to severe weather.
Free Media Mail shipping on U.S. orders over $75