Coraline Graphic Novel (Hardcover)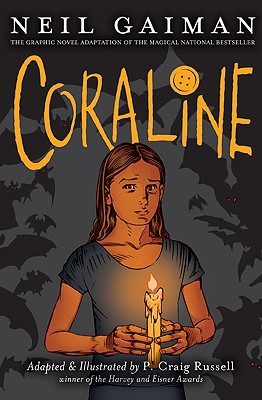 $18.99

Ships from warehouse to store in 3-6 business days
Staff Reviews
---
Exploring her new home, Coraline discovers a mysterious locked door - which she is determined to get opened. She is rewarded (?) for her efforts when the door finally opens to reveal a hidden passageway. Curious, Coraline naturally goes through.
The adventures and people that she encounters along the way make for a Neil Gaiman tale unlike any other. CORALINE is definitely an all ages book – your experience reading it however may vary!
— Bud
Description
---
When Coraline steps through a door in her family's new house, she finds another house, strangely similar to her own (only better). At first, things seem marvelous. The food is better than at home, and the toy box is filled with fluttering wind-up angels and dinosaur skulls that crawl and rattle their teeth.
But there's another mother there and another father, and they want her to stay and be their little girl. They want to change her and never let her go. Coraline will have to fight with all her wit and all the tools she can find if she is to save herself and return to her ordinary life.
This beloved tale has now become a visual feast. Acclaimed artist P. CraigRussell brings Neil Gaiman's enchanting nationally bestselling children's book Coraline to new life in this gorgeously illustrated graphic novel adaptation.
About the Author
---
Neil Gaiman is a #1 New York Times bestselling author of books for children and adults whose award-winning titles include Norse Mythology, American Gods, The Graveyard Book, Good Omens (with Terry Pratchett), Coraline, and The Sandman graphic novels. Neil Gaiman is a Goodwill Ambassador for UNHCR and Professor in the Arts at Bard College.
P. Craig Russell lives in Kent, Ohio, and has spent forty years producing graphic novels, comic books, and illustrations. He is well-known for his graphic novel adaptations of Neil Gaiman's Coraline and Sandman: The Dream Hunters, as well as his Fairy Tales of Oscar Wilde series. His work ranges from such mainstream titles as Batman, Star Wars, and Conan to adaptations of classic operas and a Jungle Book series. He has won several Harvey and Eisner Awards.
Praise For…
---
"A virtuoso adaptation…a master of fantastical landscapes, Russell sharpens the realism of his imagery, preserving the humanity of the characters and heightening the horror, even as Gaiman's concise storytelling ratchets up the eeriness." — Booklist (starred review)
"A deliciously dark graphic adaptation of Gaiman's modern classic...sure to delight established fans and to mesmerize newcomers." — Kirkus Reviews (starred review)
"This adaptation of Neil Gaiman's novel reads as though it were intended for the graphic novel format in the first place.… Russell's illustrations suit the tone of the story perfectly. — School Library Journal (starred review)
"This graphic novel is as dark, creepy, and brilliant as anything out there." — Chicago Tribune
We will be open on Memorial Day from 10 AM until 6 PM.
Free Media Mail shipping on U.S. orders over $50